Burgers, Brews, and Socially-Distanced Views
On the Rocks Offers COVID-Safe Dining With Waterfront Seating

We're all itching for a slice of normal life these days, aren't we? For many, that slice of normal life has come to involve supporting a favorite restaurant by ordering take-out, or even "dining-in" and eating in make-shift outdoor dining areas, often set up along sidewalks and in parking lots. And while it feels great (and, is great!) to support your favorite local spot's efforts to adapt in this challenging environment, it's also nice to enjoy a burger and beer with a view that doesn't involve parked cars and pavement.  
"Sounds Great, But Where Can I Do That?"
Your answer can be found right here at the Cape May terminal, at On the Rocks. In addition to the Best Burgers on the Bay, our delicious signature crushes, a selection of local craft beer and a contactless, COVID-safe ordering procedure, your socially-distanced and sanitized table also sits right on the Cape May Canal, offering an amazing view of the Delaware Bay.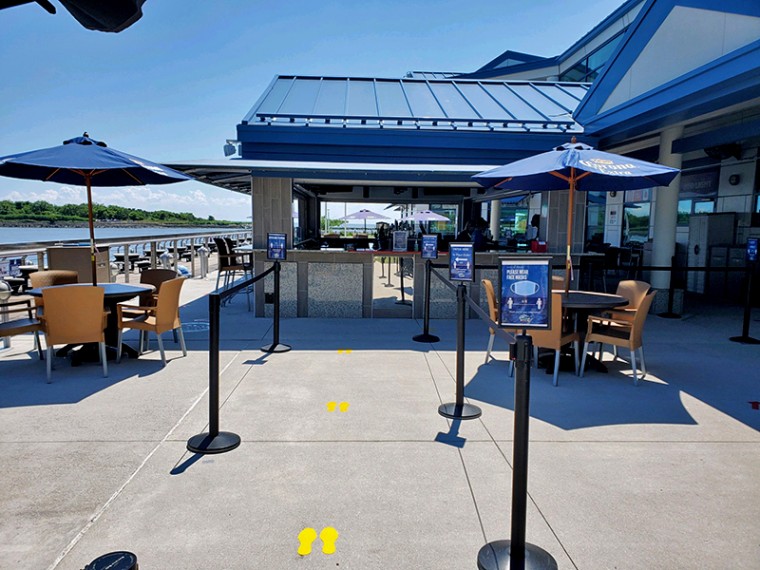 "Looks Great, But What About Safety?"
We're glad you asked. Let's take a look at the precautions we have in place to ensure a safe dining experience. 
It starts with an introduction. The hostess will greet you at the entrance, and give you a quick overview of the self-service process we've created to minimize contact.
One guest in the party will be asked to proceed to the bar and place the order for the table. The hostess will direct the remainder of the party to their table, and remove the "sanitized" sticker from the table as you're seated.
The bartender will take your food and beverage order at one of two clearly marked ordering stations at the bar.
The bartender will serve your beverages, and assign a beeper that will buzz when your order is ready, and let you know where to pick up your order when the buzzer sounds.
All menu items and beverages are served in dispoable containers, and we ask that when you're done, to please dispose of your garbage before leaving.
After you've left, the table is then sanitized and re-marked with a sanitized sticker for the next guest. 
In addition to those procedures, we've also implemented the following:
All staff are wearing protective mask and gloves
Guest must wear masks when moving about the restaurant
Credit Card is the only form of payment
Walkways are marked to control flow of traffic
Dining tables are spaced 6 ft apart
Bar seating is limited to two barstools with a 6 ft marked space in between next two barstools
Ok, So It's Safe and The View Is Great. What About the Food?
We don't call 'em the 'Best Burgers On the Bay' for nothing. Here, see for yourself.....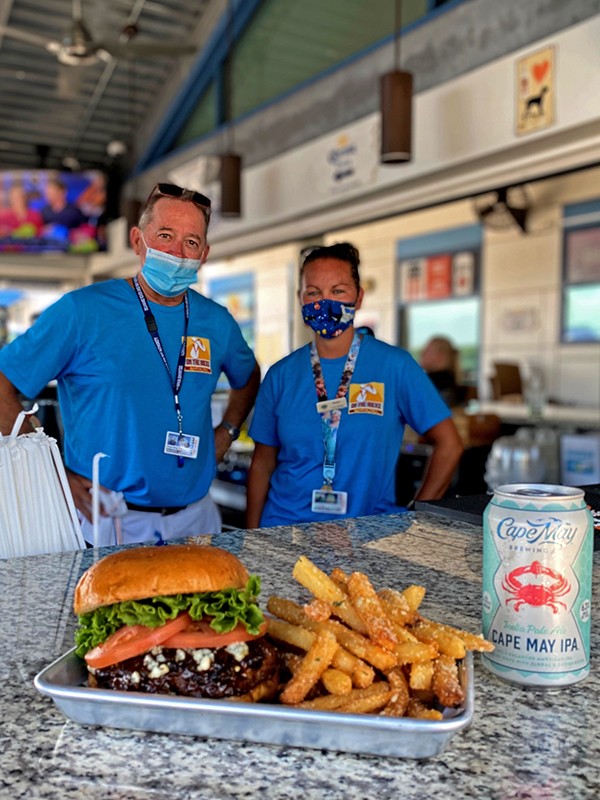 That's our Bacon Blue burger, served with a side of Garlic Parmesan fries and a cold Cape May IPA. It's as good as it looks.
And while we love a good burger, that's certainly not all that's on the menu. From coconut shrimp to wings, pretzel nuggets, salads and a whole array of different french fries, there are plenty of options if you're looking for a quick bite or something to get you started.
On the sandwich side, you can never go wrong with a classic BLTA (especially when there's avocado in the mix), or try freshening it up with some Fish Tacos.