COVID-19 Ferry Travel FAQs
Summer is here, and there are plenty of questions about the ins and outs of Ferry travel in the current situation. Here, we've compiled answers to a few of our most frequently asked questions.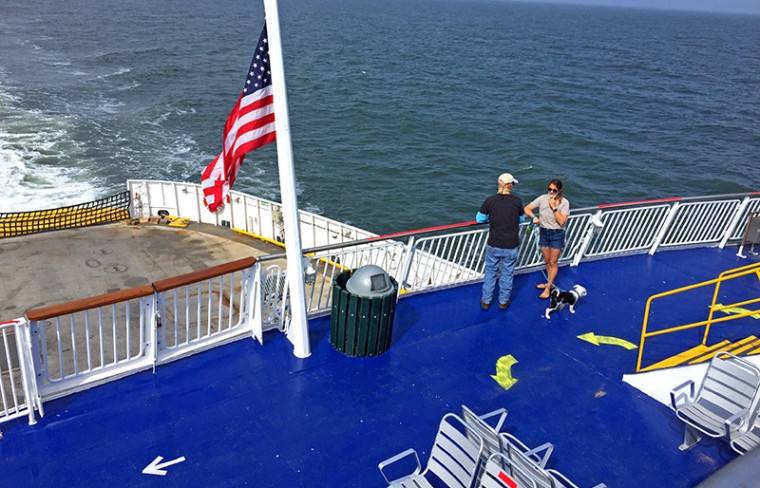 Are Reservations Really Required?
Yes! Reservations are required (even for bicyclists and foot passengers), and no cash will be accepted until further notice. This is for your safety as well as the safety of our team; our goal is to minimize the need to exchange of materials during the check-in process at the toll booth, and the more you can do in advance, the better for all involved.
Are Foot Passengers Allowed Yet?
Foot passenger travel resumes Wednesday, July 8! 
After a week in which we saw more folks wearing masks and following the measures put in place (thank you!), we're ready to resume foot passenger travel this Wednesday, July 8! There are some new procedures and processes in place for those walking on board, so make sure to check those out before arriving, especially if you've traveled with us in the past. 
Important Information for Foot Passengers

Can I Get Out of My Vehicle?
At the Terminal
While you're waiting to depart, you're welcome to exit your vehicle to utilize the restrooms, get your dog out of the vehicle for a quick walk or bathroom break, or just stretch a little. If you do so, please note that masks are required, and please remember to maintain 6' of social distance. 
On the Vessel
The exterior decks of the vessel are accessible during the crossing, under the following guidelines:
Masks are required
A minimum of 6' of social distance is required between you and anyone not in your household
Directional signage will be in place to help coordinate the flow of traffic on board. Starboard (righthand side as you look forward to the bow) stairwells will be designated as UP, Port (lefthand side as you look forward to the bow) stairwells will be designated as DOWN. Please follow these directions as they are for the safety of all aboard,  


Can I Bring My Bicycle Aboard?
Yes! Bicycle traffic has resumed; reservations and masks are required, and we're asking all cyclists to arrive at least 30 minutes prior to departure time to allow for check-in, screening and boarding. There are some changes to the usual arrival and check-in process, so please make sure to read up on all the details by clicking the button below.
 
Bicycle Travel Information
Is There Food & Beverage Available?
Aboard the vessels, the Lido Bars are now open (weather permitting), serving drinks, snacks and lighter fare. Please note that these sales are credit card only; no cash will be accepted for these items. 

In Lewes, Grain On the Rocks, operated by Grain Craft Bar + Kitchen, is open for lunch & dinner. For their menu and more information, visit their website.  

On the Rocks at the Cape May terminal is now open, serving a full menu Thursday - Sunday, 10am - 6pm, and offering bar service seven days a week from 10am - 6pm.  
Will Shuttle Service Be Available?
Unfortunately, no, there will be no shuttle service available from either terminal during the summer of 2020. In Lewes, there is a DART stop located right in front of the terminal, which you can use to access downtown Lewes, Tanger Outlets, and Rehoboth Beach. For more information on the DART routes and schedules, please
visit their website
and reference
Route 204
. 
Will On The Rocks Open This Summer? If so, when?
In Cape May, yes, On the Rocks is now open!
In Lewes, please note that the terminal food, beverage and retail operations are now managed by Grain Craft Bar + Kitchen. Grain On the Rocks is now open for lunch & dinner. 
 
Do I Have to Quarantine If I Visit New Jersey?
Only if you're traveling from a state with a high COVID-19 infection rate. On June 24, the states of New York, New Jersey and Connecticut issued a joint advisory that travelers arriving from other states with high COVID-19 infection rates should self-quarantine for 14 days. Please check here for the most up-to-date list and for additional information.
Important Information for Northbound Travelers