COVID-19 Ferry Travel FAQs
There are plenty of questions about the ins and outs of Ferry travel during COVID-19. Here, we've compiled answers to a few of our most frequently asked questions.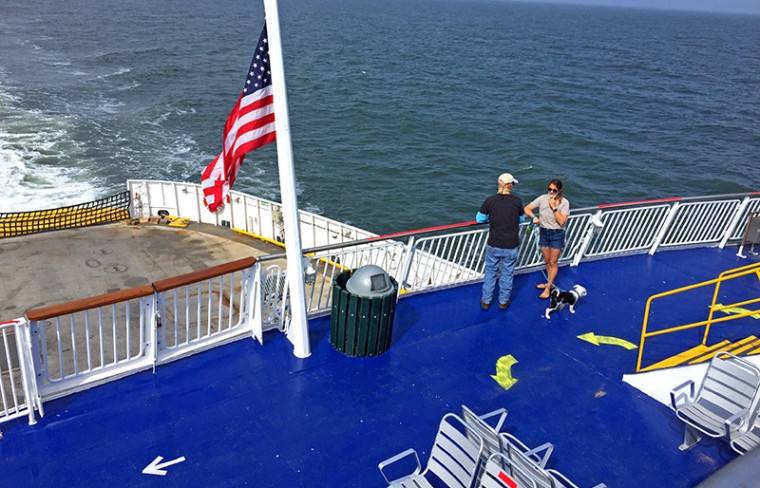 Are Reservations Really Required?
Yes! Reservations are required. This is for your safety as well as the safety of our team; our goal is to minimize the exchange of materials during the check-in process at the toll booth, and the more you can do in advance, the better for all involved.
Are Foot Passengers Allowed?
Yes! Foot passengers are welcome aboard. 
Capacity is limited, so please make sure to make a reservation before arriving. Please note, shuttle service is not available from either terminal. In Lewes, the DART Route 204 bus picks up and drops off in front of the terminal Monday - Saturday (no Sunday service), every 1/2 hr from 6:30am - 9:00pm.
Important Information for Foot Passengers

Can I Bring My Bicycle Aboard?
Yes! Bicycle passengers are welcome aboard. 
Pump up the tires, grab your helmet and get ready to pedal aboard, bicycle travel is back. Reservations are required, so please make sure to book in advance. 
No. While we normally provide a courtesy drive-on service for those in need of it, due to COVID safety protocols, we cannot provide this service at this time.
 
Can I Get Out of My Vehicle?
At the Terminal
Both terminals are open and we welcome you to come on inside (masks are required). Or, while you're waiting to depart, you're welcome to simply get out of your vehicle to stretch or walk around a bit. If you do so, please note that masks are required, and please remember to maintain 6' of social distance.
 
On the Vessel
The interior seating area, restrooms, and exterior decks are all open and accessible during the crossing.  Additionally, the galley is open serving grab-n-go food and beverage options.

Please note the following precautions:
Masks are required
A minimum of 6' of social distance is required between you and anyone not in your household
Directional signage will be in place to help coordinate the flow of traffic on board. Starboard (righthand side as you look forward to the bow) stairwells will be designated as UP, Port (lefthand side as you look forward to the bow) stairwells will be designated as DOWN. Please follow these directions as they are for the safety of all aboard,  
Is There Food & Beverage Available?
Aboard the vessels, the indoor grab and go areas are serving drinks, snacks and lighter fare. Indoor seating is available. Cash and credit card payments are accepted.  

In Lewes, Grain On the Rocks, operated by Grain Craft Bar + Kitchen, is open for lunch & dinner, and will be open seven days a week, year-round. Learn more about Grain On the Rocks here, or visit their website.  

On the Rocks at the Cape May terminal is closed for the season.  
 

Will Shuttle Service Be Available?
Unfortunately, no, there is no shuttle service available from either terminal at this time. In Lewes, there is a DART stop located right in front of the terminal, which you can use to access downtown Lewes, Tanger Outlets, and Rehoboth Beach.
Please note that the route does not run on Sundays.
For more information on the DART routes and schedules, please
visit their website
and reference
Route 204
.