Lewes Historical Society Fireside Chats
Friday, August 16, 2019-Saturday, September 7, 2019 | 7:00pm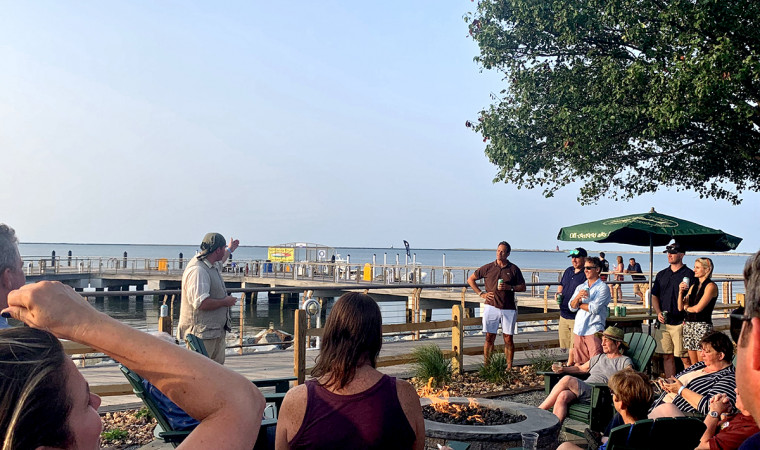 Fireside Chats with Lewes Historical Society
Looking for a way to wind up your work week? Join us around the fire from 7pm-8pm at Off-Centered On the Rocks at the Lewes Ferry Terminal! Living history characters from the Lewes Historical Society will regale you with tales of Shipwrecks, Pirates, and other misdeeds of Lewes Town's past, while you enjoy great food, craft brews and amazing views!
Schedule
August 16
Famed pirate, Captain Kidd, visited Lewes's shores in 1699. Many know his name but few, his grisly fate, or recall the treasures he may have left behind buried in the dunes.
August 23 
A seaside town since its founding in 1631, Lewes has had some violent crime in its past. Hear a case of domestic murder, and possibly the earliest instance of an all-female jury, in Colonial American. How will decide the guilt or innocence of the accused with the evidence laid out before you?
August 30th 
The spirts of Lewes have always been restless, up until the 20th century remains would often wash ashore. As fall approaches; hear the history of the Unknown Sailors' and Seaman's graveyard, which once stood on the grounds of the Ferry Terminal.
September 7th ***
*** Due to forecasted weather for Friday, the last event has been moved to Saturday, September 7th***
There are over 300 shipwrecks off the coast of Delaware's Coast. In 1880 the Great White Hurricane struck Lewes Harbor, temperatures dropped to below zero. With winter weather approaching, gather round the fire and imagine a time when sail ships would have frozen solid mere feet from where you stand