MAC Lighthouse Tours
Weekly on Mondays from Now-Aug 26, 2019 | All Day Event - Departs at 8:45am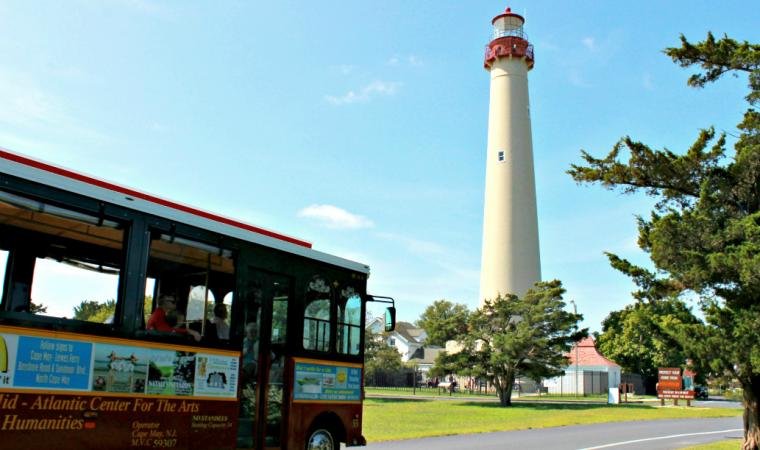 Explore Cape May with the Mid-Atlantic Center for the Arts & Humanities
Take a relaxing tour through Cape May with our Cape May Lighthouse Tour package! Visit the lighthouse, enjoy the wildlife, learn interesting history, and enjoy a catered box lunch before returning to the ferry. This fully curated tour was built for you by the MAC team. 
Package Information 
Enjoy a personalized introduction to Cape May area cultural offerings on the Welcome to Cape May Trolley Tour, and also visit the fully restored 1859 Cape May Lighthouse, where you can climb 199 steps for a breathtaking view from the top. Those who don't wish to climb can walk a nature trail through a wildlife habitat or walk along the shoreline of Cape May Point State Park. Next, board the trolley to Sunset Beach for shopping, view the sunken concrete ship (SS Atlantus), hunt for Cape May "diamonds", play a round of mini-golf or learn the pivitol role Cape May played during World War II at the World War II Lookout Tower. Enjoy a box lunch prepared by the Carriage House Cafe and Tearoom. Afterwards, the trolley returns to the Cape May Ferry terminal for the 2:30pm departure. 
DATES
Mondays, June 3 through August 26
RATES
$52 - Adults (14+ years)
$34 - Children (3-13 years)
Free - Infants (0-2 yrs old, no lunch) 
TIMES
Every Monday, MAC tour attendees depart at 8:45am from Lewes (headed to Cape May) and return on a 2:30 boat leaving from Cape May (headed to Lewes).
Please note that the MAC trolley will pick you up right outside the Cape May Ferry Terminal. It departs within 10 minutes of the ferry arriving at the terminal, so don't dilly dally! 
AGENDA 
Your MAC Tour Package includes round trip ferry fare to and from Cape May! 
8:45 am - Lewes Ferry Departure 
10:15am - Trolley departs from the ferry terminal for tour of Cape May
11:00 am - visit the Lighthouse! 
12:30pm - leave Lighthouse for Sunset Beach
12:45 pm - Box lunch from the wonderful Carriage House Cafe 
1:15pm - Sunset beach, free time to shop, play mini golf, or learn about WWII tower 
2:00pm - Trolley returns to ferry terminal 
2:30pm - Cape May Ferry Departure
4:00 pm - Lewes Arrival
TO BOOK:
Call Customer Service to book - 1.800.643.3779
 Special Notes
Space is limited. Reserve early to secure your spot!
Tours are handicap accessible  Please advise if special assistance is required upon booking 
All reservations are non-refundable.