MAC Physick Estate Tours
Weekly on Wednesdays from Now-Aug 28, 2019 | All Day Event - Departs at 8:45am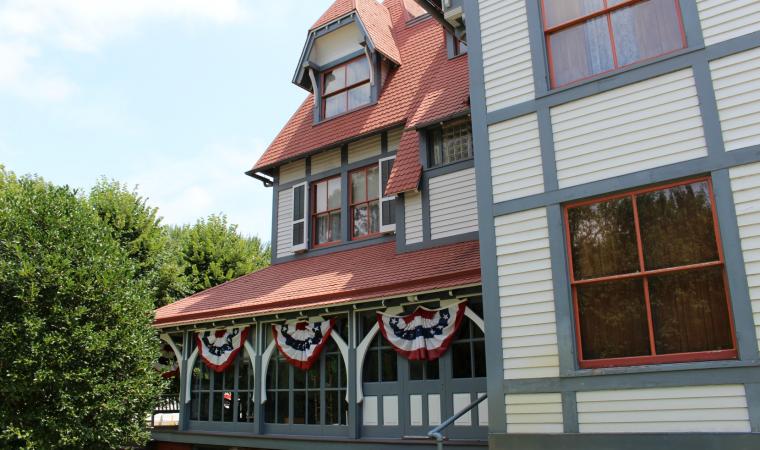 Take a curated, historic tour though Cape May -- visit the Physick Estate, Carroll Gallery Exhibit, and enjoy a catered box lunch on Washington Street Mall -- before returning to the ferry. Operated by Mid-Atlantic Center for the Arts. 
Package Information
Board our trolley at the Cape May Ferry Terminal. As you travel into Cape May, our knowledgeable guide presents architectural, historical, and entertaining information about the nation's oldest seashore resort. Afterwards, enjoy a tour of the 1879 Emlen Physick Estate House Museum, Cape May's only Victorian house museum, with 15 rooms authentically restored to their original grandeur and changing seasonal exhibits. After your tour, visit the Carroll Gallery Exhibit, "Capturing Cape May's Architecture: The Making of a National Historic Landmark." Then, pick up your box lunch prepared by the Carriage House Cafe and Tearoom, board our trolley and arrive in downtown Cape May to spend some time walking the beautiful Victorian streets, shopping on the Washington Street Mall, walking along the promenade with a view of the beach and choosing your favorite spot for a catered box lunch. Take our trolley back to the Cape May Ferry Terminal, as your tour concludes with your return crossing to Lewes. 
DATES
Wednesdays, June 5 through August 28, 2019
RATES
$52 - Adults (14+ years)
$34 - Children (3-13 years)
Free - Infants (0-2 yrs old, no lunch) 
TIMES
Every Wednesday, MAC tour attendees depart at 8:45am from Lewes (headed to Cape May) and return on a 2:30 boat leaving from Cape May (headed to Lewes)
INCLUDES
Round-trip foot passenger fare, trolley transportation to/from the Physick Estate and Washington Street Mall, and box lunch from the Carriage House Cafe
TROLLEY
The MAC trolley will pick you up right outside the Cape May Ferry Terminal. It departs within 10 minutes of the ferry arriving at the terminal, so make your way to the trolley stop immediately after exiting the Ferry! 
AGENDA 
8:45 am - Lewes Ferry Departure 
10:15am - Trolley departs terminal for tour of historic Cape May
11:00 am - Guided tour of Physick Estate and visit to the Carroll Gallery Exhibit
12:00 pm - Box lunch from the wonderful Carriage House Cafe 
12:30pm - Trolley to the Washington Street Walking Mall (free time to shop and enjoy)
2:00pm - Trolley returns to the terminal for the 2:30 Ferry departure
2:30pm - Cape May Ferry Departure
4:00 pm - Lewes Arrival
TO BOOK
Reservations are required. Call Customer Service to book - 1.800.643.3779
RESTRICTIONS 
Space is limited to 22 guests, reserve early to secure your spot. No additional promotions or discounts apply. Tours are handicap accessible, please advise upon booking if assistance is required. All reservations are non-refundable.