Rock the Boat
Weekly on Fridays from Now-Sep 2, 2022 | 4:15 PM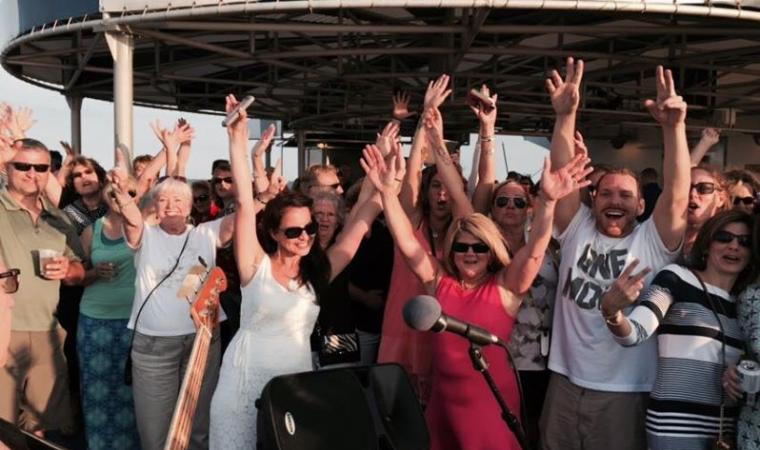 Rock the Boat with Glass Onion!
PLEASE NOTE: Due to the popularity of these events, cash is a preferred form of payment for onboard refreshments to speed up the service. 

------------------

Get your weekend off to a rockin' start this summer! After all, if it's a Friday afternoon in late summer, it's time for Rock The Boat!

Friday afternoons through early September, catch Delaware's Premier Rock N' Roll Party Band, Glass Onion, performing on the 4:15pm departure from Lewes and the return 6:00pm departure from Cape May! 

Bar service is available via the Lido Bars and satellite bars during Rock the Boat cruises. The Lido Bars accept cash and cards, but the satellite bars are cash only. If you're comfortable carrying cash, having some on hand will help our bartenders keep things sailing smoothly!  


---
DATE: Fridays, through September 2
ITINERARY: 

Round-trip from Lewes:
Check-In 3:45PM
Depart Lewes 4:15PM
Sail Roundtrip
Arrive back at Lewes 7:25PM

From Cape May:
While there is no specific Rock the Boat departure from Cape May, passengers can board the 6:00PM crossing to catch the return leg of Glass Onion's performance! Please note, however, that there is no entertainment (aside from the sunset!) on the return 7:45PM crossing.
Check-in 5:30PM
Depart Cape May 6:00PM
Sail Roundtrip
Arrive back at Cape May at 9:10PM 

PRICES: Adults (14 & up) $18  | Seniors (62+)/Military (with ID)/AAA $14 | Children (6-13 years) $9 | Younger Children (5 years or less)  Free
RESERVATIONS: Required. Call 1.800.643.3779, or book online.
TIPS FOR A BEST EXPERIENCE:  
Passenger fares include roundtrip walk-on passage and entertainment.
Free parking is available at the terminal. If you don't have a designated driver, cars can be left overnight and a taxis can be called for pick ups after the boat returns. Cars left overnight should be registered at the Ticket Counter or with the DRBA Police after hours.
Food and beverages are available for purchase while on board. No alcohol may be carried on board.
Keep an eye on the weather and plan accordingly. 
Sneakers, secure sandals, or flats are recommended over flip flops or other slip-on footwear.
Reservations are recommended.
Trips can be booked online at CMLF.com, or book  through the Call Center at 1.800.643.3779
Entertainment is Handicap-Accessible. Passengers can take the elevator to the Skywalk on the second level of the terminal and a special lift is available on the second deck to the upper "entertainment" deck.
Have some cash on hand, if you're comfortable carrying it. The Lido bars are generally open during each cruise and accept cash or cards, however the satellite bars (which help ease the lines and keep things moving smoothly) are cash only.