Tree To Tree Adventure at the Cape May County Zoo
Weekly on Sundays, Mondays, Tuesdays, Wednesdays, Thursdays from Now-Aug 29, 2019 | All Day Event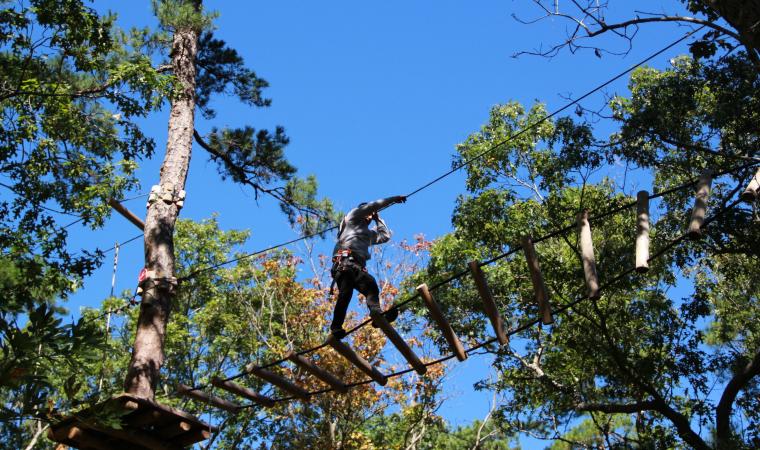 Go On An Aerial Adventure at the Cape May Zoo
Tree to Tree Adventure Park is an aerial adventure park located in Cape May Courthouse at the Cape May County Zoo -- 15 miles from the Cape May terminal. Opened in 2016, it provides a variety of obstacles that people of all ages and physical fitness levels can tackle. It is a great family adventure with some physical elements, team building focus, and "play" at the heart of every element.
Tree to Tree Adventure Park Hours of Operation: Tree to Tree hours are 10:30am - 4:30pm (the course takes 2.5 - 3 hrs to complete) Read more about Tree to Tree on their website.
Vehicle Package Information
Dates: Sundays - Thursdays, May 5 - August 29 
Rates: 
$117.00 Vehicle+Driver 
$52.00 Adult Additional Passenger (11yrs +) 
$33.00 Child Additional Passenger (7 yrs - 10 yrs, climbing)
$12.00 Accompanying Adults who are in the party but don't want to climb
$8.00 Children 6 - 10 years old who don't want to climb
Includes: Discounted round-trip fare on the ferry for your party and your standard-sized vehicle, admission to the park, and the full Tree to Tree park experience.
​To Reserve: Reservations are Required. Please call 1.800.643.3779
Restrictions: Minimum 7 years old for climbing. Anyone under 18 must have a participant agreement signed by a parent or legal guardian if going into the trees. One adult must stay on property while minors play in trees. 
Itinerary:
Depart Lewes on any early crossing between 8:15AM and 10:15AM 
Drive to the Cape May County Zoo  
Enjoy climbing and zip lining, or watching your adventurers 
Drive back to the Cape May Ferry Terminal  
Return on any Cape May afternoon departure from 2:30PM to last departure. Please check our schedule as last departures change based on season
Tips for a Best Experience: Check out our blog post on how one older employee found the experience
Food and beverage is available for purchase at the park, or you can carry your own brown bag refreshments. Food and beverages are also available for sale on the boats and in the terminals.
Take the earliest boat possible to give yourself the most time to enjoy the park. If you have extra time at the end of the day, use it to relax at On The Rocks Dockside Grill at the Cape May terminal before getting on the boat for your return trip.
Wear sneakers or secure climbing shoes. Bring sunglasses and wear sunscreen. You are climbing trees and are closer to the sun and it makes a difference in sun exposure.
If climbing in the summer, wear light clothes. It gets hotter as you climb higher and are closer to the sun.
Bring a water bottle that can be easily attached to a belt loop, or have one of your accompanying non-climbing participants carry water for those climbing. It's exercise! You get thirsty.
If you have climbing gloves you may want them. Gloves are also available for purchase at the park. You may want to leave all rings at home as you are grabbing ropes throughout the course.
If you are booking a shuttle package, free parking is available at the Lewes terminal.  
Reservations are required.
Trips can only be booked through the Call Center.
Tree to Tree Adventure Park at Cape May County Zoo
Cape May Court House

,

NJ

08210
Get Directions