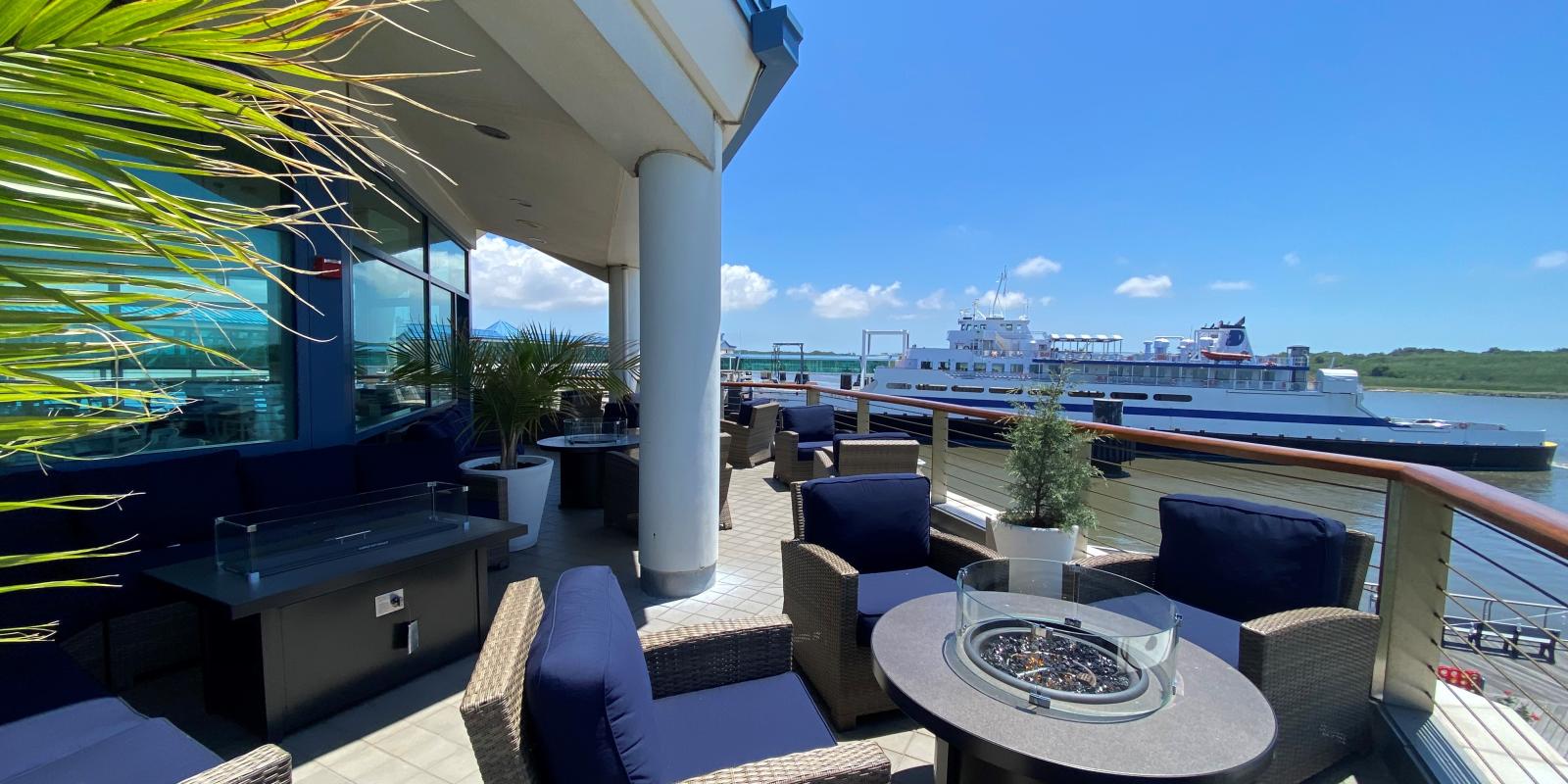 WHAT YOU'LL FIND AT THE RENOVATED CAPE MAY FERRY TERMINAL
Exit Zero Hospitality is already well known in Cape May for its local travel publications and popular restaurant, Exit Zero Filling Station. Last May, a 10-year lease between Exit Zero and the Delaware River & Bay Authority was signed, now expanding the Exit Zero reach into an exciting ferry hospitality operation. Starting with the 2022 summer season, the new Exit Zero at Ferry Park is in full effect!
Exit Zero's two-year takeover began in the fall of 2021. The $2M worth of renovations are rolling out in two phases, with the first phase concentrating on four-different dining options. See below for a quick look at the new choices.
The second phase consists of revamping the green. Renamed Ferry Park, the lawn area is going to be converted into a shopping village housing local storefronts and small businesses, along with hammocks, bocce ball, and other recreational features. The second phase is set to begin during the off-season in fall 2022.
Image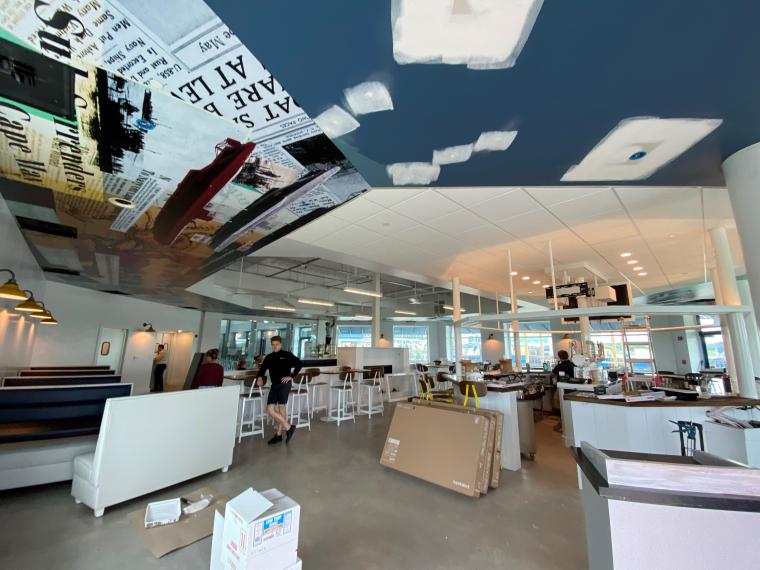 The Cape May terminal is a special venue due to its valuable features: restaurant and retail space, a massive lawn perfect for events, and its beautiful waterfront location. Exit Zero was able to recognize these attributes and maximize the terminal's potential, bringing the space to life. With a gift shop, gallery, four restaurants, and a ton of cool events, the Cape May terminal is lively and bustling with excitement! Here are some of the new features!
---
Dining
Café 64
The Cape May-Lewes Ferry's first public crossing took place on July 1, 1964. Exit Zero plays homage to this significant date with their café and retail store, Café 64. What used to be the terminal gift shop is now a half-bistro/half-boutique where visitors can pick up a quick bite to eat or shop around for some Cape May merchandise. Here you can find clothing, artwork, and knickknacks, along with coffees, sandwiches, and a variety of snacks and beverages. Café 64 was the first of four dining locations set to launch, opening in September of 2021.
Image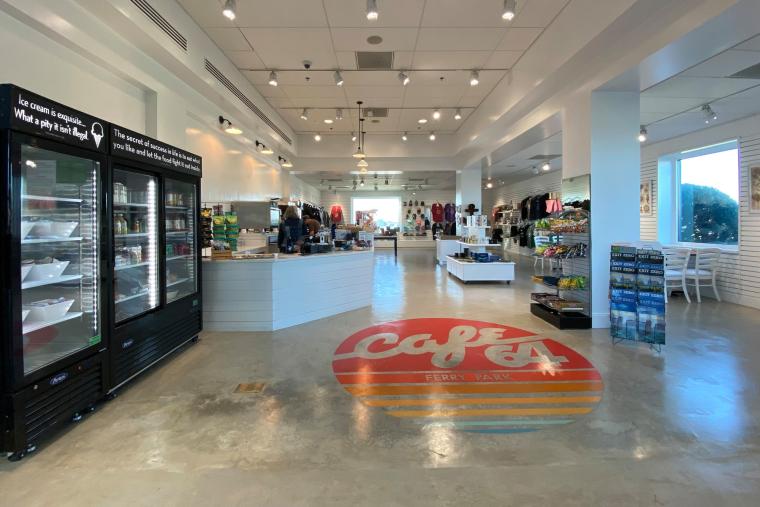 Boat Drinks
Located on the waterfront where On the Rocks once stood, Boat Drinks is Exit Zero's take on light bites. Their menu includes paninis, salads, and soups, along with a range of cocktails and drafts from local breweries that are offered at the bar. This location is perfect for those wanting to sit down for a meal while still keeping it laid back (a.k.a. the ideal spot for passengers to eat before they board the boat)!
Image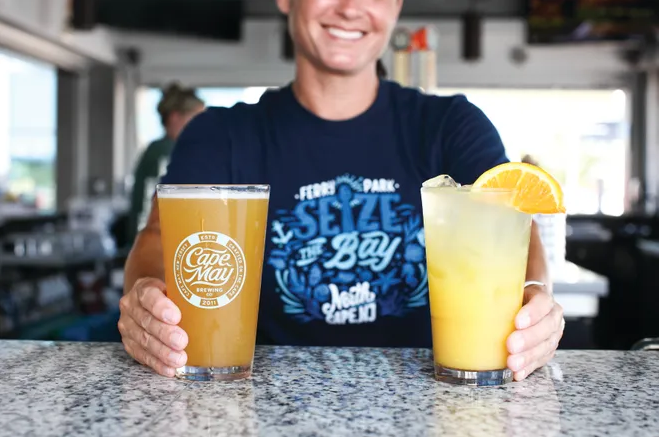 Exit Zero Ferry Station
The main salon on the ground floor is being transformed into The Ferry Station but designed with a distinctly nautical theme. "It will be the main engine at the terminal," shared Jack Wright, owner of Exit Zero Hospitality. Acting as a sibling location to Exit Zero Filling Station in West Cape May, Ferry Station embodies all of the classic elements of the original, while putting its own spin on things. Famous for their Asian-American fusion, Exit Zero specializes in unique and innovative dishes. The Ferry Station menu features all of the fan favorites, like the Hot Chick Sandwich, along with a ton of new dishes to try. Here you'll find bayfront views, both indoor and outdoor seating, and a full-service bar.
Image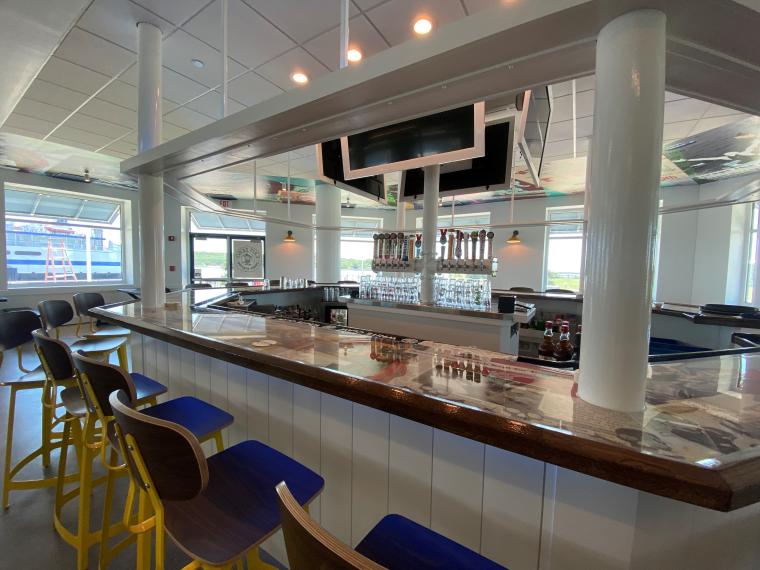 The Lookout
The second floor of the terminal is now home to the Lookout, the Ferry's fine dining experience. The open, octagonal dining room has floor to ceiling windows overlooking the bay and a mahogany bar serving handcrafted cocktails. Outdoor seating is elegantly casual with comfortable wicker seating and gas fire pits. The Lookout menu is the most sophisticated at the terminal, specializing in fresh seafood. Ferry patrons might remember this location as the Sunset Lounge.
Image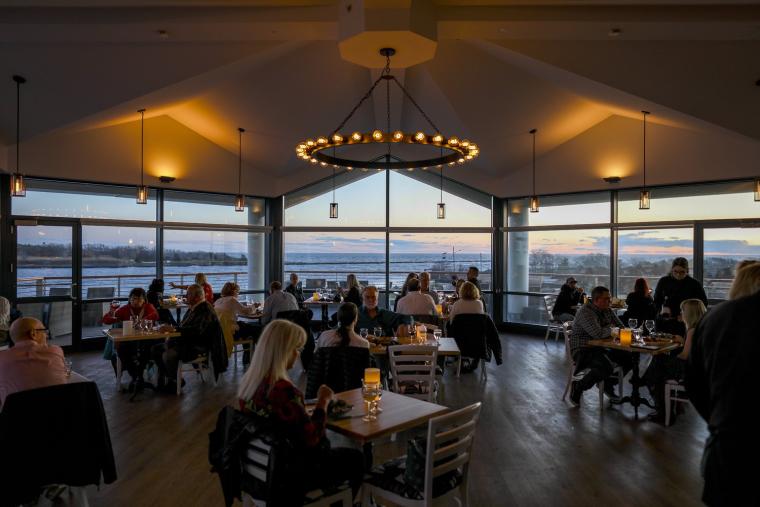 ---
Events
The Gallery
Exit Zero is utilizing the upstairs gallery space at the Cape May terminal for a multitude of purposes, thereby continuing to serve as a public access space for the community. Artwork and different exhibitions are on display at the gallery, but that's not all. Free classes are to be held during the year including jewelry making, flower arranging, and creative writing classes.
Image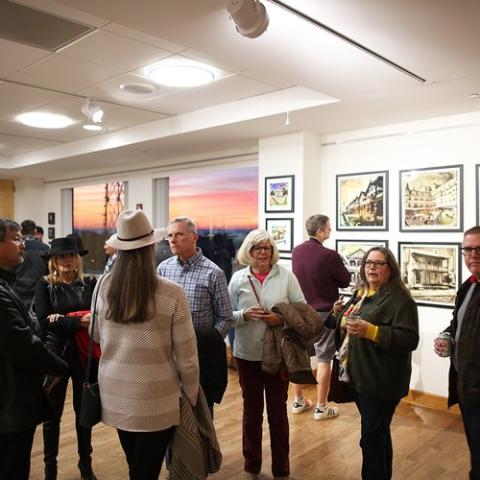 Movies on the Green
Every Monday, Exit Zero hosts a movie night at Ferry Park. Admission is free, so make sure to bring your beach chair and some snacks (or grab a bite from the terminal) for an evening on the green. The movie schedule for this summer is jam packed with classics, such as Dazed and Confused and Mamma Mia!
Summer Concert Series
One of the most popular events at the Ferry is back! Exit Zero has taken over the Summer Concert Series, and - just as it has been for years previously - Ferry Park is the place to be on Wednesday nights. Each week, vendors, concessions, and food trucks line the park as a part of the free event.
Image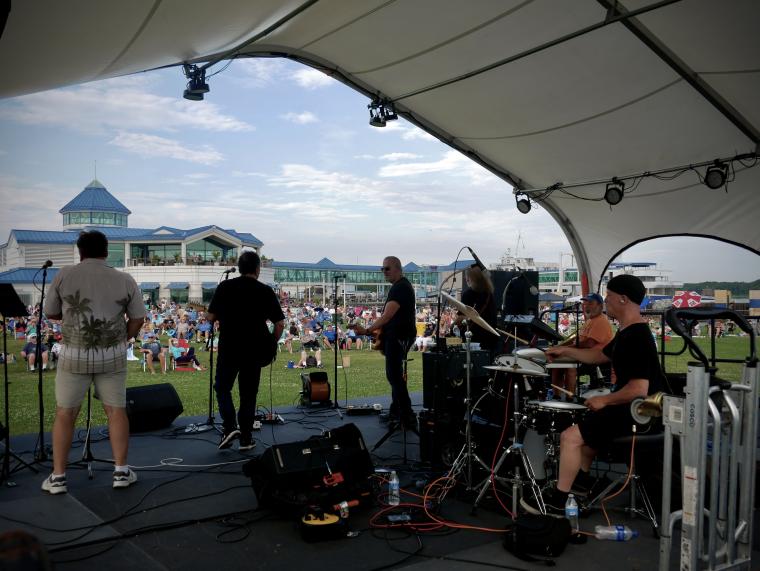 Yoga and Tai Chi
What's more relaxing than yoga on the bay? We'd have to go with... literally nothing. Classes are held on the green at Ferry Park and are led by Karen Manette Bosna of Yoga Cape May. Yoga takes place on Tuesdays at 6pm and Sundays at 9:30am. Tai Chi is every Thursday at 1pm. Both classes run weekly until the end of October.
---
For further information on Ferry Park happenings and all things Exit Zero, visit the Ferry Park website.
Explore Ferry Park at the Cape May Terminal