August 28, 2020
Ferry Facts: CMLF.com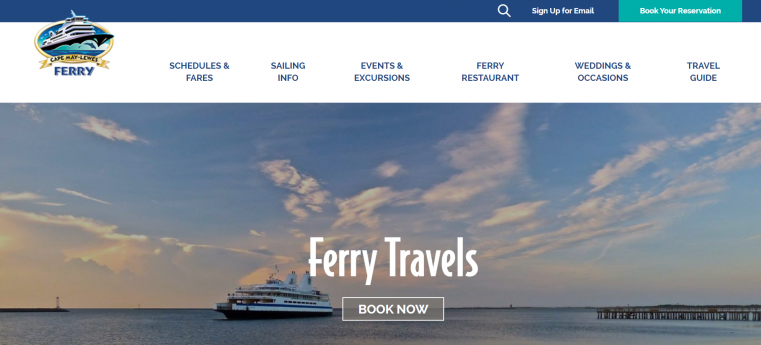 CMLF.com -- the Ferry's web site -- works quietly behind the scenes interacting with customers, people researching travel options, and travel dreamers. As a main source of communications with passengers, the site continuously changes with travel advisories, updates, and enticements to consider future trips. Here are some details about the web site you may not know.
---
How often is the web site updated?
Daily. Every day something is updated, added or changed. Just this week, five different pages were updated, with two being entirely new and created from scratch. In addition, departure schedules were changed on the schedules and fares page to reflect whenever we added a boat or reduced the amount of crossings.
What if I see a change that needs to be made?
Contact
Andrew Baird
, our Digital Marketing Manager.  Let him know the details of what needs to be changed. 
How big is our web site? 
The site contains more than 100 pages that have to be managed. The
Things to Do
page, for instance, is called a "landing page" that links to 56 additional pages, with each dedicated to content ranging from Things to Do in Cape May to Delaware Beaches - Biking Trails.  Each page helps our site be found when people search on the web using terms such as "What to do in Lewes," or "Museums in Cape May."
How much time do people spend on our site?
The average session on cmlf.com is 3 minutes and 13 seconds. A good web site is considered one that holds a reader's attention time between 2-3 minutes. 
When we first established Google Analytics on CMLF.com, we averaged just over 2 minutes per visit, and have increased that to over three minutes -- a really long time in internet time. More time spent on a site generally indicates users are taking deeper dives into the content.    
Does the website generate revenue?
Yes. There are links set up between the web site and the reservation system so that we know when someone has directly booked after visiting the web site.  Currently, about 90% of our ticket sales come from web links. In 2019, there were 144,400 transactions that totaled close to $9 million in revenue tracked through Google Analytics. 
Do we know where people live who come to the web site?
Yes to a degree. They could be accessing the site from work, but we generally know where people come from. It's no surprise that the top 10 states represented by visitors to our web site mimic where our passengers come from as well. Almost a third are from NJ. The rest come from PA, DE, VA, MD, NY, DC, FL, NC and MA in that rank order.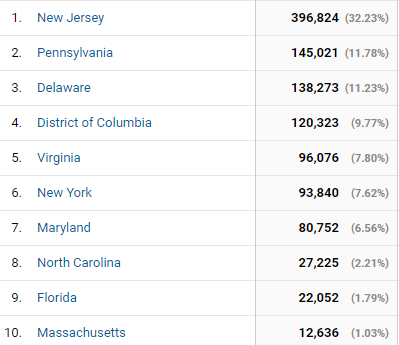 How many people visit our site?
Each year, we attract more than one million users to our site from all around the world. The majority -- 98% -- come from the U.S. followed by less than one percent from Canada, the UK and Germany.
Does Web traffic mimic actual traffic?
It depends. During bad weather events, for instance, the web site will experience a high number of visits as people are trying to decide whether we are operating. In general, web traffic spikes tend to be ahead of similar levels of traffic spikes within 1-2 days. 
How Do Web Customers Contact Us?
There's a Contact Us link at the very bottom of the site that lets customers ask a question and categorize the type of inquiry, e.g. Reservations, Lost & Found. Questions are auto-routed to various managers for response. In 2019, 7,500 questions were submitted. That's a lot of questions!
---
Environmental Effects of COVID.
  Although air quality from reduced carbon emissions is improving, the rate of plastics pollution is increasing.
Scientific American
estimates that one garbage truck's worth of plastic is dumped into our oceans every minute and
The Guardian
reports  more than 10X more plastic has been found in the Atlantic Ocean than previously thought. Although last summer's call to action focused on turtles and straws, for the first time scientists are reporting finding
plastics in humans
. What to do? Reduce, Re-use and Recycle. Avoid singe-use plastic particularly small plastics like coffee stirrers that are rarely recycled, buy items made of recycled plastic, and choose re-usable over one-time use items including face masks whenever possible.