August 21, 2020
Ferry Facts: Ferries in NJ and DE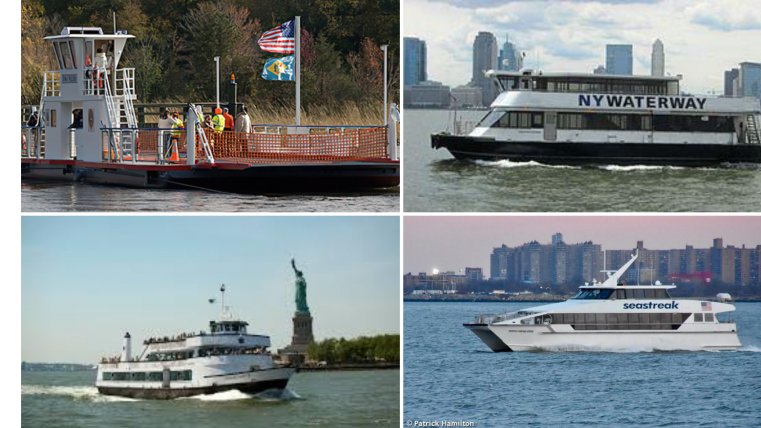 Ferries shown above: In NJ - Lower left: Statue Cruises, Lower Right: Seastreak Ferry, Upper Right: NY Waterway. In Delaware - Upper Left: Woodland Ferry. 
---
Every so often, it's good to put periscopes up and view the landscape in which we operate. In that spirit, and because Mariners can never see too many pictures of boats, this week, we look at other ferry systems in Delaware and New Jersey to get a sense of the bigger picture.  
Spoiler alert: 
The CMLF is unique in both states.  
Delaware Ferries
There are essentially three ferry systems in Delaware, with the DRBA operating two of them: CMLF, Forts Ferry Crossing with the Delafort, and the Woodland Ferry in Seaford, DE.
Woodland began current operations in 2008, and crosses the Nanticoke River.
It was originally a family-run cable system that started in the 1700s known as Cannon's Ferry.
Currently Woodland is operated by DelDot and operates year-round. Like CMLF, it takes vehicles and passengers, but only up to 6 cars per voyage.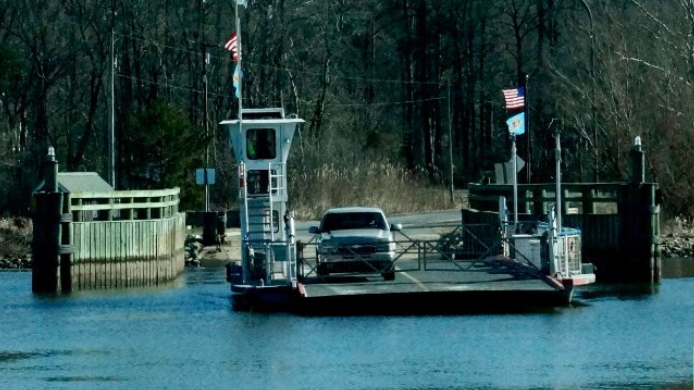 New Jersey Ferries
With its longer coastline, New Jersey might be expected to have more water-based transportation systems than the First State, but it's the need for commuting alternatives to NYC that has resulted in NJ's larger number of ferries. Seastreak is an example of growing New York commuters from Central Jersey, serving passengers traveling from the Atlantic Highlands area in Monmouth County to NYC.
Seastreak started operations in the early 2000's with high speed catamaran vessels. In addition to its commuter service, it provides sightseeing and special event tours to Martha's Vineyard, Nantucket, and Sandy Hook on the Jersey Shore.
North Jersey Lines
Three commuter ferry systems operating out of North Jersey ressurect and expand on earlier Hudson River Ferry Services from the 1900s.  In 2012, The Port Authority of New York and New Jersey became responsible for ferry service out of two terminals in Hoboken. The third, run by NY Waterway, has service out of Edgewater and Jersey City into Manhattan.
Hudson ferry systems were originally operated by the railroads to complete travel routes into NYC. When ferry traffic declined due to the opening of both the Holland Tunnel and George Washington Bridge, ferry service was suspended. But, as commuter traffic has grown, ferry service has been again instituted and is growing in North Jersey.   
New York Waterway is the largest privately owned commuter ferry system in the nation operating 31 ferries, 80 busses and 20 routes between NJ, Manhattan and other New York counties. The system turned 30 years old in 2016, but like the Port Authority of NY/NJ only carries passengers and no vehicles.

Finally, Liberty Landing Ferry operates out of two terminals in Jersey City, connecting commuters to NYC and serving tourists visiting Ellis Island and the Statue of Liberty. This line is operated by Hornblower, a cruise and event company known for tourism cruises in major cities and National Parks such as ferries to Alcatraz Island and Niagara Falls. 

Another South Jersey System
In addition to CMLF, there is one other small South Jersey ferry, RiverLink. Now operated by the DRPA (Delaware River Port Authority), it was purchased from Hornblower in 2015. This passenger-only service crosses the Delaware River connecting Camden, NJ with Philadelphia, PA. It only operates during the tourist season from May until September and on weekends during the shoulder seasons. Service has been suspended in 2020 due to COVID.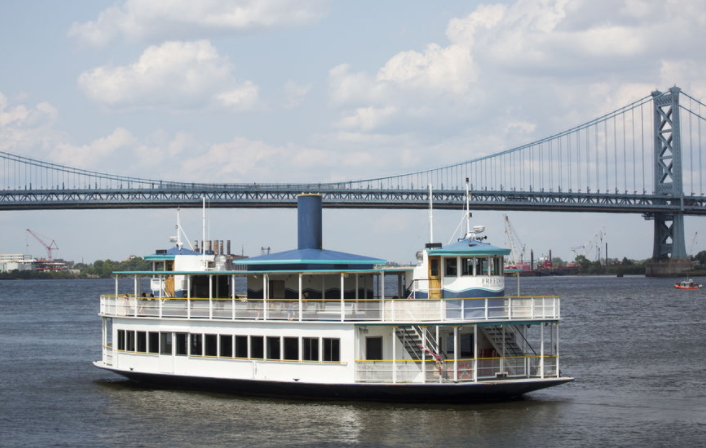 The CMLF Difference
What makes our ferry system unique in Delaware and New Jersey?   
We cross the widest body of water, the Delaware Bay
We are the only ferry system connecting Delaware with New Jersey
Our vessels are the largest, able to carry 100 vehicles per crossing and up to 800 passengers
We  are the only ferry carrying commercial trucks and larger commercial traffic 
CMLF is the only year-round South Jersey ferry
Of all currently operating ferry systems, we are the oldest and longest continuously operating
We were the first to be operated by a bi-state Authority 
---
We first published information on the NJ/DE Maritime Industry in January 2020. To refresh your memory and find out NJ's ranking in the nation, or how many miles of coastline each state has, click
here
to be taken to the edition on
The U.S. Maritime Industry
from the Archives. 
---
This week, we were advised of again receiving one of TripAdvisor's top awards. The Certificate of Excellence has been rebranded the Traveler's Choice Award honoring the top 10% of all listings on TripAdvisor.  Kudos Team! 

TripAdvisor Trivia: The red and green eyes on the full-color version of TripAdvisor owl were designed to symbolize how reviews help travelers decide where and where not to go. The Traveler's Choice Award, therefore, is colored in all green, which is why we're willing to display it here in our space usually reserved other types of Green Tips!