April 10, 2020
Ferry Facts: Henlopen History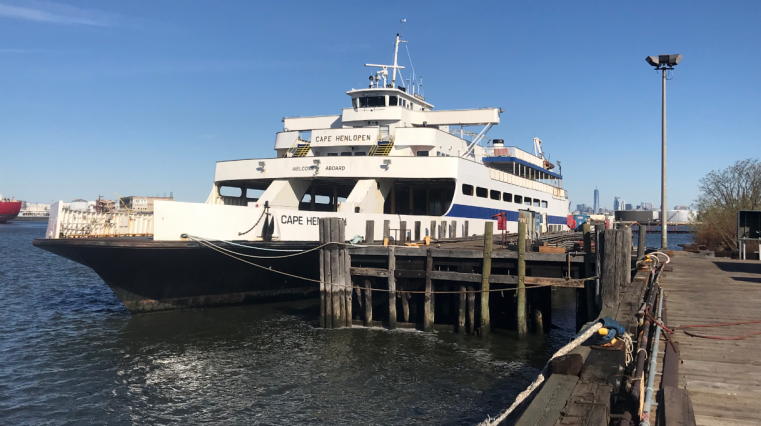 We're living through historical times, so it seemed appropriate to revisit a bit of Ferry history, particularly regarding the M/V Cape Henlopen.
---
5 Facts About The M/V CH
The M/V Cape Henlopen was the fleet's first Motor Vessel. The CMLF started with four vessels purchased from Virginia, of which only one -- the Virginia Beach -- was not a steamship. That vessel was renamed the Cape Henlopen, but is not our Cape Henlopen of today.
The original Cape Henlopen was a converted naval vessel from WW II (see below).
The entire original fleet was first sold in the early 1970s to the Mascony Transport and Ferry System as CMLF contracted with a Houston shipyard to build three new diesel fuel motor vessels. Mascony plans to sail between northern Long Island and Connecticut and Rhode Island were subsequently scrapped with only the Cape Henlopen from the original fleet able to be resold again.
In August 1975, the original Cape Henlopen became the last of the original fleet to leave CMLF service when all of the new vessels came on line. 
The original Cape Henlopen eventually made its way to the Cross Sound Ferry in 1983. Both it and our current M/V CH currently sail under the same name, but with different, official vessel numbers.
---
Why People Travel With Us
J. Alvino/Virginia Beach, VA:
 "I had to care for my grandson in Cape May because his mom is an essential worker in the Coast Guard and his dad was underway on a boat. Thanks for reaching out."
D. Hummel/Pompano Beach, FL: "I went home to Wildwood ... for years where I stayed. This year, we sold our home of 5 years in Fort Lauderdale and rented a home outside of Jacksonville to be with my wife's family. The rental was expiring and my whole family -- two daughters and three grandkids -- live relatively close to Wildwood. I choose to come back and be close to them. One daughter was being tested for coronavirus and thank God found out recently it was negative. I am self-quarantined for 14 days in my unit as I am also the president of the association and I have many duties to do especially during this coronavirus. My wife at this time may need to move in with her father (93) outside Jacksonville, but she eventually wants to come back home."

I. Reamer/Cape May: "My husband and I are healthy, active senior citizens, both 85 years old, who have spent the past 20+ winters snowbirding in Naples. Our primary home is in King of Prussia, Montgomery County, the first epi-center of COVID-19 in PA, and first area to be officially closed down. In KoP, we are a multi-generational family, sharing a home with our youngest daughter, her husband and their adult son. In Naples, last week, there was at least one resident in the community who tested positive, and we decided to leave as quickly as possible, well before our usual April  30th departure. Returning to PA was neither safe nor practical; it was wiser and safer for us to return to our home in Cape May County where we could self-isolate and avoid endangering anyone. We endured two long, hard days of driving and one anxious overnight stay in order to board the ferry for its 5:45 pm crossing. We are grateful it is still operating and offer our sincere thanks to the crew.