March 27, 2020
Ferry Facts: Homecomings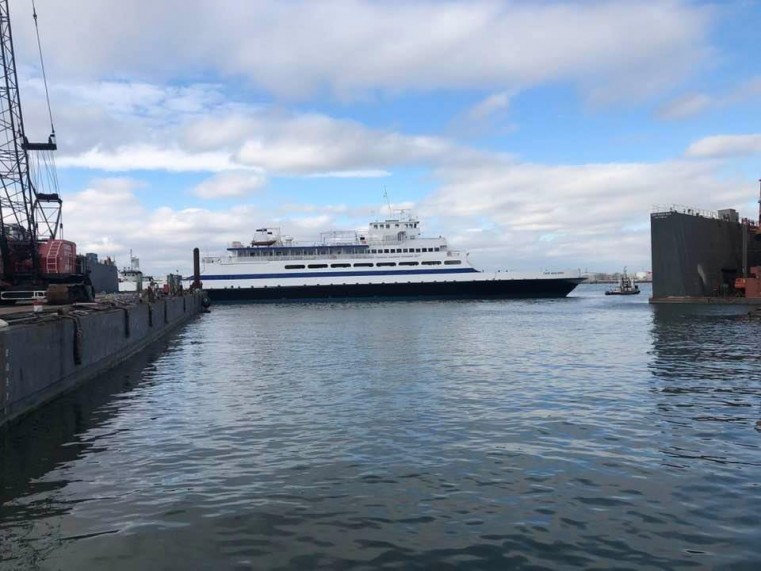 It's been another crazy week. Ferry teams are hunkering down where possible, helping spring passengers travel safety when necessary, and continuing to prepare for post-pandemic operations where it makes sense. In times like these, it's easy to focus on the negatives, so here are some of the positive things that happened  in the past week.
---
Planning for Summer
Last Friday, the Cape Henlopen came home.  Below is a composite video showing her significant transformation, The video will be uploaded to social media platforms next week for the general public, but if you click on the picture, you'll get an exclusive preview. Special thanks to Assistant Port Engineer Michael Lynch, Port Engineer Jeff Robert, and Captain Robert Vance for all the pictures.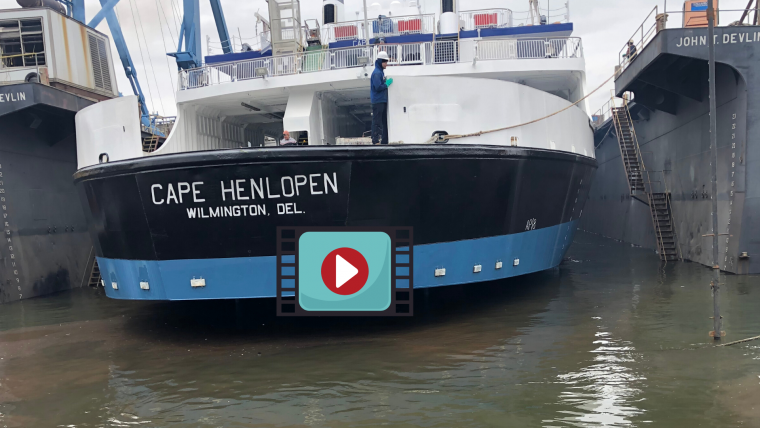 Why People Travel Now
As a transportation link between South Jersey and Southern Delaware, we've continued to sail on a reduced, modified schedule. This week we sent an e-mail to passengers who travelled with us during this past week to monitor why they were traveling. Turns out, like the Henlopen, much of the travel was simply to get home. Here are some of the responses:
From T. Maguire/Avalon: "
My travel was last Thursday to get home from Florida... it was imperative that I get home because there was an illness in the family not Corona virus related."

From D. Higman/Cape May: "We took our RV down to VA. The plan was to stay at a couple of near-empty campgrounds until the restrictions were lifted. Unfortunately, the governor closed non-essential businesses and the campgrounds asked non-residents to leave. We returned to our home in Cape May on Tuesday.
 "
From D. Russell/Ocean City, NJ: "
We were returning from the Florida Keys to Ocean City, NJ, and the ferry is the easiest way for us to do that.  We were supposed to be in Florida until the end of March, but when we heard that Pennsylvania was closing lodging, we thought we should get home ASAP before other states followed suit. The staff at CMLF was incredibly helpful.  I changed our sailing at least twice and they were so quick to respond and very gracious. They even called me to make sure we knew about the schedule changes.  Please thank them for us. 
Social Feedback
In addition, we continue to monitor social comments and reviews to take the pulse of the general public. If we get negative feedback, it most often comes on Facebook, but this week feedback remained extremely positive. Here are some samples: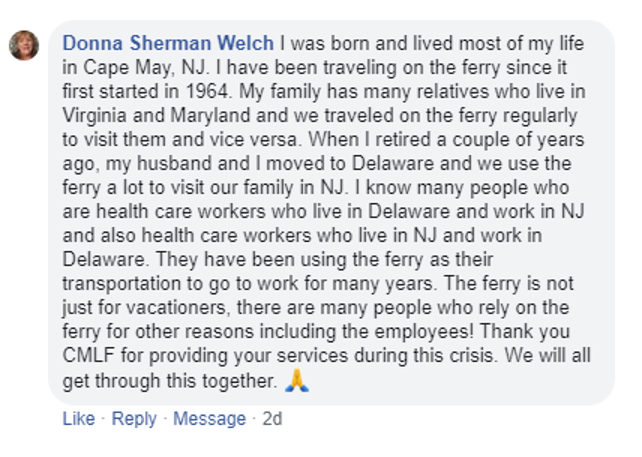 ---
Thanks to Silvana Dominioni, EHS Director, for sharing this meditation by the water created recently for these times. Enjoy as needed.