August 7, 2020
Ferry Facts: Hurricanes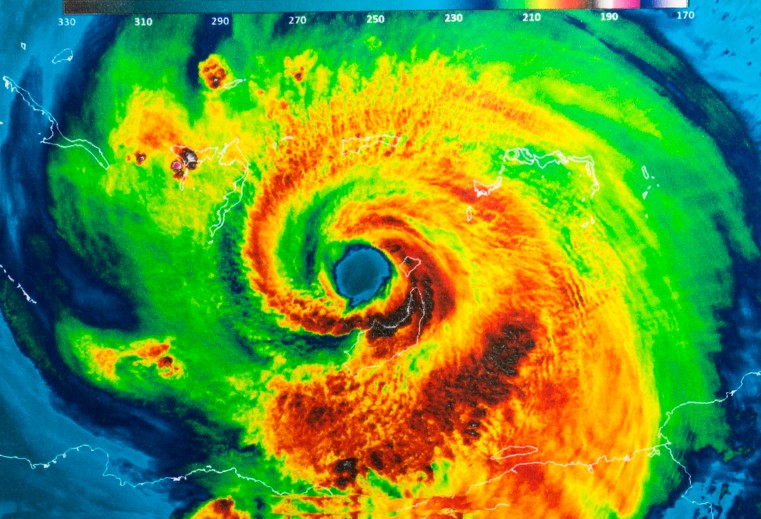 Although Isaias largely passed us over to cause disruption elsewhere, it was the offical first siren that we're in hurricane season. NOAA (National Oceanic and Atmospheric Administration) 
forecasts
 that 2020 will be rough, with named storms expected to exceed the 30-year average and the Atlantic Ocean dubbed as
hurricane fuel
. Atlantic hurricane season peaks each September and runs through November, so it seemed a good time to review how we prepare.
---
What's in the plan?
The Ferry maintains a detailed Hurricane Contingency Plan filed on the Intranet under Ferry Policies and Procedures. The 40+ page document details not only when to stop operations and move (sortie) vessels out of the area, but what food and supplies are needed on board during an evacuation, and plans for employees to secure their own homes before evacuation. It has numerous check lists and contact lists for medical, marine and food resources. 
When do we leave in a storm?
The decision to move "up river" depends on numerous factors including wind strength and direction, tidal conditions, and the anticipated storm track. The vessels are generally considered able to withstand category 1 and weak category 2 storms while staying in dock. High tide conditions, however, can create the need to sortie [sor-tee] even for lower level storms to prevent the vessels from overriding their berths in Cape May. The goal is move the vessels if needed no later than 24 hours before anticipated storm landfall. 

Have we ever had to sortie?
Yes, at least twice in the last decade (Irene in 2011 and Sandy in 2012), and a few times earlier in the Ferry's history.

Do we ever ride out a storm at sea?
No. Because of the size and construction of our vessels, the safest way to ride out a storm is in a safe harbor. If the vessels were in danger of jumping their berths especially due to high tides, we'd attempt to maneuver at docks to keep them in deeper water.

What are our safe harbors?
Hurricane plans call for our boats to sail "up river" to berthing space in one of a number of facilities in Wilmington, Philadelphia, and Gloucester. With each storm, calls are made in advance to determine which space is available. 

What are our Readiness Categories?
In addition to storm categories, the Ferry has its own readiness categories ranging from 1-4. Condition 4 is in effect for the entire Hurricane season. This is the planning phase when the plan is reviewed, all needed marine supplies are held in inventory, and contact lists are updated. 


 
Condition 3 goes into effect when winds are in excess of 74 MPH and landfall is expected within 48-72 hours. This is the readying phase when employees are asked to secure their homes and be at-the-ready to implement evacuation plans if needed. Pier space is secured up river, pilots for the routes are retained, and the vessels are prepared for potential sailing.

Condition 2 is the beginning of evacuation implementation and goes into effect 24-48 hours before anticipated landfall. The decision to sortie may occur at this level, but the team may still be tracking the storm's trajectory to make a final decision.  

Condition 1 occurs when hurricane force winds are expected in under 24 hours and is considered maximum preparedness. It involves the same go/no-go decisions in level two, but can also include setting up secondary command centers, immediate initiation of full-time watches on the bridge and literally batting down all hatches. 

How do we know when it's safe to return? 
Once a storm is at a level where we've ceased operations, we often need to get clearance from the Coast Guard to resume service as they monitor the Bay and River's status for safe vessel operations. 

What can I do to prepare? 
Review pages 31-34 (Appendix 4) of the plan for the Personal Hurricane Preparedness Checklist. This will advise you of how to prepare at home including developing your own evacuation route, having your own checklists for securing important papers, and a list of recommended supplies to have on hand. 
---
Storm Naming Trivia: Hurricanes weren't named until the 1940s when the U.S. Airforce started labeling them as a means to heighten interest and community prepardeness. Winter storms followed suit in 2015. Now, there's a growing movement to name and rank heat waves to keep the public aware of the dangers of heat exposure. The system has challenges because what's considered hot in NJ may not be so hot in AZ, and humidity plays a role. 
---------------------
 
---
Book Recycling: 
 Summer is a time for catching up on reading, but if you have bookshelf space issue, 
Earth911.com
 has suggestions for book recycling. Books are mixed paper and recyclable with some caveats. Paperbacks can be recycled whole. Hardcovers need to be separated from their covers which contain some non-paper material. Other options include donating books to thrift shops or used book shops, donating them to libraries when they are accepting them as they can resell them, or selling the books online with some 
suggestions in this link
. And, if you're a DIYer, here are some 
ideas of how people have repurposed books
!