June 19, 2020
Ferry Facts: The June Calendar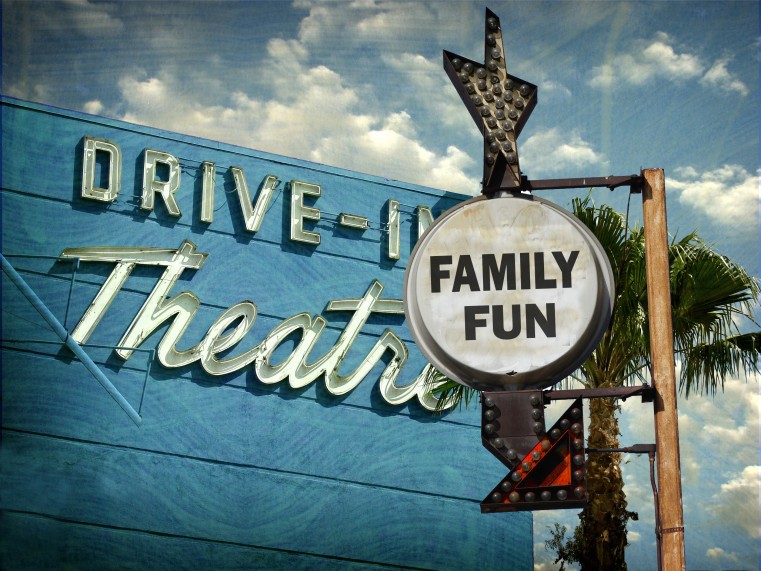 June Firsts and Lasts
Juneteenth: Today marks the 155th anniversary of Juneteenth, the oldest national commemoration of independence from slavery in the United States. It was on this date in 1865 that Union solidiers landed outside of Galveston, TX to inform the most remote and last group of slaves in Texas that they had been freed months earlier. 

Summer Solstice: For many Memorial Day marks the beginning of summer, but if you're into astrology, tomorrow, June 20, is the first day of summer with Summer Solstice. Solstice -- which means "sun-stopping" --  marks the time when the sun reaches its highest position in the sky giving everyone the longest day, or day with most time in sunlight of the year. In some years, the longest day falls on the 21st. 
---
COVID Travel Advisory Videos

Six short video clips have been released this week to help passengers understand new travel protocols while riding on the Ferry. All have been uploaded to the Ferry's YouTube Channel in their own playlist of healh safety advisories. 

Next week, the video team will be back on campus to create a second series that highlights enhanced cleaning and sanitizing procedures in the terminals and on the boats. Here's your quick access tools to what passengers and the public are seeing about traveling during this phase of COVID recovery. Click on any of the video pictures below to see the clips.
Exercising Mask Courtesy 
This short video displays our requirement for the public to wear masks while walking outside of vehicles or anywhere on campus.  
The first shipment of CMLF branded masks arrived this week to help out in case someone forgets a mask.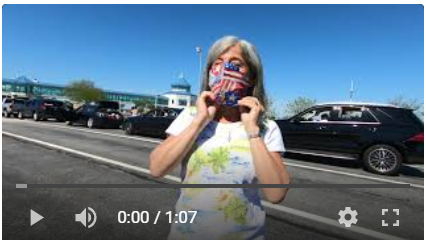 Riding Bikes on Board 
The quick bicycle clip demonstrates how bicyclists are staged before boarding with masks. Once on board, they can walk around and enjoy the view when continuing to wear masks.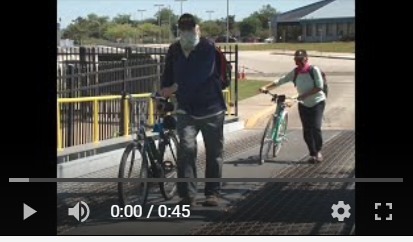 Did you know that recreational biking is on an upswing due to COVID?  Between reduced mass transit schedules and closed gyms up until now, people have been taking to bicycle riding both to get around and just get out.
Following The Yellow Arrow Road
With some help from familiar "extras," this clip demonstrates the new counter-clockwise walking pattern laid out on the decks.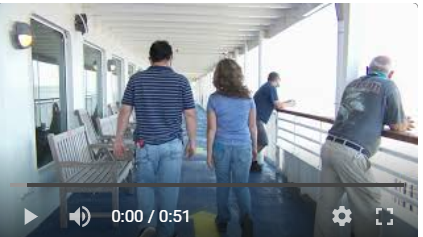 Taking The Stairs
With Starboard stairwells now reserved to go up and Port stairwells dedicated to down traffic, this clip gave the "acting" team their exercise for the day as they continued walking up and down through several takes while the videographer captured their step counts.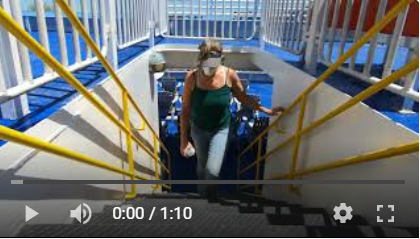 Seating on Deck
The marine crew has done a great job x'ing off seats and railings to show appropriate social distancing when on board. This next video shows passengers the red visual cues for easy socially distanced seating.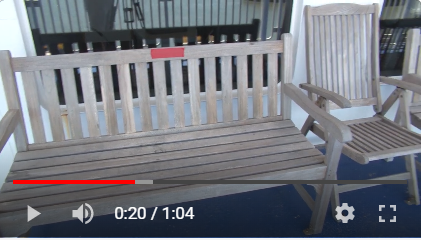 Skywalk Protocols
In anticipation of foot passengers being able to resume travel on July 1, and by special request from the Police, the video team created this clip to detail how baggage checks will operate with social distancing.  You may recognize some of the passengers waiting to disembarck even though they are well masked!


---
Movie Night Out Sells Out
It took just 18 hours for spaces to be sold out in the Ferry's first ever Drive-In Movie Night. On Saturday, June 27, after the last departure, the staging lanes will be transformed into a Drive-in Theater for a one-time showing of Moana, a PG rated movie good for families of all ages. A digital flat LED flat screen will be set up in the front of the lanes, and ticket holders will be directed to specific parking spots on a first come basis to be able to view the movie.

Sponsored by a grant from Coca-Cola, and created in partnership with the Lower Township Recreations Department, the event is free, but each vehicle must present a pre-reserved ticket to come on property so that proper social distancing can be maintained between parked vehicles.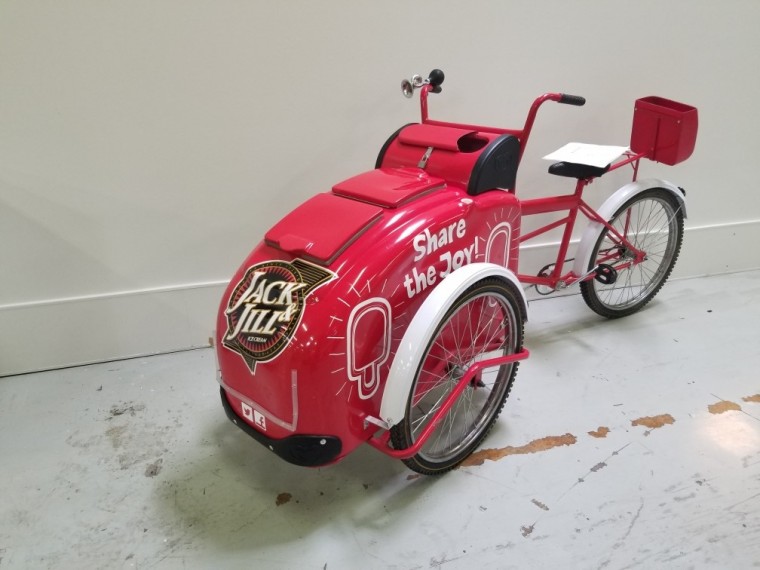 After team brainstorming on ideas to recover some sense of summer, the idea was implemented by Marketing Manager Mike Porch. During the movie the Food & Retail team will call the Hot Dog Hot Rod Cart back to duty accompanied now by a new Icicle Tricycle for ice cream offerings. The Tricycle is on loan for free for the season. Additional snack offerings will  include  Fisher's Popcorn and Salt Water Taffy to keep families happily entertained in their vehicles. The restrooms will be open, but all attendees must wear masks to leave their vehicles.   
---

Coming Soon to A Staging Lane Near You - Moana is anticipated to be the first of three Drive-in Nights with the other two planned for Saturday July 11 and Saturday, July 25. Movie rights to specific titles are still being secured and  Features will be announced when confirmed on CMLF.com.