February 12, 2021
Ferry Facts: Love in the Air
Love is in the Air
This Sunday is Valentine's Day. COVID has had its effect on dating, courtship and marriage plans for many, but even in the worst of times, romance continues to flourish. So, take a walk with us down memory lane as we look at milestone events from easier times and dream about their hopeful return to our shores soon.  
---
Romantic Dreams and Reads
If you just want to dream about romances, the cold winter months can be a good time to catch up on beach reads, especially those that feature romance in our area.
The latest from 2020 is
Love on Beach Avenue
by Jennifer Probst based in Cape May. 
The Girl in His Dreams
, is based on a local love story that takes dating seniors on the Cape May-Lewes Ferry. 
The Matchmaker
and
Down on B-Dock
are set in the Rehoboth-Lewes area and
Sandy Shorts
, available in our gift shop. is a series of short stories -- not always romances -- set in familiar areas from Bethany Beach to The Wildwoods. You can also check out the Goodreads list of
best romance novels set in Delaware
, or the
Steve Leadley historic novels
set in Cape May.
Real Life Courtships

If you Google courtship on the Delaware Bay, you'll most likely get hits for Red Knots and Horseshoe Crabs, as the bay is well known as prime mating grounds for marine and aviary wildlife. Less common are articles about the many folks we encounter on the Ferry each year who are en route to dates and mates on the other side of the bay. 
On most dating sites, singles fill out a profile that includes how far they're willing to travel to meet someone. In our area, if the profile states <25 miles, it's not uncommon for matches to come up across the Bay causing some motivated paramours to take the Ferry when they are ready to finally meet in person!
When love blossoms, they become regulars who sometimes share their stories with the marine, customer service and security teams. They can usually be spotted, however by the tearful good-byes or joyous hellos in our skywalks.
Onboard Engagements 
The Ferry is also a common backdrop for engagements, either as a surprise billboard, as happened recently when a romantic groom got his friends on Ferry to post his billboard asking his intended to marry him as the Ferry sailed by the couple at Douglass Park in Cape May. 
More often, the ferry is used as the romantic venue for the engagement. November 2020 while the weather was unusally warm, Brandon Crystal from Delaware chose to propose to his beloved Erin O'Grady from New Jersey while on the Ferry. When the captain announced the boat had crossed into NJ waters, Brandon dropped to one knee and his family, who had come on as foot passengers and stayed out of sight, made their way to the back deck to witness and celebrate with the newly betrothed. 
Captains and crew are frequently brought into the mix and not just for picture taking. When grooms confess their plans while making reservations, Customer Service representatives advise the Captain, who sometimes becomes part of the ruse. In some cases, the groom gets called up to the Bridge for a conference with the Captain, and when he brings his companion for moral support, she is surprised when the event becomes a proposal right on the bridge.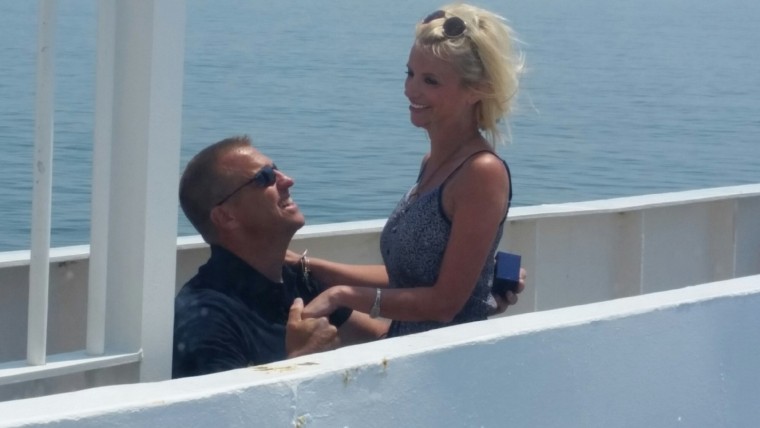 Weddings by the Water
COVID resulted in the cancellation of most weddings originally planned for 2020 and early 2021 at the Ferry. But, even in the worst of times, love blossoms.
Currently three weddings are scheduled for the summer. One is on May 12th for 80 guests; another on June 12th for a small wedding of 30-40 guests; and the third is planned for June 26th in a tent with 90 guests. Weddings frequently have a nautical theme, or just maximize the romance of our amazing sunsets and bay views. 
This couple drove their RV to the Ferry in October 2020 with plans to enjoy the Harvest Moon rising over the bay as they were crossing to Delaware. Before boarding, they came on to the boardwalk with friends to be married by an officiant. They then went back to their RV, drove on to the Ferry and left on their honeymoon! 
Anniversary Memories 

 The romance of the Ferry is never forgotten, even after 50 years. This couple came to the Ferry in 2017 to revisit their honeymoon which included a roundtrip ride on the first voyage of the Ferry in 1964! They honeymooned at the beach near Cape May, and took the Ferry as an adventure. Years later, they continued to come to the Cape May area with their kids, and in retirement they made their way back to the Ferry to share the memories.
Warming the Heart
In February, when the weather is generally cold and toes and noses are chilled, Valentine's stories can, at least, warm our hearts. It's not just the romance of the sea, afterall, that makes working at the Ferry special. It's also the romance that is always in the air and that we frequently get to witness! 
And Finally ...
We don't get to say lovely thoughts enough to ourselves, and we pride ourselves on our stoic maritime natures, but here's a tiny bit of mush for everyone at the Ferry.
Each day, in every way, we love working with you! 
---
Be a Green Valentine.
Yes the official color of Valentine's Day is red, commonly celebrated with red roses and red chocolate candy boxes. But, roses are one of the more carbon heavy flowers you can give, and there are now many fair trade, organic chocolate choices that are grown in a more sustainable manner. For ideas on greener Valentine's options, check out this 
gift-guide post
 including the value of Vintage Jewelry shopped locally to show love of the planet and your community along with love for your special someone.