January 15, 2021

Ferry Facts: More on Transfer Bridges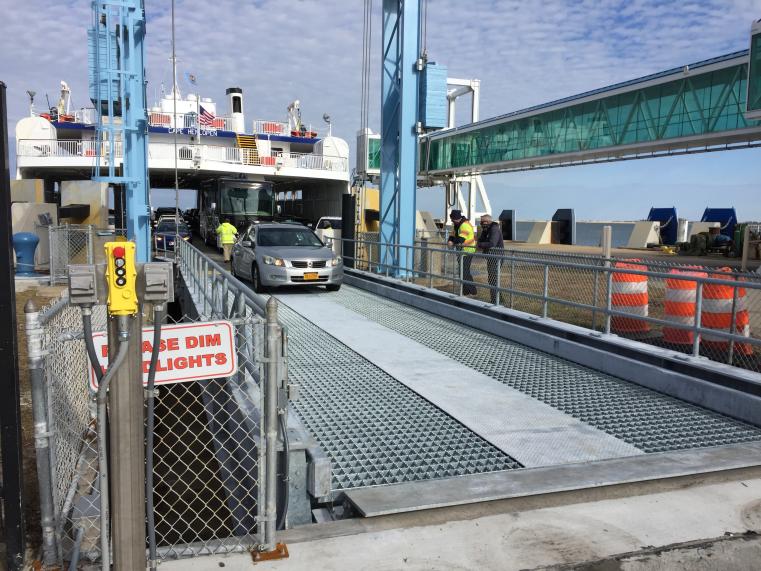 A Bridge to Cross
This week we continue getting answers to some of our common questions about the Transfer Bridges being installed at both ports. If you missed last week's edition, click here to see the first round of questions. Special thanks to DRBA Project Engineer Greg Pawlowski who patiently answered all our questions, sometimes multiple times to translate info for the author - a  layperson. 
---
Is there some reason we didn't do all of the ramps in Cape May first before going to Lewes?  
Per the contract, the contractor must maintain one slip open at both terminals in order to allow normal operations while construction takes place. To minimize the duration of construction, work is occurring on both sides of the bay simultaneously.
How do tides affect the bridges?
High tides in Cape May can be up to two feet higher than they are in Lewes. Because of this, our bridges can sit higher on the ferry deck during high tide than in Lewes and low-riding trailers scrape the bridge or roadway when traversing across them due to the sharp bend where the two meet. To solve this problem, roadway ramps are being constructed 2' higher in Cape May to smooth the  transition.


What is something we learned about the Transfer Bridge project that we didn't know when we started?  
We had no idea how highly corroded the steel was on Slip 3 in Cape May and, surprisingly, it was the worst of all five bridges. It would have been valuable to have had more investigation and information about the current condition of the gantry steel. We didn't know the full condition until after it was blasted to bare metal. It took a few months to evaluate the steel, develop a solution and plans for the steel members, some of which would be repaired in place and others that would be replaced completely before we could continue the work. 
Which was the hardest to install to date?
Lewes Slip 1 was the first to have a new bridge installed and operational. As you would expect, there were many "bugs" to be worked out with the first functional bridge much the same as when we first installed our new loader tubes seven years ago. The lessons learned from each bridge greatly improve how the remaining bridges are replaced and brought back on line.
 
Due to timing, is the approach to each bridge different?
Slip 3 in Cape May has hot mix for the pavement. Due to the colder temperatures of winter, all hot mix plants shut down from mid-December thru mid-March. 
Slips 1 and 2 in Cape May will have concrete in their ramps because these two have higher traffic volume and more wear and tear. Unless we have extended temperatures below freezing, we can still pour concrete and place special blankets over top to protect it while the concrete cures. There is a final coat of hot mix that will be placed on Slip 3 once the plants reopen.
If we were doing the project again, is there anything we'd do differently?  
We would have conducted an extensive underground exploration of all utilities and lines that could possibly impact our design. Per the contract, these types of surprises, called "unforeseen conditions" were our responsibility to resolve, and slowed up the project.
Advance exploration would not have guaranteed we didn't find something in our way later, but it definitely would have reduced the impact felt on this project. Incidentally, our Engineering department is currently working on a project to identify all our utilities and consolidate them in a Utility Corridor at each terminal so we always know where the lines are and don't encounter these types of issues in future projects.
Any final thoughts?
On a project of this complexity, there is always a balance between time and money invested in the design versus time lost in utilizing the asset for its intended function. In other words, how much do you invest trying to develop a set of perfect plans and for how long? 
Things change in the field during construction and thankfully the contract allows for this through a change order provision because we certainly encountered several challenges we did not know about in the planning stages.
We are thankful that we have been able to overcome most of the challenges encountered, and thank everyone for their patience, and the excellent shiphandling that was required of our captains. The end result should be quality bridges performing their mission as intended for decades to come. 
 
---
Kitchen Plastic. One trend in kitchen recycling is to replace the green and yellow kitchen sponges found in grocery stores with greener alternatives. Why? The common, rectangular kitchen sponge is made with plastic! The average household replaces kitchen sponges once a week creating millions of sponges in annual landfill waste. The alternatives come in a variety of choices from cotton washable blends called unsponges to cellulose sponges, compostable sponges, and walnut and coconut sponges both of which most closely resemble the supermarket varieties in shape and size.