September 11, 2020
Ferry Facts: Operation Deep Blue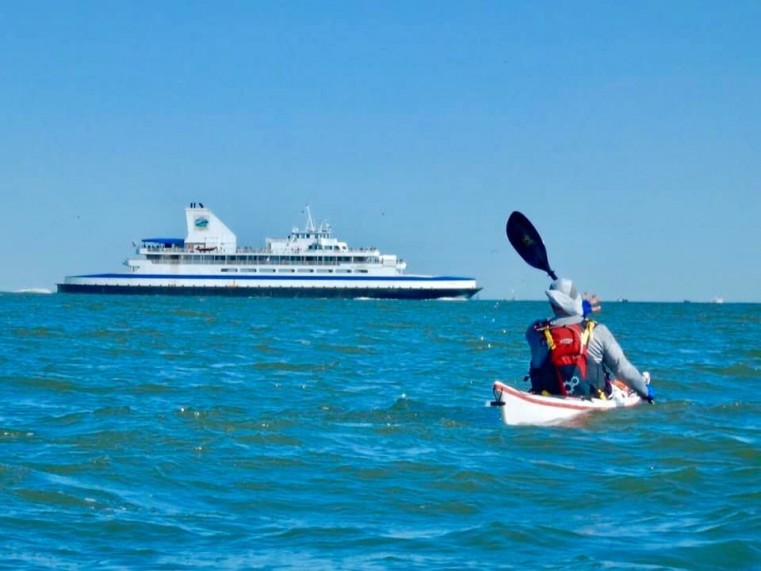 Of the many things that  have changed due to COVID, one is fundraising for good causes. People who may have previously gathered for marathons, hikes, and the annual May Police Unity Tour biking event have had to rethink how to keep the missions alive. But, that's just one of the things that makes this story special as it involves one of our own in honor of one of our own.
Above: Assistant Port Engineer Michael Lynch kayaking across the Delaware Bay with the M/V Delaware in the background. 
---
Honoring the Fallen
Tomorrow, Saturday September 12, Assistant Port Engineer Michael Lynch will start on an eight-day kayak journey that starts at Fort Mott, in Pennsville, NJ, crosses the Delaware River to the Chesapeake & Delaware Canal, goes down the Cheapeake to the Potomac River to arrive at Washington D.C. on September 19. There are many easier and faster ways to get to D.C., but Lynch is part of a special team participating in this year's Operation Deep Blue in honor of fallen heroes.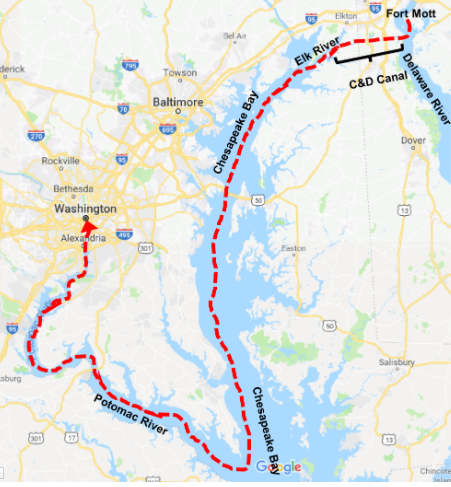 The entire route is 225 miles. Training occurs year round both in the actual route waters and on similar water bodies that help condition the kayakers for the long journey.  According to Lynch, weather can be a factor, but the hardest part is likely to be at the base of the Potomac River as currents can be very fast in that area.
Training Exercises
In his training, Lynch has been spotted paddling across the Delaware Bay. Last week, he trained by taking his kayak to the Brandywine Shoal Lighthouse on the Delaware River, a 17-mile trek roundtrip. In August, he volunteered for kayak safety support during the Navy Seal Hudson River Swim, the only legally sanctioned swim across the Hudson.  
New Water Fund Raisers
Both the Navy Seal Swim and Operation Deep Blue started in 2019 and are part of a new type of fundraising event highlighting water athletics. Both became even more important this year as COVID-19 forced the cancellation of many land-based events that tended to create close knit crowds. On the water, swimmers and kayakers can stay naturally socially distanced.
The Navy Seal event specifically raised funds for military personnel assisting first responders on the front lines fighting COVID-19 in addition to its normal charitable efforts on behalf of veteran homelessness and job training. Operation Deep Blue was created to grow awareness of law enforcement, military and first responders who fell in the line of duty.    
A Personal Tribute
Ocean Blue kayakers take to the water in honor of a specific individual and raise funds to directly support surviving family members and affiliated charities that provide survivor support services. This year, 17 fallen heroes are being honored in addition to the initial seven honored in 2019. 

Michael Lynch is part of a team honoring the DRBA's beloved Vincent Julia, a patrol officer killed in the line of duty on February 9, 1996. Ptl. Julia was assisting a disabled tractor-trailer on the Delaware Memorial Bridge. A dump truck disregarded the closed lane signals and struck Ptl. Julia's police car from the rear. The police car was destroyed in the resulting fire.

Many at the DRBA have personal recollections of Julia, who came to work in 1993 as a casual employee in the police department. With a career goal to become a police officer, he enrolled in a police academy. When then Executive Director Mike Harkins pinned Julia upon his graduation, Julia remarked that it was his life dream achieved. Julia only got to serve in that dream for two years, before the fatal crash. He is one of two DRBA officers killed in the line of duty and listed on the National Law Enforcement Officers Memorial. He ended his watch at age 27. 
DRBA Memorial Page
Julia Building Named
Mike Harkins spoke at Vincent's funeral service, announcing there that the newly constructed and yet unnamed building on the New Castle campus would now be called The Julia Building in his honor. One attendee and current employee stated: "It was a powerful moment having the new police building named for Vince."

Many at the DRBA  today still remember Julia having started their careers at the same time. Comments from those who knew him include:

"He was a great guy, a professional police officer, and an all round tremendous human being."

"It was the saddest day of my work life." 

"It was a sunny but brutally cold day. I can never forget it."


---
This was published on September 11, a day now of special significance for us all. Of note: It is also Ptl. Vincent Julia's birthday.  His sister Anne Julia stays in touch with the DRBA Police and made mention of it this week. As we go forward in honoring all who have fallen on each Sept. 11, please also keep Ptl. Julia in your thoughts on this ever somber day.
---
 If you are interested in supporting Operation Deep Blue, you can go to
operationdepblue.org
or click the button below. Donations are not made in a specific participant or honoree's name and go into the Operation Blue general fund. 
Operation Deep Blue
If interested in supporting the Navy Seal swim effort on behalf of the GI Go Fund go to
gigo.org
, or click the button here.
Go GI Fund