April 17, 2020
Ferry Facts: OTR Donates to Pantry

On the Rocks donated the first of two shipments of short-dated food and supplies to the food pantry of Cape May's Seashore Community Church of Nazarene. Shown above l-r: Full-time Volunteer Yvonne Wright-Gary; Pastor Tim West; CMLF Food & Retail Superintendant Shaun O'Brien; Compassionate Ministry Director Almond Weech.
---
The restaurant business has been one of the hardest hit during COVID-19, but many chefs and food organizations have dedicated themselves to finding ways to feed their own out-of-work employees, and to provide box lunches for first responders. Inspired by what he was reading, Food & Retail Superintendant Shaun O'Brien was wondering how his team might be able to contribute. 
"We don't do box lunches," Shaun thought, but when he looked at warehouse inventory held for On the Rocks, he realized there was a different way the Ferry could help.  
Inventory is ordered for food service weeks in advance based forecast traffic and sales data from the prior year. The team had been preparing for a robust spring, but due to COVID – 19, food service has been shuttered since March 18. Instead of returning short-dated items for credit, the Ferry's Food and Retail team coordinated with suppliers to donate the provisions locally. Assisted by Peggy McCann, they then contacted the local food pantry at  Seashore Community Church of Nazarene, which serves residents of Lower Township.  

On Tuesday, April 14, one van loaded from top to bottom with items ranging from assorted beverages to boxed food items arrived at the pantry.  O'Brien, pictured above in the mask, met with the pastor and church affiliates to move the items into the pantry's food stores. 
Seashore Community Church, located in Erma, is part of regional network of food pantries with primary service dedicated to residents of Lower Township. The church, established in 1912, has been at its current location for the last 20 years and runs a thrift shop on the site which also helps fund the pantry.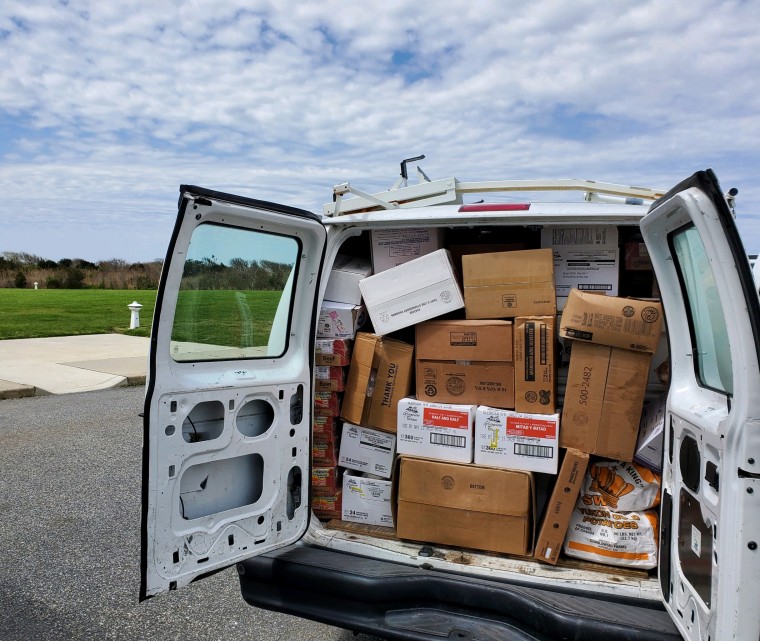 The pantry is open each Monday, Wednesday and Friday from 10-12, but also opens on demand as needed. In a typical week, 30-50 families are served, but with increased need, this past Tuesday, more than a dozen families received food bags. According to the Pastor, people tend to use the pantry more toward the end of each month as reserves run out, but since COVID-19, families have been needing resources earlier. 
Supplies always needed include canned meats, vegetables, soups, beans and fruit as well as instant rice, oats and cream of wheat. To drop off donations, it is suggested to call the church office at 609-886-6196 beforehand so staff can be on hand to accept the deliveries.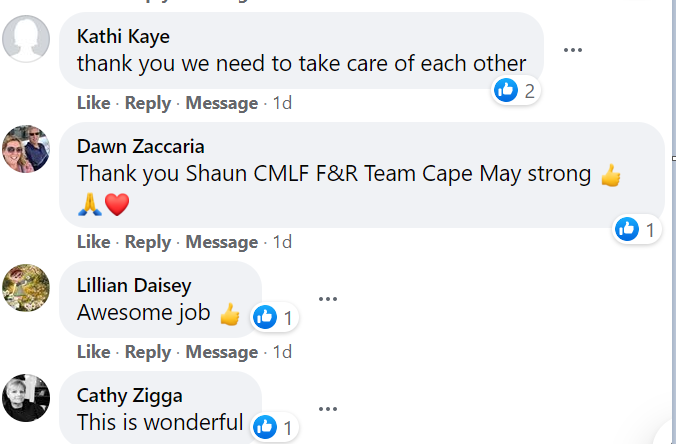 Pastor Tim commented: "We welcome all donations and believe that common unity is what makes a community. The Ferry's donation is a demonstration of how a community works together to best serve local people in need. We are better together. Please let everyone know how grateful we are."