January 10, 2020
Ferry Facts: Questions About Grain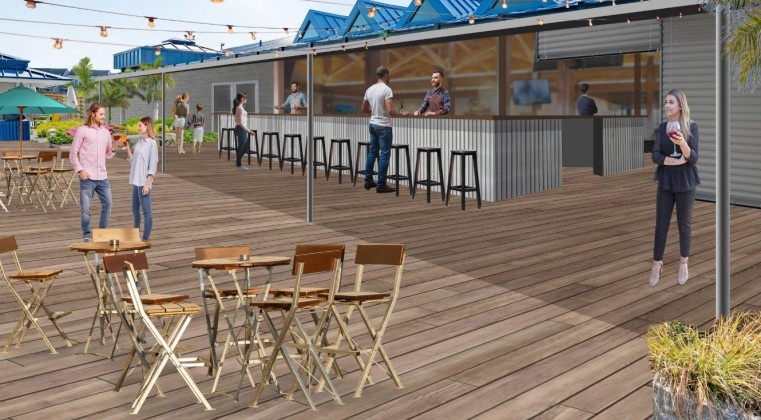 As we start 2020, construction on the new Grain facility at the Lewes terminal is about to begin. We've been getting lots of employee questions about plans for the future of the facility. Here are answers to the 9 most commonly asked questions to date. 
---
Q1: When will construction start and finish? 
The Grain team is still finalizing their concept. The plan is open as early as April 1, and no later than Memorial Day weekend.
Q2: Will there be seating for passengers both during construction and after Grain opens? 
On January 20, the gate is going down on all seating to prepare for construction. During construction, some additional seating will be moved to the lobby area, but this is traditionally our slowest time of the year.
After construction, all salon seating is officially for Grain customers, but Grain has said they will work with us particularly during peak travel times and lower restaurant demand times.
We will use 2020 to determine what the actual seating needs are in each season. If we need more space, we'll consider an air-conditioned tent in the back of the terminal, or other options for 2021.
Q3: Will the new facility still be called On The Rocks?
The formal name will be Grain On The Rocks to differentiate it from other Grain facilities while maintaining the original brand identity. 
Q4: What will happen to Off-Centered?
It will remain and will still be called Off-Centered On The Rocks to retain both Dogfish Head and OTR branding. 
Q5: Will there still be a Grab 'n Go and gift shop?
Yes. The Grab 'n Go will reopen as a Grain coffee shop. In addition, there will be a new direct entrance from the outside to the gift shop. 
Q6: Why did we make the decision to bring in a third-party vendor?
Our goal was always to create food & retail service amenities that positively contributed to a passenger's experience. We believe the partnership with the Grain brand and product line will enhance the service to guests, while providing a net positive revenue stream to the Authority through rental income.
Q7: Will Grain stay open later than OTR Lewes did? 
That's the plan! How much later? That's still to be decided, but Grain is looking to have a dinner offering and stay open after the last boat leaves Lewes. 
Q8: How should we answer questions asked by passengers? 
Feel free to have conversations based on the information provided here, and we've created a web page accessible by the public at CMLF.com/grain-rocks where  you can direct passengers for more information. The page will be updated whenever we get new info. 
Q9: Will Casuals who worked at On the Rocks be considered for work at Grain?
Grain is definitely interested in our employees and their experience at the terminal. All casuals are encouraged to apply by filling out online applications at https://meetatgrain.com/careers. Positions at On the Rocks in Lewes is specifically mentioned on the page. 
Q10: What about Full Time staff who used to work at On the Rocks?
We had three full-time OTR employees. One has already decided not to return and two are considering other opportunities within the DRBA as well as with Grain.
---
If you have other questions, please ask them by sending  them to Heath, or attending one of the weekly Friday chats with Heath at 10am so we can provide answers. Open meetings on Grain or any other topic are held via video and phone conference in the Lewes and Cape May conference rooms. No need to RSVP. Just show up or call in via an email invite sent during the week.