June 12, 2020
Ferry Facts: Ramping Up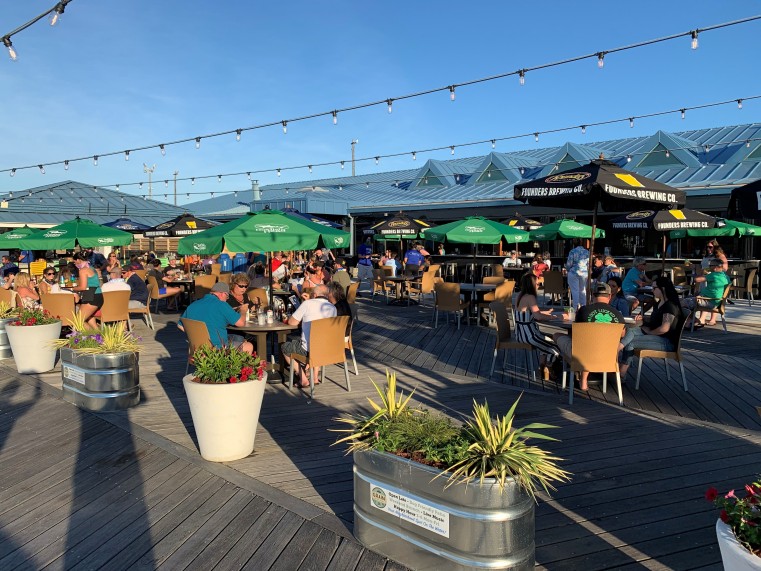 It was a bright sunny day on Tuesday this week, and if it weren't for the absence of foot passengers in the skywalk, masks on everyone from police to passengers, and the hot dog cart in Cape May offering limited breakfast sandwiches in the staging lanes, one might have mistaken it for a normal June day. The 10:30 was sold out, a dozen assorted bicyclists were lined up for a day of recreational  touring in Delaware, and two masked motorcyclists were on the lot preparing to embark. 

Meanwhile, indoors, on a video conference call, Ferry managers were discussing how to ramp up for increased passenger loads as restrictions started to ease in both Delaware and New Jersey. Here are some of the ongoing plans being implemented as everyone becomes more cautiously optimistic about the summer.
---
Grain Opens in Lewes
After months of construction and planning, Grain opened on Wednesday, June 10 at the Lewes terminal. For now, only coffee, lunch and dinner are offered, and beverage menus are available via waitress service as being seated at the bar is still restricted. Pictures from the opening show a healthy pent up demand for eating "out" outside.
Per Delaware's reopening guidelines released by Govenor Carney at the end of May, tables must be arranged in a way that ensures seated customers at one table are at least six feet apart from seated customers at another table and tables must be disinfected in between each party. Only members of the same household unit may be seated at a table, and guests must wear masks when getting up to go to the restroom.
As part of the opening, Grain is offering discount pricing to DRBA employees with some restrictions as noted below. "This is just one of the many ways Grain is working to be a true partner to the Ferry," stated Heath Gehrke, Director of Ferry Operations.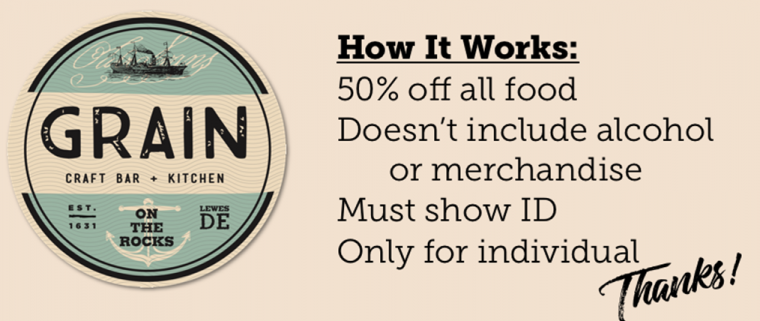 To see the new Grain menu, click on this link.
On the Rocks Opens June 26
On the Jersey side, On the Rocks is gearing up to open on Friday, June 26.  "Our top issue at the moment is staffing," stated Food & Retail Superintendent Shaun O'Brien.
Hot Dogging Until June 14
Meanwhile in Cape May, an aptly named Hot Dog Hot Rod can be seen serving guests in their vehicles waiting for the incoming Ferry. The cart, operating in the staging lanes, offers breakfast sandwiches and beverages in the morning and hot dogs and beverages in the afternoon.​
Guest feedback on the hot dog cart has been positive with approximately $2,000 in sales realized in the short two-week trial period. In addition, the pilot project gave the team experience accepting contactless mobile payments through Square and live testing the delivery model for other potential future uses such as ice cream cart sales. 
The cart, currently on loan from Wildwood Sign & Design, will be returned on Sunday, June 14 as staff will be needed to man the Lido Bars opening two days later on June 16.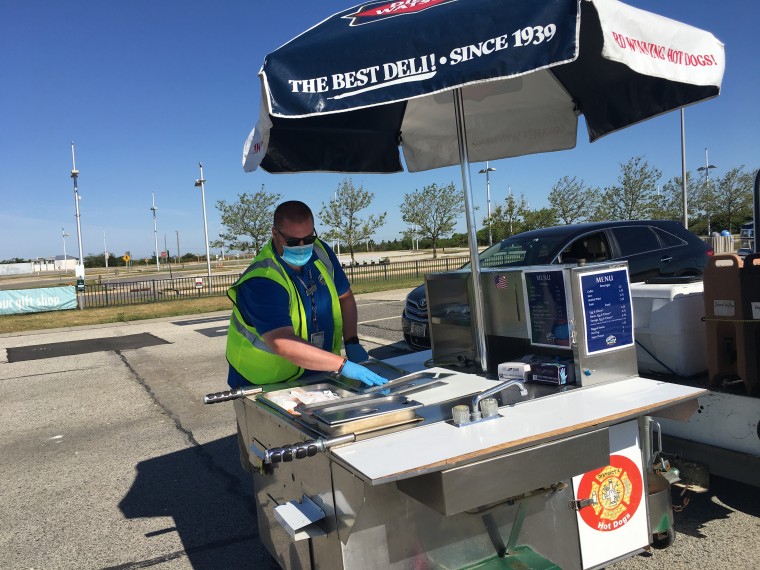 Above: A masked Justin Downes gets ready to serve a guest a breakfast sandwich
Boat Schedules Increasing
For the seventh week in a row, traffic increased on the Ferry showing passenger optimism about traveling. Per Business Analyst Dave Park's report, the Ferry averaged 339 vehicles per day last week with approximately 34 vehicles and 83 passengers on a crossing. As of this weekend, due to demand, the two-boat C schedule with 14 departures daily is going into effect. 
Meanwhile, new social distancing protocols will remain in effect with railings and outdoor seating marked off to provide clear visual cues on appropriate 6-ft. social distancing between passengers. 
Tuesday, a video crew was on campus to film demonstrations of the new walking patterns throughout the boats. Footage will be posted on digital platforms and e-mailed to guests before they arrive on campus. Then, once on site, the visual arrows reinforce the counter clock-wise walking routes marked up on all the decks and stairwells.
The Yellow Foot Road
This is all leading up to the soon arrival of foot passengers back on board. Feedback on social media already indicates the desire of passengers to walk on board as soon as possible. Here is just a sample of some of the ongoing comments: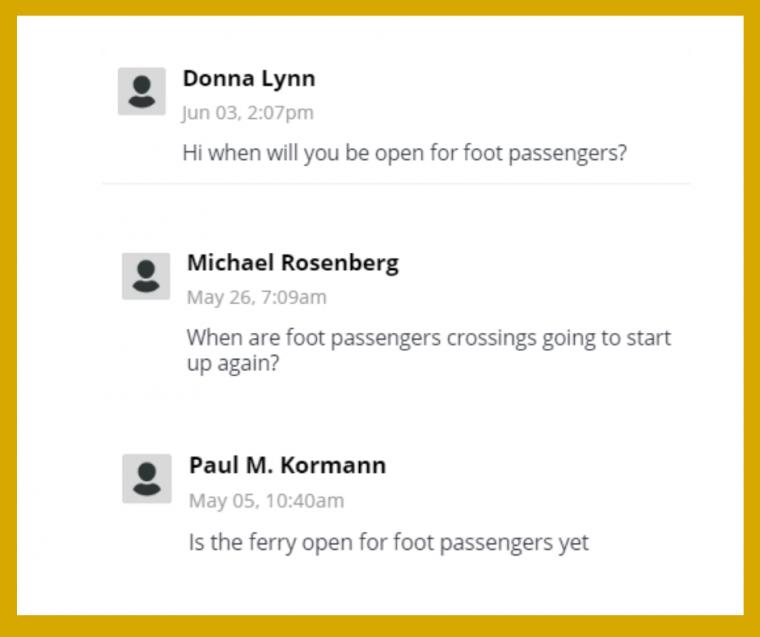 Yellow feet on the skywalk carpets were put in place this week to help passengers line up while maintaining social distancing for both baggage checks and ticket scanning. In addition, a few Ferry employees (we won't tell you who) dressed up as masked passengers to demonstrate the new protocols. 
"We're hoping to welcome our first foot passengers no later than July 1," Heath commented, "but we have to complete our engineering controls ashore and aboard, and finish marking out social distancing indicators. We want our process to be smooth to ensure everyone's comfort and safety." 
Shout Outs
And, finally, a special shout out to Crew Two this week, many of whom also doubled as pretend passengers to demonstrate seating and walking patterns on the boats. Others in crew gear helped direct the passenger teams who were, by design confused about what to do and where to sit. The video clips are currently in production to be posted across various social media platforms and e-mailed to passengers before they come on campus so that on-site signage become reminders of best practices.
And a shout out to Food and Retail Manager Gabby Vitola who played a Customer Service Representative on the lot and then helped tack down yellow feet in Skywalk for the videos.