March 6, 2020
Ferry Facts: Slip Dredging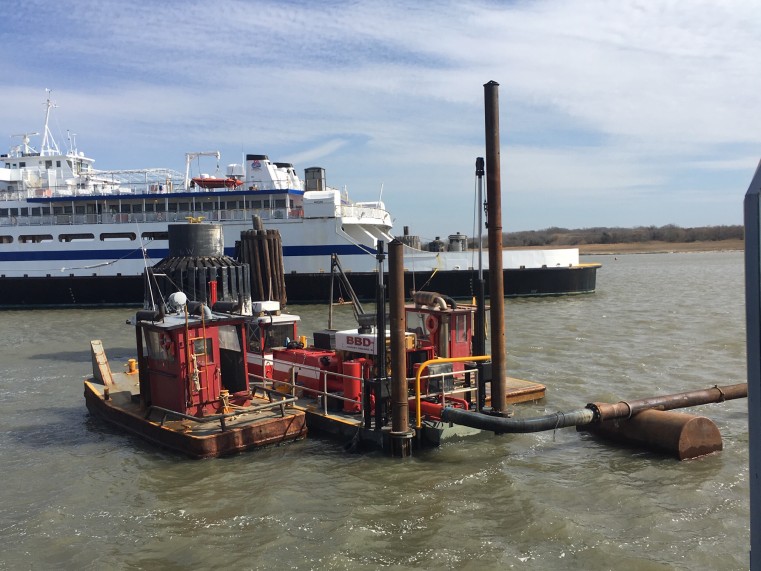 It's the beginning of March and that means slip dredging in Cape May. This is Chapter 3 in our ongoing series on dredging. To review Chapter 1: Dredging the Canal, or Chapter 2: Removing Dredge from the Hilltop, click on the chapter title links in this sentence. In this chapter we take you from the canal to the hilltop to see the entire process from start to finish. 
---
The Process Begins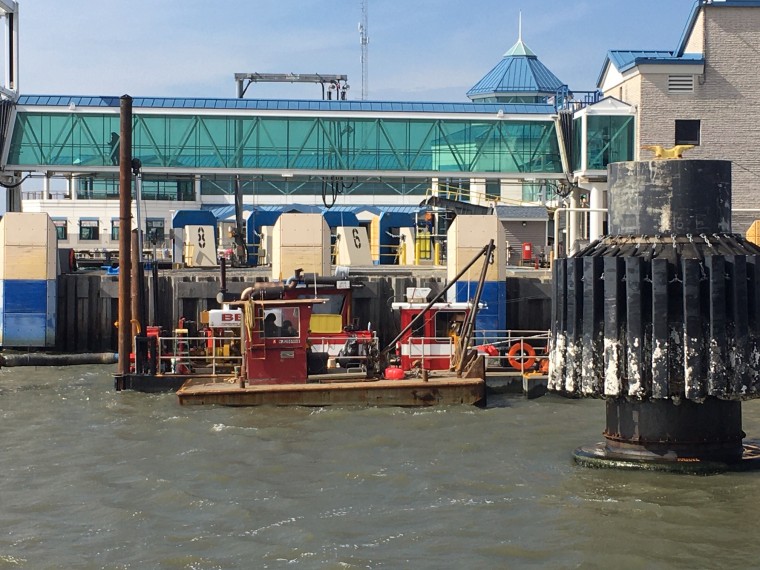 The dredging barge in slip 2 as seen from the car deck of the M/V New Jersey in slip 3.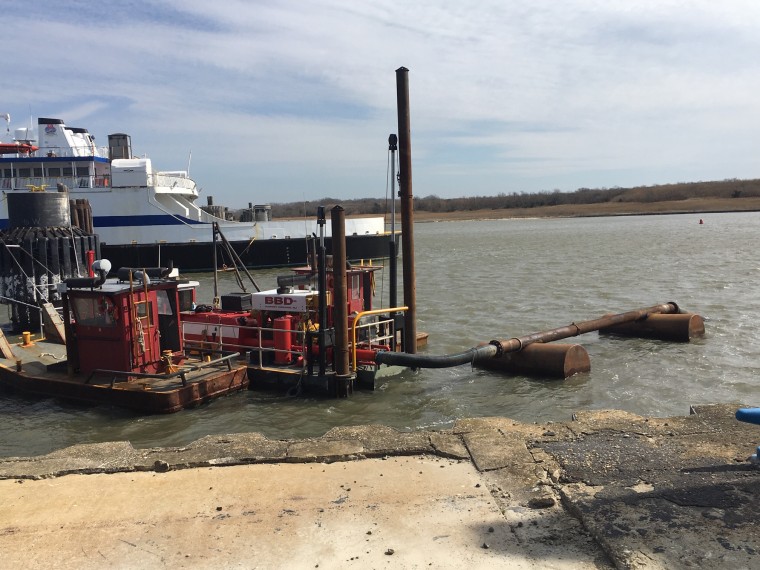 With the New Jersey in the background, here's the barge in slip 2. There is a boat on either side of the barge to hold it in place as well as maneuver the barge whenever it needs to be moved.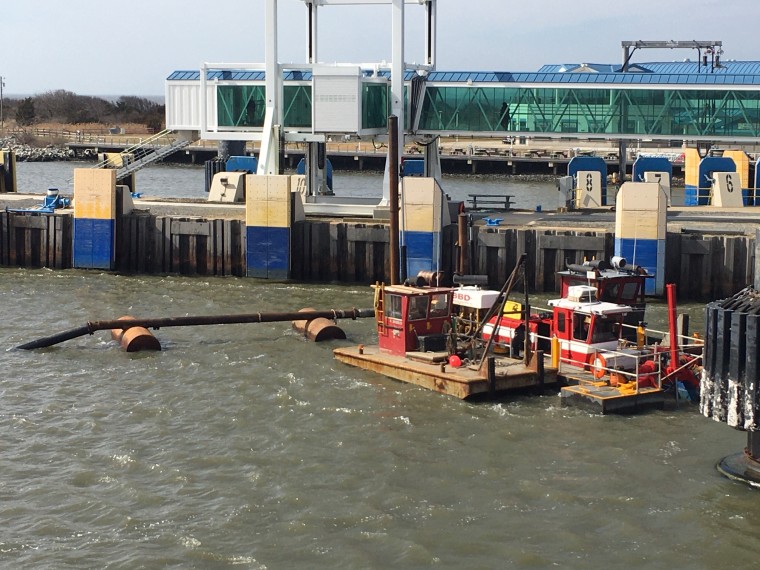 Silt Comes Up & Back Down
The layperson may think the pipe is pulling silt out of the slip, but in reality, the barge is pulling the silt up from beneath it and then pushing the silt through the pipe back under the water and up onto the hilltop. The pipe is laying on the canal floor and is hidden because of high tide. 
Below is the pipe as it looks on the hilltop, coming up from the canal and wrapping around from the canal in the distance to the contained disposal facility, aka hilltop.
The Hilltop View
The dredge comes with lots of water and gets pumped down into the north side of the hilltop. It is very wet as it is taking both the water and silt from the canal. In the background, the dump trucks are still removing older dried dredge soil from the south side of the facility to be transported to the airport to provide a soft landing should a plane overshoot the runway.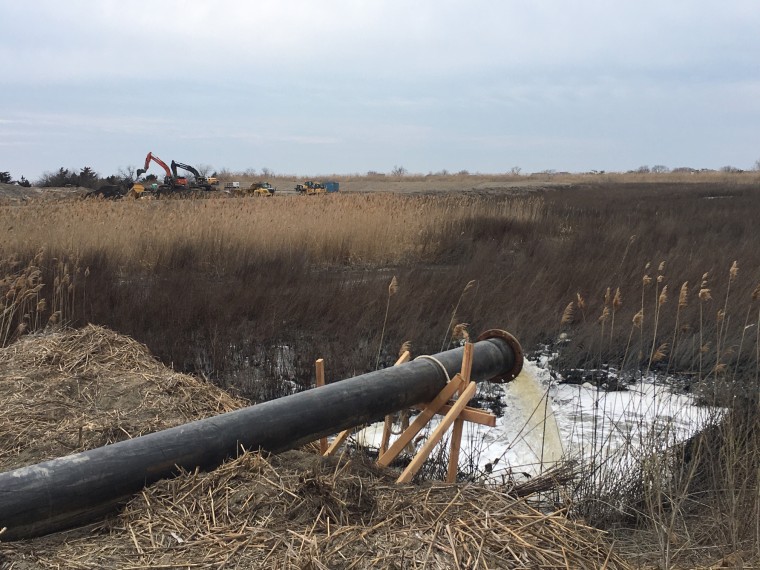 The water then travels in an S curve through the area to snake back to the canal after being filtered in a weir in the distance.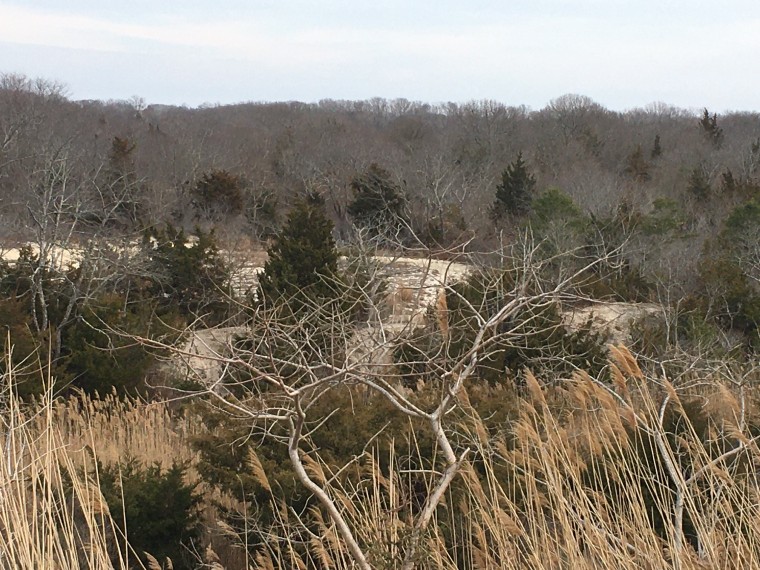 ---
Updates: Per Tom Ofchinick, site supervisor for JPC Group, the company doing the land-based dredge removal to the airport, the project is on schedule to be done by May 1. The dirt being removed is considered good top soil that can be used by sod farms, landscapers and others. It is clean fill, with no salt in it. Employees questioned if they should be worried about the salt hitting the undercarriage of their cars from dirt on the roads. The answer according to both Ofchinick and our own Greg Pawlowski in Engineering is "no."  Per Pawlowski, there is more salt in the air here in Cape May coming off the bay than on the roads. Per Ofchinick, any salt that comes from the water, goes back into the canal with the water after it passes through a weir, leaving just the silt from the dredge. The silt sits for years on the hilltop becoming clean top soil as it gets rain, snow and sunshine poured on it naturally from Mother Nature.