January 17, 2020
Ferry Facts: Spills & Drills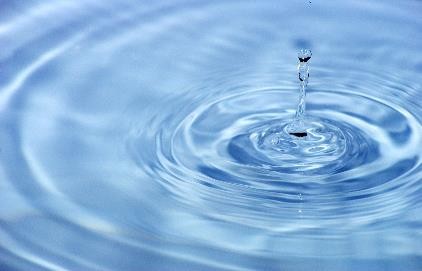 It was 0800 on November 7. Winds were gusting at 40-45 mph, with rain falling and temperatures in the 60s. It should have been a normal fall day, but that morning workers heard a loud crashing noise coming from the fuel tank yard. Tank 1 had collapsed. All oil contents released and a containment dike broke letting oil flow into the storm drain and into the Cape May Canal. It was unexpected and could quickly turn into a disaster. What to do?
---
Spill Response Training Exercise
That was the scenario the DRBA and Incident Management team faced in the November 2019 facility response plan exercise. Drills are required annually with different mock situations to certify the site team's ability to handle various Hazardous Material scenarios that could arise.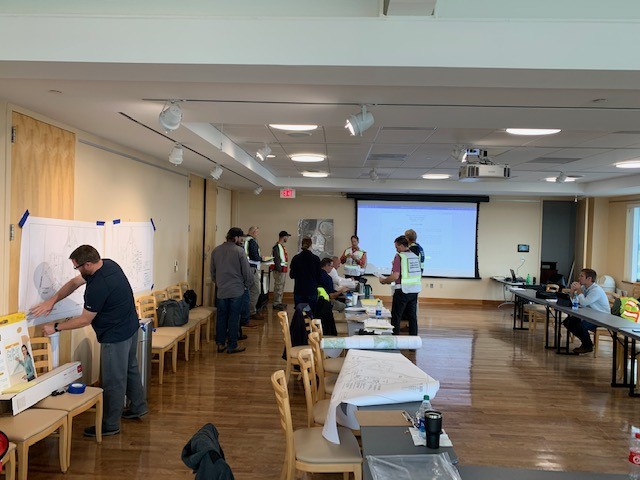 Anyone on property who is involved with any type of fuel transfers must complete both an 8 hour and 24 hour spill response training. "Any transfer of fuel from one storage site to another carries a spill risk," stated Port Captain Derek Robinson, who served as this year's drill lead. The November exercise was part of the 8 hour training annual requirement. 
Worst Case Scenario
This drill involved a worst case scenario involving not only oil spilled on property, but potentially contaminating the canal and bay. The training crew included 14 participants who had to demonstrate in real-time how they, as a team, would meet 15 core components of a viable crisis response plan. Notifications to key authorities; staff mobilization; discharge control and containment; and communication and documentation were all parts of the drill evaluation.
This year's team included staff from Marine, Police, Customer Service, Marketing, Maintenance and Engineering as well as our Oil Spill Response Organization (OSRO).  Outside contractors equipped to handle major spills and other DRBA personnel are also frequently part of the drill. This spill was designated as high magnitude requiring an  All Hands response. 
The team met in the Gallery with maps, display boards,and communications tools to detail how they would react in the scenario. In addition, they did site inspections on the water and deployed  a 100 ft. oil boom as a containment line to keep the imagined oil from deploying too far out into the canal.
How Did We Do?
Very well. The facility was recertified; several team members received their 8-hour individual certification; and senior marine, engineering and administrative managers are fully certified with the additional 24-hour training.  
This was the first year, the team performed the drill without the experience of John McGrody and Bob Paluch from Maintenance, who historically were the drill leads. In future years, the team leads will now rotate to ensure a consistent response regardless of who is first on the scene, or on duty.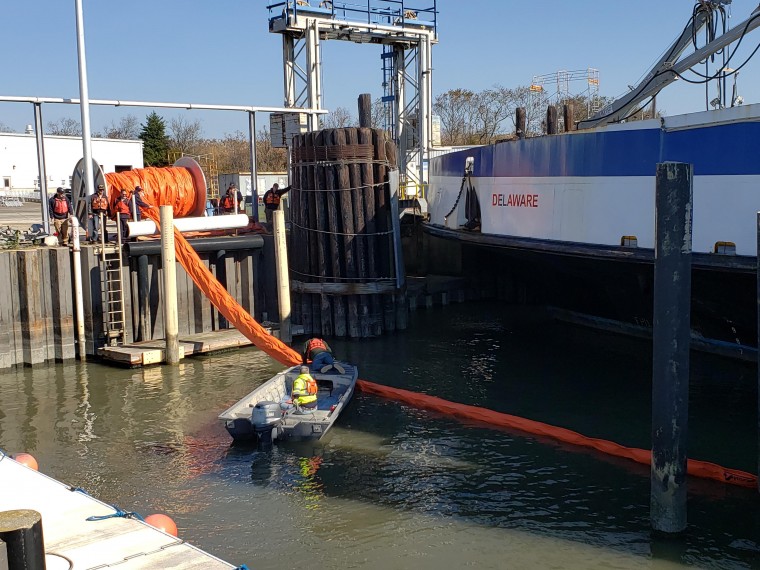 Port Engineer Jeffrey Robert describes the drill as a team stress test.  Each year, the practice includes different situations and the team needs to understand the problem, develop a response plan, and execute while under difficult time constraints. 
At the end of the drill, evaluators along with the team recommend potential improvements for best response capabilities under all types of situations.  These can include improved communications equipment to new mapping software.
"We're better prepared after each drill," Robinson stated. "We now have an expanded inventory of site maps, drawings and charts that help visualize responses and plan containment strategies."