May 27, 2022
Ferry Facts: Summer Travel Forecast
What to Expect This Summer
This summer is expected to be a mixed bag of good news and continued challenges according to both local and national travel trend-watchers. Here are some things to watch:
The Bright Side
Pent up demand from delayed vacations due to COVID are causing people to again plan get-aways
Due to international conflicts, people are taking a more serious look at domestic and U.S. travel
With high airfare fuel costs, pilot shortages, and ongoing flight cancellations, people are expected to opt for more road trips
Due to auto vehicle gas prices, people are expected to do more close-to-home vacations
Beaches continue to score high in secure experiences even in the face of new COVID strains
Vacationers want authentic, local charm separate from franchise experiences which both Lewes and Cape May provide
The Challenging Side
Travel insurance purchasing is on the rise providing more security for people to book more expensive travel options
Gas prices are causing many road trippers to rethink vacation plans altogether and consider staycations
Due to gas prices, vacationers are looking for other ways to save on vacations from reducing eating out costs, and looking for cheaper lodging options such as campgrounds putting further pressure on already strapped local entrepreneurs
The hospitality sector is suffering from employment challenges including radically reduced influxes of summer student help from abroad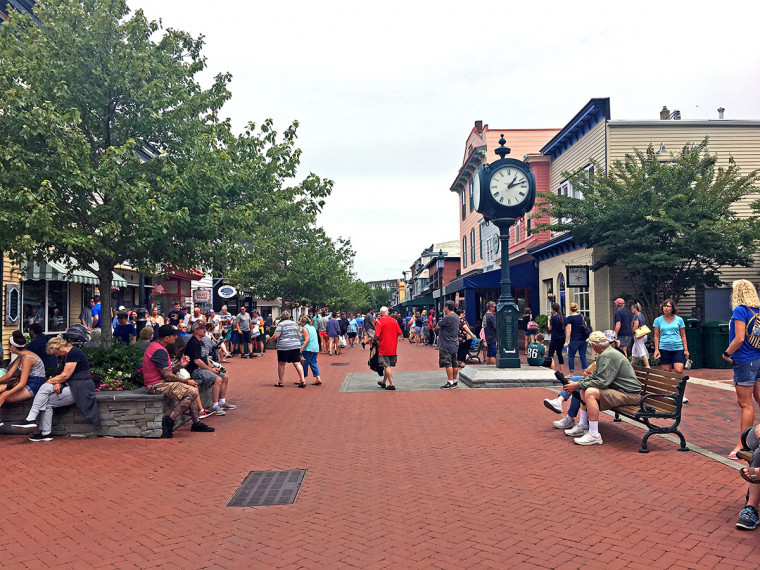 Hope Springs Eternal
This past week, Diane Wieland, Director of Cape May County Tourism, presented her 2022 Tourism Impact Report to Cape May County Commissioners and the community. Although Cape May County led the State of New Jersey in tourism recovery, the industry and region is facing "a very different customer, workforce, and business model," Wieland reported.
As inflation and rising costs put continued pressure on household budgets, Americans reduce discretionary spending including vacations. However, historically during challenging economic times, people increasingly indulge in simple pleasures including ice cream, beach days, and outdoor activities such as hiking, biking and birding. After months of quarantines. people are starved for in-person contacts, new adventures, and outdoor experiences with loved ones.
Wieland noted: "Cape May County has weathered hurricanes, nor'easters, beach erosions and rainy summer weekends and still came out ahead with steady annual increases in direct tourism spending. Nothing can compare to the impact County tourism experienced from COVID-19," she reported. "Cape May County saw a decline of $1.54 billion in direct tourism spending during the height of the pandemic, the second largest hit in New Jersey, after Atlantic County that saw a 37.7% loss due to the COVID restrictions that greatly impacted the gaming industry," she said.
Wieland summarized: "COVID resulted in 'the worst decline in tourism spending on record," adding that lost room nights can never be made up and the area is again looking at ways to extend the high season to help in ongoing recovery.
Nonetheless, Wieland called the Jersey Cape the "Comeback Kid."  Along with Atlantic County, the Jersey Shore led the state in tourism expenditures and growth.  The value of beaches as an important tourism asset was shown by the four NJ beach counties "generating 54.6% of total statewide direct tourism spending in 2020."  Although people frequently equate vacations with sight-seeing, relaxation and fun continue to be key experiences vacationers seek particularly during and after stressful periods.   
New Ferry Travel Programs
Similar to County efforts to extend seasonal attractions, the Ferry continues to test new programs and offerings including two new sold out beer trolley tasting tours in the spring. Based on its success, new winery tours are also going to be tested with the goal of having at least one brewey and/or winery tour each month in the Spring, Summer and Fall.
In addition, the Ferry just created a new loyalty program which provides ways for travelers to save money and receive points for travel -- both of which can help reduce costs over time.  "Even if someone only travels once, the program saves guests money," noted Assistant Director of Ferry Operations Jen Shivers, as it holds rates for participants at the 2021 level.
For more info on the loyalty program go to: 
https://www.cmlf.com/loyalty-program
.
Finally, the Ferry is participting as a sponsor of the new Lewes Line that allows foot passengers to both travel to Delaware at the lower rate and get around Lewes at a very affordable fare of just $1 per ride.  For more info on the pilot program in 2020, go to: 
https://www.cmlf.com/shuttle-information-directions
DRBA Data Trends
At the DRBA, Management Analyst Dave Park continues to track travel patterns and forecast what we're likely to expect for the remainder of the year based on trend lines. In general, traffic patterns tend to mirror each other at the Delaware Memorial Bridge and the Ferry. Both are seeing shortfalls in May vehicle traffic prior to the Memorial holiday weekend indicating that fuel prices might be dampening road travel. 
Despite a weaker May, Park reports, "We remain ahead of our traffic goals and forecast to date." Vehicle traffic is 3% ahead of goal and 6% ahead of the forecast, as is passenger traffic. In real numbers, that equates to 1,830 more vehicles and 4,000 more passengers than originally anticipated in 2020 goals.
That said, Park feels May may not be indicative of what we can expect for the summer due to poor spring weather. "It's been cold, cloudy, and weather continues to be a big factor for the ferry. At this point, we're not ready to adjust our forecast for the remainder of the summer based on a weaker-than-expected May." 
Overall, the team is optimistic.  Ferry Director of Operations Heath Gehrke stated, "Like Dave, I'm bullish for the summer. Predicting demand during the rebound from the pandemic - while considering the war in Ukraine, high inflation, and fuel prices - was difficult.  In reality, we could have used a few more departures in May. I'm hopeful the crew can again be nimble if that continues, and in any case, I'm happy to have all three ferries in the lineup."
---
In the past, the DRBA's Environmental, Health and Safety (EHS) team held various World Environment Day events across various DRBA sites. The event was canceled the last two years due to COVID, but returns this year with one, large DRBA event at Veterans Memorial Park in New Castle on June 1. The team is hoping employees from across the DRBA will attend with 60+ vendors committed from across New Jersey and Delaware. Attendees can bring old computers and electronics that the DRBA will recycle post-event, experience an EV charging station, and see a new Ford 150EV truck.  Food trucks including the UDEl Moo Mobile with ice cream will also be on-site with free food for attending employees. The Ferry will have an exhibit as will various maritime wildlife and educational centers including Rutgers, the Wetlands Institute, Salem County Improvement Authority and Energize Delaware, Delaware University and Delmarva Power.