July 24, 2020
Ferry Facts: Women Maritimers
Congratulations to Captain Sharon Urban, our first permanent female captain at the Cape May-Lewes Ferry!  In honor of this historical first, we're taking a look at women in the maritime industry as well as here at the Ferry. 
---
An Elite Force
In the Ferry's 56-year history, 36 mariners have reached the status of captain, with only 23 reaching the rank of Permanent Captain. This month, Captain Sharon Urban joined the ranks as the first woman to become a permanent captain.
In total, four women have served as captains at the Ferry, with the first being Linda Douglas in August 1991. Both Captains Urban and Douglas started maritime work at the Ferry as Ordinary Seamen, working their way through the ranks to officers on the bridge before becoming captains. Douglas joined the Ferry 1982 with prior Coast Guard training to become captain after 9 years. Urban first joined the Ferry in food operations, and transferred to the marine division in 1997 and has had all of her marine training with CMLF.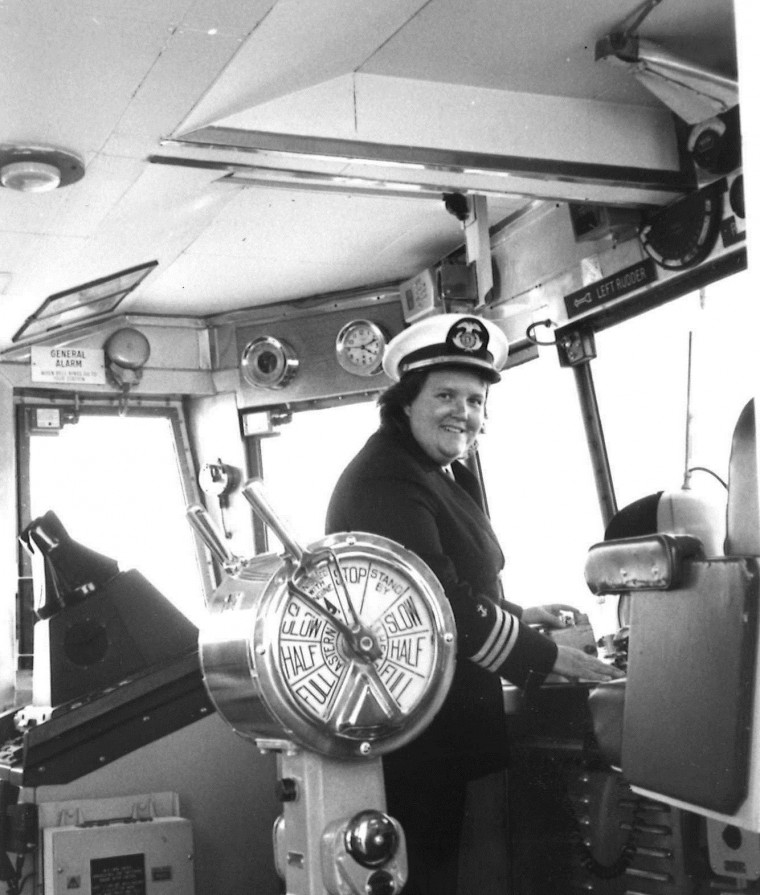 Today, Captains Meghan Palmer and Melissa Velli are also part of our growing roster of women at the helm. 
Ferry Statistics
The Ferry continues to be at the forefront of the increasing trend of promoting women to officer ranks. The four female captains represent 11% of the total captain's roster since 1964, while the three temporary captains [Douglas, Palmer, Velli] represent 23% of the temporary force since 1964. The Ferry had its first all female bridge team sail across the Bay on April 19, 2018 with Captain Urban, Pilot Velli and Helmsman Paulette Nichols.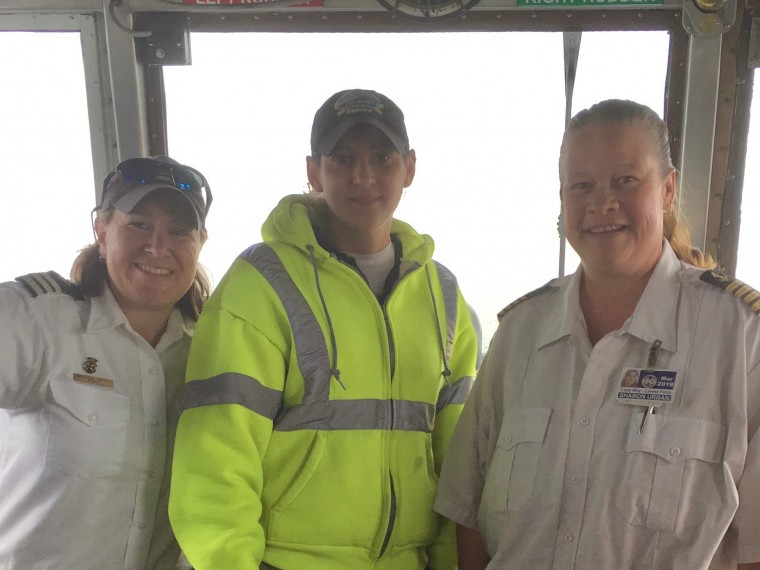 Maritime Statistics 
Today, women represent only 2% of the world's 1.2 million maritime workforce with 94% of those working in the cruise industry. It's uncommon to see women working in the larger shipping and ferry segments of the industry and even less common to see women at the helm in any segment. 
In September 2015, Captain Kate McCue became the the
first female American cruise ship captain
sailing from New York to Boston. On March 15, 2020, she led the first all-female bridge crew of 27 officers on a Celebrity Cruise southbound sailing from Bayonne, NJ to Ft. Lauderdale, FL. To see more of her story, click
here
or on the video photo below.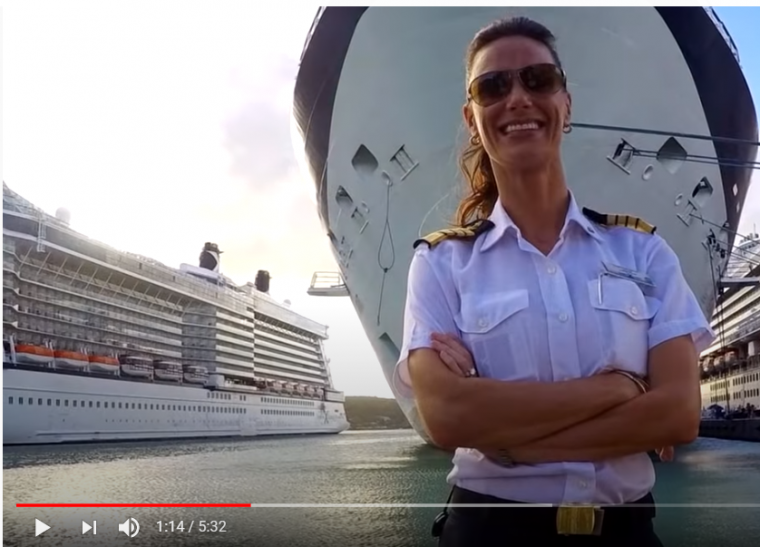 A New Generation of Officers
The maritime industry efforts to welcome women is just two decades old. In 2000, the International Maritime Organization (IMO) created a 15-year Program for the Integration of Women to promote gender equality and equity. Due to continued challenges to attract talent. the industry realized it needed to be more open in making oppportunities available for non-traditional recruits. 

IMO believes to be effective it must make women more visible in recruitment material, a reason more women are featured in industry videos such as the ones shown here.

Today, Economist.com reports: "There is a huge opportunity for women in the sector, especially since demand for seafarers is increasing while supply is decreasing." Similar to what we're experiencing at the Ferry, "a generation of maritime knowledge is approaching retirement and the industry needs to attract and train new talent," especially with people who may not have previously considered maritime careers. 

While CMLF Captain Palmer and Douglas before her received formal maritime training having attended maritime academies, Captains Urban and Velli are examples of how the CMLF also works to attract local non-maritime talent to the sector.

In the past, it was not uncommon for Ferry captains to come out of commercial fishing such as now retired Captains Macomber and Hansen, but that still left a gap in attracting local women to the ranks [see video clip below for one woman's journey from commercial fishing to Cruise Captain].

Urban and Velli first started at the DRBA as land-based seasonals and discovered their maritime callings once on campus.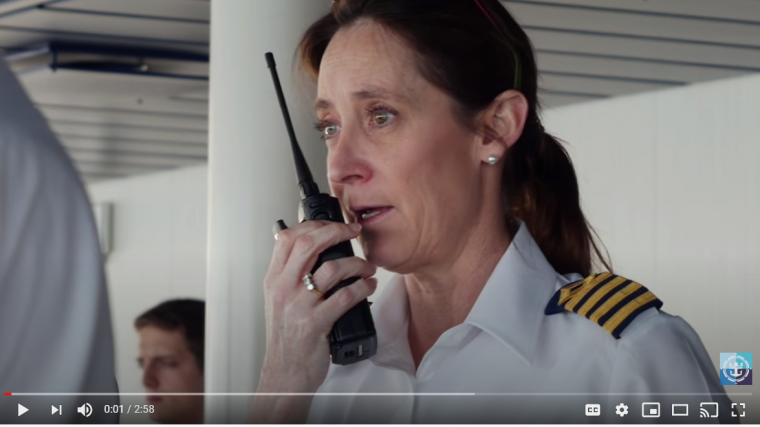 Where the Jobs Are
Most employment opportunities in Cape May County are in health, education and hospitality. The Coast Guard followed by the Ferry are the two major maritime employers in the area along with smaller local commercial fishing operations. 

The Ferry offers opportunities for ex-Coasties, shipping crews, and commercial fishing captains to create second carreers on the water. But, the Ferry is unique for also offering opportunities to test the waters for those who never considered maritime careers. Regardless of background, all start as Ordinary Seaman to work their way up our ranks while they earn the specific needed certifications to sail on the Delaware Bay.

"Our ferries are not small boats," noted Port Captain Derek Robinson. Captain Urban, for instance, holds a USCG Inland Masters License of unlimited tonnage and is a certified  USCG First Class Pilot upon the Delaware Bay, training received while working on board.
---
To support the ongoing work of the Green Committee, we're starting a new weekly segment to provide a quick tip for small ways we can keep green ideas front of mind.   
 
Summer Reading Tip.  Something Old. Something New. All to Keep the Planet Blue.

Silent Spring by Rachel Carson. This classic from 1962 is still considered the most well-known and effective title in the environmental genre. It led to the banning of DDT and spurred muliple environmental laws. 

The Uninhabitable Earth by David Wallace-Wells. From 2017, this harsh reality book holds out hope for an optimistic future with the use of smart technololgy and smart human intervention.