The Latest on COVID-19 and Cape May-Lewes Ferry Travel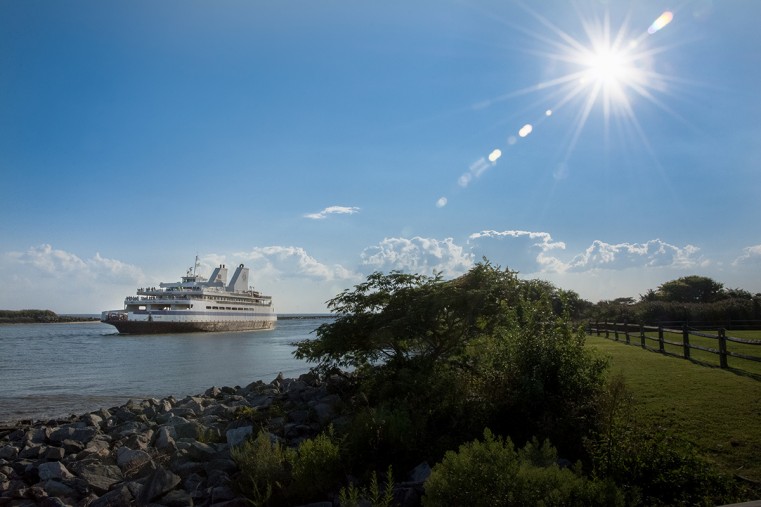 Updated: Friday, April 30
We're now operating on our Spring/Summer departure schedule, and we're sailing every day! For the most up-to-date information and to book travel, visit our Schedules & Fares page.  

** Foot passengers and bicyclists are welcome aboard!** 

Important Information for Foot Passengers
Current Operations:
Foot Passenger and Bicycle Travel have resumed and are available to be booked on all departures. Reservations are required. 
Shuttle service is NOT currently available in either Cape May or Lewes. In Lewes, the DART Route 204 bus picks up and drops off Monday - Saturday (no Sunday service) every 1/2 hour from 6:30am - 9:00pm. In Cape May, shuttle service is expected to begin Memorial Day Weekend. 
The Cape May Terminal is open
The exterior decks of the vessel are accessible, as are the restrooms on board the vessel
Our courtesy vehicle drive-on service, typically reserved for those with accessibility needs, is not currently available
Food and beverage is available aboard the vessel in the Galley area, and delivery to your vehicle is available on some departures
Interior seating is available for foot passengers and bicycle passengers; vehicle passengers may access remaining indoor seating on a first-come, first-served basis
When exiting your vehicle, masks are required
Social distancing measures are in place, and we ask that you pay attention to the directional signage on board to help control the flow of traffic
In Lewes, Grain On the Rocks and the Lewes Coffee Company are open 
For information on the NJ travel advisory, please visit this page:
NJ Travel Advisory Information
---
Safety
The following safety precautions remain in place: 
Reservations are required for Ferry travel, and no cash will be accepted at the toll booths until further notice
Our courtesy vehicle drive-on service, typically reserved for those with accessibility needs, is not currently available
Masks are required anytime passengers step out of their vehicle
Cash IS accepted at food & beverage locations 
Foot passenger and bicycle travel has resumed 
The exterior decks are accessible. Masks are required, as is maintaining 6' of social distance from anyone not in your traveling party. 
Directional signage is in place on the vessels to help control the flow of traffic. For the health and safety of all aboard, please pay attention to the signage and follow directions.  
---
What Can I Do To Help Keep My Fellow Passengers (and Ferry Crewmembers) Safe?
Passengers are part of our team! While we're working hard to do all we can to provide the safest environment possible, you play a big role as a passenger. We ask that you wash your hands, wear a mask anytime you are outside of your vehicle or consuming food/beverages, and follow all social distancing procedures that are in place. Check out the video for more info!   

Thank you for your cooperation.

 
---
Have questions?
With so much changing in such a short time, we've compiled answers to our most frequently asked questions. Click the button below to learn more. 
 
---
Thank you for your cooperation and understanding as we continue to work through this. And once again, please remember that this is a very fluid situation and that things may change quickly. We'll continue to update our procedures, policies and suggestions as the situation unfolds, always keeping the safety of our passengers and employees at the forefront.
Have additional questions or concerns?  Do not hesitate to call us at 800-643-3779, or write to [email protected]. Also, check our social media and home page of our web site for any updates or travel advisories.