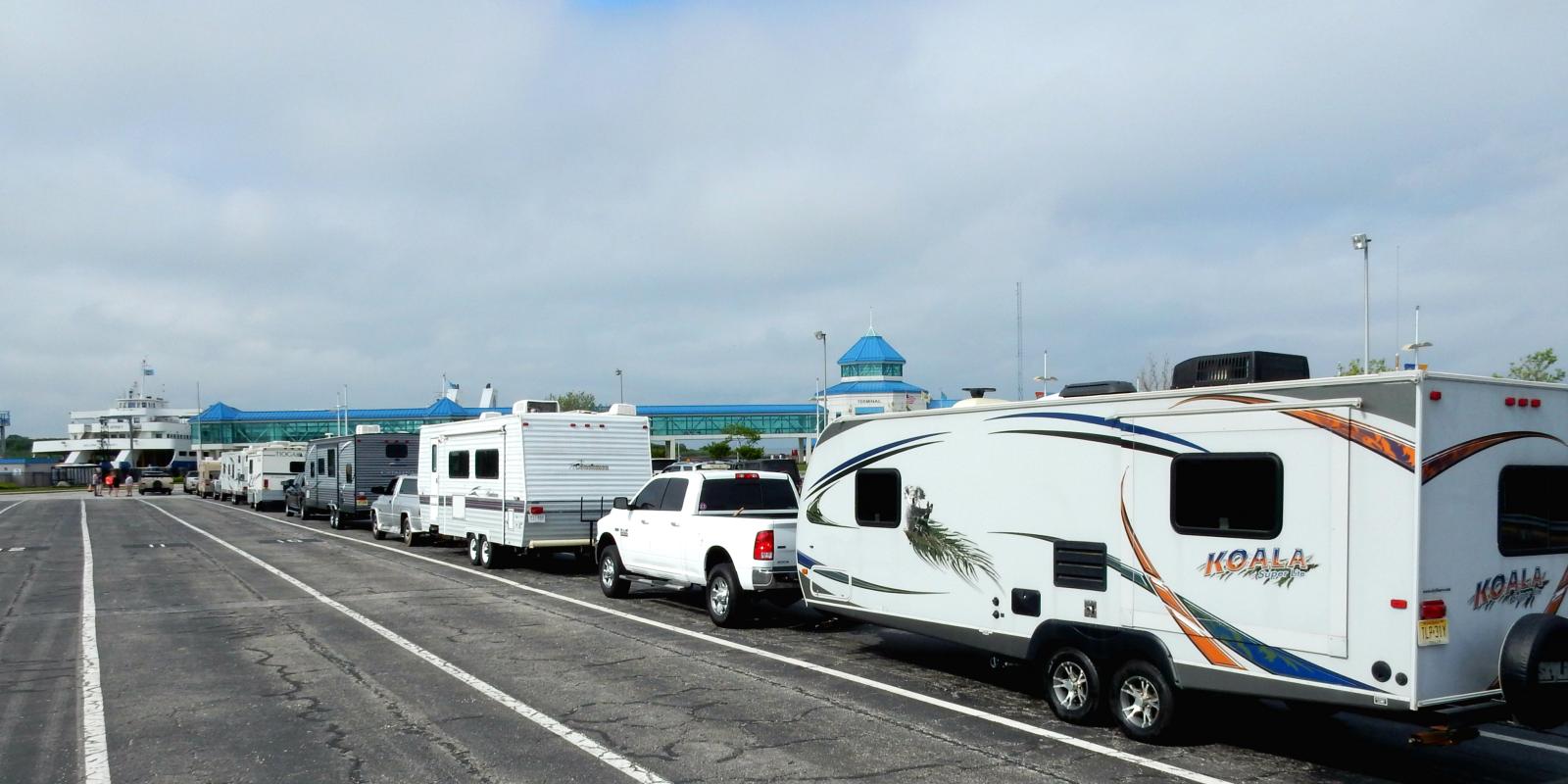 RVs & Long Vehicle Information
Can The Ferry Accommodate My Truck or RV?
From pick-up trucks with travel trailers to Class A motorhomes to 18-wheelers, the Ferry can accommodate almost any vehicle that fits under our 13'6" height limit. In fact, we like to say, "if you can drive it, we can take it!" Take a look at the video below for more information about bringing your truck or RV aboard the Ferry.  
Are there any restrictions?
Yes, there are a few, most specifically in relation to the height of the vehicle. Here are a few details:
Height Restriction: We can accommodate vehicles under 13'6"  in height. If you believe you are close to this limit, we recommend getting an accurate measurement of the height of your vehicle. However, if you are unsure of the height of your vehicle, our toll booths are equipped with height detectors that, upon entering the toll plaza, will determine if your vehicle will be able to board our ferries.
Length Allowance: There are no length restrictions, we can accommodate all vehicle lengths. 
Width Allowance: We can accommodate vehicles up to 11'3" in width. However, please note that if a vehicle is wider than 8'6", the fare is calculated to be twice the vehicle length rate as it is charged for reserving 2 spots side by side. 
Image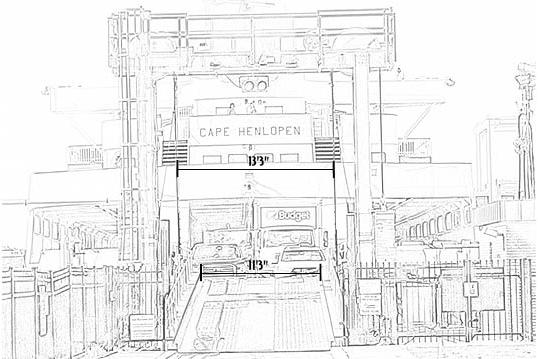 Special Information For Vehicles With Low Clearance
If your vehicle, trailer or anything you may have in-tow has low ground clearance, please give us a call at 800.643.3779, or make sure to consult a tide chart prior to booking. For vehicles/trailers with low clearance, book your crossing two hours before/after the time of high tide, as that should allow sufficient clearance under your chassis to board.
 
Image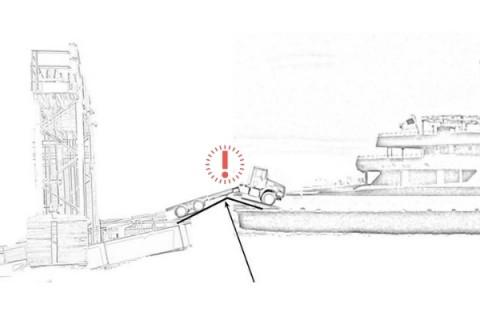 Attempting to board at other times may result in your vehicle "hanging up" on the boarding ramp, as shown above. 
Are there any other restrictions?  
Yes.
Propane
No more than two (2) five-gallon externally mounted cylinders of propane per RV are allowed on the ferry. Cylinders that are included as part of the motorhome are excepted. Propane cylinders must be safely secured to the vehicle, upright, with all valves closed and tagged. Propane-powered refrigerators must have the thermostat control turned "off." 
Gasoline
Customers may carry no more than two (2) six-gallon, UL-listed, or USCG-approved portable containers, or twelve gallons.  
Want more Info?  Check out our Ferry RV Tips blog before coming on Board. And always feel free to call us at 1-800-643-3779 seven days a week to chat with a customer service representative.
6 Tips for Driving Your RV on the Ferry
---
Winter Fares
Long Vehicle Fares (November 1, 2023 - March 31, 2024)
Long Vehicle Fares
 
 
 
One-Way*
Round-Trip
 
 
20' to Under 25'
$26
$49
 
 
25' to under 35'
$35
$67
 
 
35' to under 45'
$42
$80
 
 
45' to under 60'
$54
$94
 
 
60' or more
$77
$150
 
 
Driver + Passenger Rates (September 5 - October 31, 2023)
| Passenger and Driver Fares | One-Way | Round-Trip* |   |
| --- | --- | --- | --- |
| Adult (14 - 61 years) | $8 | $14 |   |
| Senior (62+ years) | $6 | $11 |   |
| Child (6 -13 years) | FREE | FREE |   |
| Child (under 6 years) | FREE | FREE |   |
| Military (ID Required) | $6 | $11 |   |
| First Responder (ID Required) | $6 | $11 |   |
| AAA (Adult; membership # required) | $6 | $11 |   |