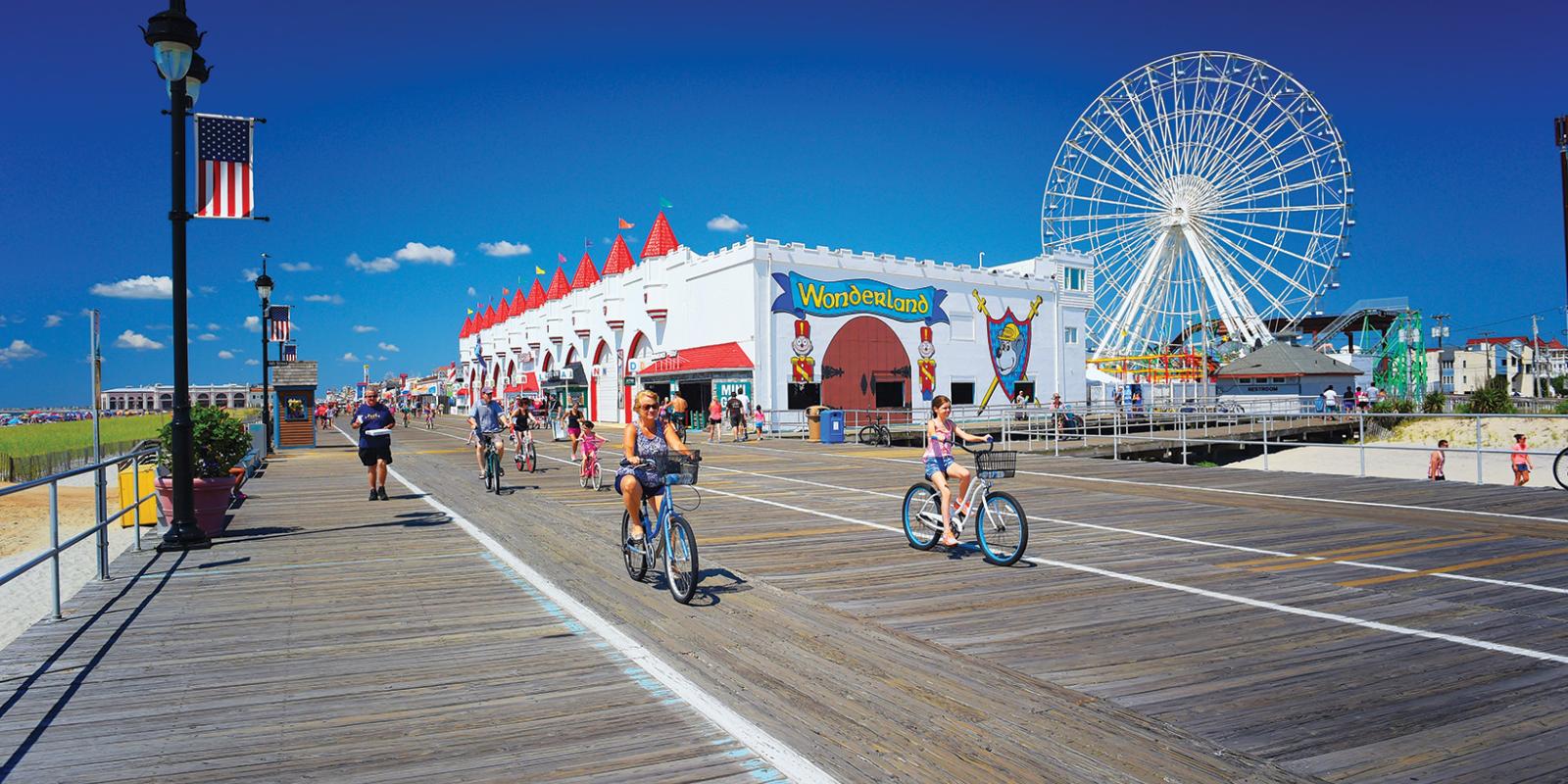 Biking Adventures Await in Cape May and Sussex Counties
There's nothing more exhilarating than setting out on a biking adventure on a sunny day, and the scenery from the trails, bike lanes and boardwalks of the Twin Capes region is downright dazzling. 
---
Bike the Boards
Cape May and Sussex Counties have some of the most colorful boardwalks you'll find anywhere, making them great places to start off your day with a rise-and-shine bike ride. Cape May's nearly two-mile span of paved promenade is open to riders from 4 a.m. to 10 a.m. In Cape May County, bikes are welcome on the Wildwoods boardwalk from 5 a.m. to 11 a.m. weekdays (10:30 a.m. weekends), and from 5 a.m. to noon in Ocean City. Cruise Rehoboth Beach boardwalk from 5 a.m. to 10 a.m.
 
---
Get Electric In Cape May and Lewes
Electric bikes can go as fast as 20 miles per hour and have enough battery life to last 50 hours. Rentals are available from kiosks located at both the Cape May and Lewes terminals of the Cape May-Lewes Ferry. Save $18 at Pedego Electric Bikes when you purchase a $90 discount package that combines a round-trip ferry ticket and bike rental.
Image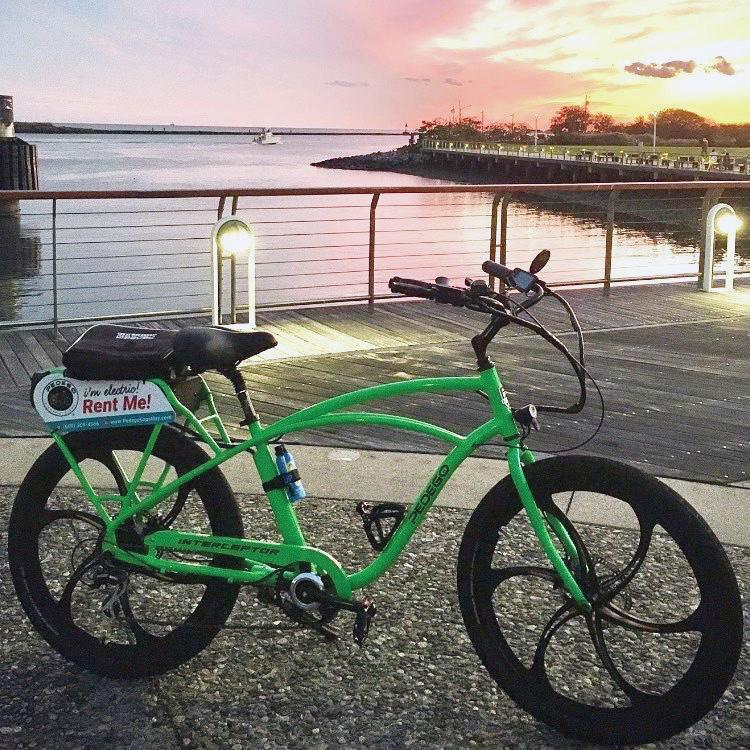 Pedego Locations: 
998 Kings Hwy., Lewes, DE
110 Park Blvd., West Cape May, NJ
Info: pedegoelectricbikes.com     
---
Cape May County
Pedal at your own pace and enjoy the view on the scenic road that runs the entire five-mile length of the Wildwoods (North Wildwood, Wildwood and Wildwood Crest). North Wildwood has a dedicated "bikes only" lane, as do the picturesque towns of Avalon and Stone Harbor. A bike lane on Sunset Boulevard connects the city of Cape May with Cape May Point State Park and the Cape May Lighthouse—a family-friendly ride of more than seven miles. Or you can make a day of biking portions of the 46.7-mile Cape May County shoreline. The loop begins and ends at Cape May Lighthouse. Highlights include Stone Harbor Bird Sanctuary and Cape May Nature Center.
Image
Seashore Lines
Special rail bikes are designed to ride the tracks of the Seashore Lines railroad for four miles from the heart of Cape May. Along the way, you'll pass through bird-filled wild meadows. Rent a double rail bike for $80 or a quad for $140.
Location: Behind 609 Lafayette St., Cape May, NJ
Info: (856) 263-2675, seashorelines.org
 
---
Sussex County
Right across the street from the Cape May-Lewes Ferry Terminal is a bike trail that will bring you into the heart of downtown Lewes in only 1.6 miles. Or head to Cape Henlopen State Park, where five trails with distinctive characteristics await exploration. The Lewes section of the park is connected to the Rehoboth Beach section by Gordon's Pond Trail, an easy 3.2-mile ride on fine crushed gravel with an elevated boardwalk. 
Another path that connects the two resort towns is the five-mile Junction and Breakwater Trail. Riders are rewarded with stunning ocean views and historic sites like World War II observation towers that were part of an important coastal defense system, along with ammunition bunkers built into the sand dunes. There's also plenty of natural beauty— forests, farms, dunes and coastal marshes.
Image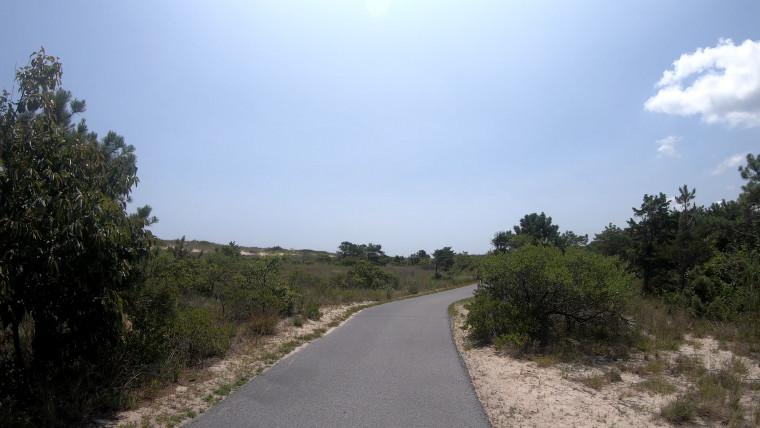 For a quick jaunt, take the sand-packed, 0.6-mile Salt Marsh Spur, the shortest trail in Cape Henlopen State Park. What it lacks in length, it makes up for in plant and wildlife encounters. You can also take the Bike Loop, a three-mile circuit that passes through the beach, Nature Center, observation tower and Fort Miles Historic Area, a former World War II military base situated among the dunes. Or ride through woods and tidal marsh to the Great Dunes conclusion of the 2.5-mile Walking Dunes Trail.
---
This listing originally appears in the Summer/Fall 2021 edition of Twin Capes Traveller, a joint travel digest produced by Today Media, Today Media Custom Communications and the Cape May-Lewes Ferry. Referenced places, facilities, and opportunities can change year over year, and items noted were available at time of print publication. When on board or at any of our terminals, make sure to pick up the latest edition to see more ideas of places to go and things to do while in the Delaware Bay region.