Vacation Tips: Hilton Head Island
Ferry Tip: Get in a Hilton Head-space While En Route
Hilton Head, South Carolina is not only an ideal spring break destination but a go-to location for year-round vacations especially for those living in the Mid-Atlantic region. Before heading out of town, consider these tips for enjoying all that Hilton Head has to offer, and how to maximize your journey along the way.
There is no better or more scenic road trip destination than Hilton Head Island. Approximately a 10-hour drive from the Mid-Atlantic, Hilton Head is located about 100 miles south of Charleston. For those traveling from New Jersey and areas north, leave part of the trip up to the Cape May-Lewes Ferry, which accommodates vehicles of all sizes (and four-legged friends). Onboard, guests have the opportunity to stretch their legs, grab a drink, and enjoy the views of the beautiful Delaware Bay. For families traveling with children, the ferry ride becomes a memorable, fun part of the vacation and helps break up the trip for backseat commentators who can't stop asking if you're there yet.
As you head south, experience another unique transportation opportunity by taking the Chesapeake Bay Bridge Tunnel. The 23-mile bridge–tunnel crosses over and under open waters at the mouth of the Chesapeake Bay in Virginia providing a direct link between Southeastern Virginia and the Delmarva Peninsula.
BIKING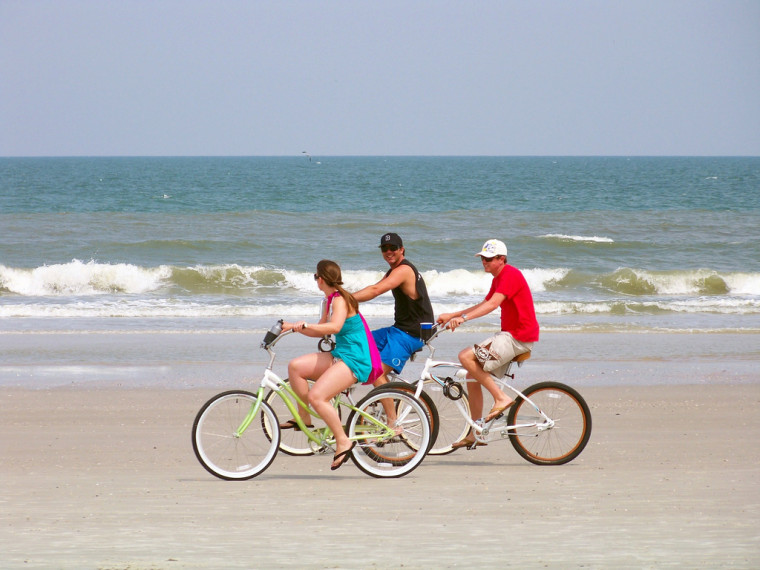 It's no secret that Hilton Head Island is currently the highest ranked Bicycle Friendly Community in South Carolina, which means the best way to get around is on two wheels. You can find printed maps of the more than 50 miles of public bike trails at multiple locations including Town Hall. For the adventurous types, rent a beach bike and explore the 12 miles of hard-packed beaches around the island. Even better, strap your own bikes on the back of your car. Depending on the length of your vehicle with the bike racks, the bikes are generally included free in your standard vehicle fare.
GOLFING
If you like golf, you'll love Hilton Head. The island is home to over 30 world-class golf courses, so you'll find what you're looking for no matter your skill level. Want to kick the golf rust off before you arrive? Get to the Ferry early and play free mini golf. It won't help you on the larger golf courses at Hilton Head but will put you in the spirit. Here are a few of the best public courses at beautiful locations in the Hilton Head region.
Harbour Town Golf Links: 
Places a premium on finesse, imagination, and shot-making rather than strength; home of a PGA event, the RBC Heritage Classic and is a bucket list course for most golfers
Hilton Head National: Located in Bluffton, just one mile from the bridges to Hilton Head Island, this course is consistently rated among the Best of Golf Advisor's Top Courses in South Carolina. Hilton Head National is a unique 18-hole course that allows the weekend golfer to enjoy themselves while testing more skilled players.
Old South Golf Links: Another Bluffton course, dubbed "Lowcountry Golf at its Finest," the Old South's rolling terrain and Intracoastal marshes allow for impressive views from the greens and greetings from a variety of wildlife--from wood storks to hawks and alligators.
EATS
If you're traveling from May--October, as you begin your journey be sure to arrive at the Ferry terminal early to experience Dockside eating while enjoying the Ferry's boardwalk and fantastic view. Nothing gets everyone relaxed well before reaching Hilton Head Island as enjoying a leisurely, casual meal while staring out at the water.
Located between Charleston and Savannah, two of the south's best foodie towns, Hilton Head has a well-rounded mix of restaurants that are local favorites ranging from family-friendly and affordable to more sophisticated fare.
Breakfast/Brunch/Lunch
Named the #1 restaurant in South Carolina for shrimp and grits. Also, the locals eat here (so you know it's good).
A casual neighborhood cafe serving American breakfast all day long, as well as lunch classics. Outdoor seating allows for furry friends to tag along too.
Dinner
One of the Island's top informal "made to order" seafood stops that was recently featured by Rachael Ray on her Top Places to Eat.  In the peak summer season, arrive before the 5:00 p.m. opening because there will be a line, and be sure to check the Catch of the Day specials!
Located in the Sea Pines center, offers a more refined yet approachable dining experience and is well known for its grilled pimento cheese sandwich and tomato dill soup.
SHOPPING
For retail therapy with a view, here are a few suggestions ...
One of the best shopping destinations in the area with a marina for you to soak up the scenery. Browse the quaint boutiques and gift shops at your leisure or rest and enjoy the fantastic views of the sea.
A must-see waterside destination along Broad Creek that is not only a shopping haven but a complete experience with a variety of dining options and year-round events. 
Considered "the downtown of Hilton Head," and with over 60 shops, you're bound to find something for everyone.
Hilton Head offers plenty of opportunities for outdoor fun, world-class golfing and exceptional dining while allowing travelers to avoid the massive crowds that invade other larger beach towns. When traveling from points north, don't forget to add in the Cape May-Lewes Ferry in your travel plans both to start the vacation early and extend it on the ride home.