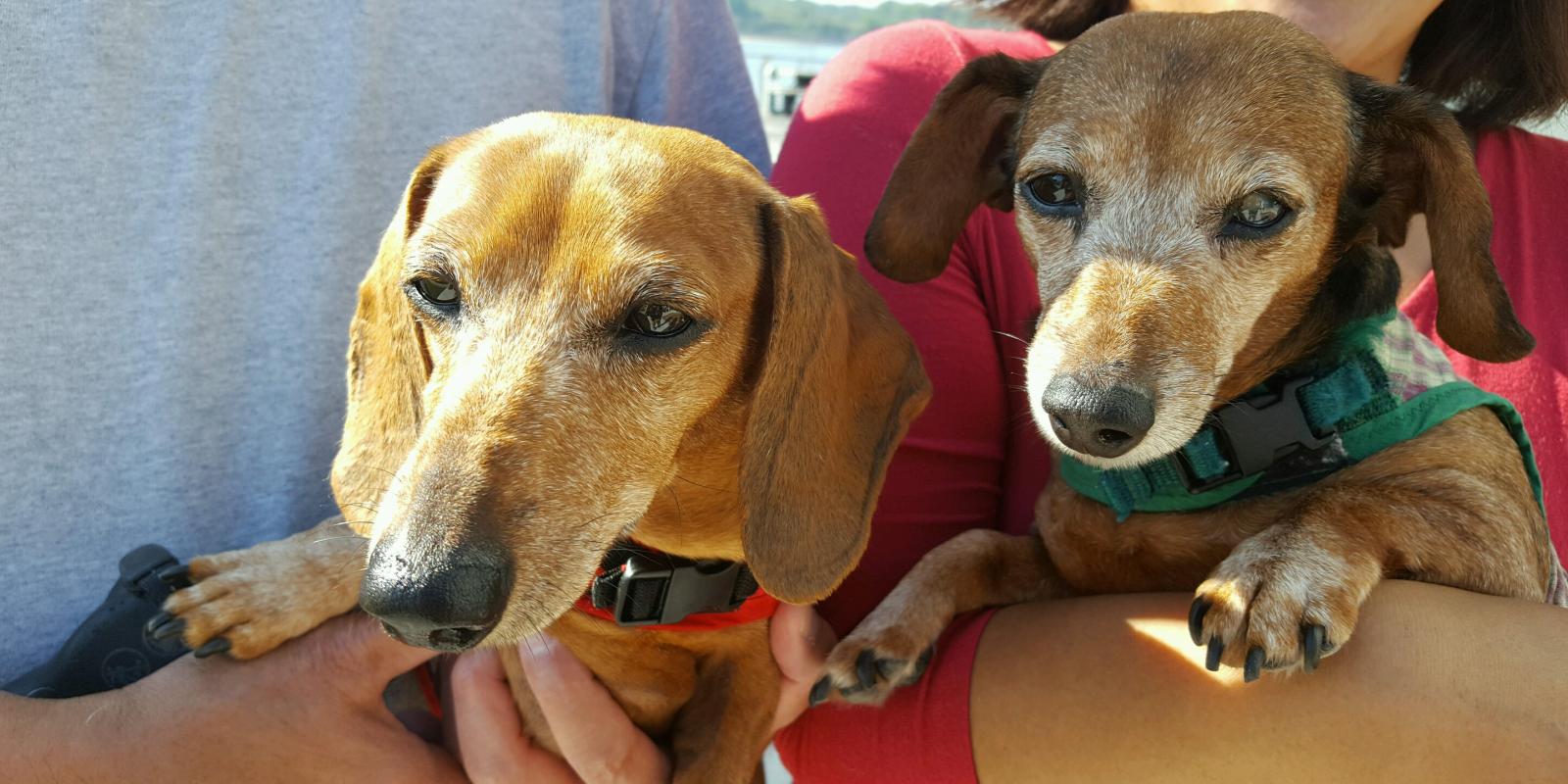 10 Tips for Taking Dogs on the Cape May-Lewes Ferry
How To Ensure a Stress-free Trip Across the Bay
Dogs travel free on the Cape May-Lewes Ferry, but it doesn't mean the trip is totally stress free for some pooches. To make it a pleasant journey for all involved, here are 10 tips to have a great sailing with your best friend.
Take A Walk Before Boarding.  There are lots of green spaces around each Ferry terminal.  Make sure your dog does his/her business before boarding either as a foot or vehicle passenger. Some dogs get nervous when boarding through the terminal, so you want to make sure all bladders are emptied before the boarding process begins. The extra energy taken during the walk also helps them start the voyage in best spirits.
Don't Provide Food Beforehand.  Some dogs, like some people, are more prone to sea sickness than others. Other dogs can get anxious because it's a new experience. Either can result in meals coming up in unexpected ways. To be on the safe side, don't feed your dog a meal too close to boarding. If you're taking an early morning voyage, perhaps feed the dog after arrival. Similarly, if you're taking a late voyage, consider a late pet dinner after all travel is completed.
Take A Doggie Bag Along. Just as mothers of newborns carry diaper bags, carry along a Doggie Care Bag. Make sure you have poop bags and paper towels along with other supplies. No matter how well you plan, accidents do happen, and both fellow passengers and the crew is always grateful if you take care of unforeseen messes when they happen.
Keep Dogs on Leashes.  Dogs must be on leashes at all times, even when sitting quietly with you outside on the decks.  Not all passengers are dog friendly, so it's a courtesy to be aware of those around you and keep your dog close by on a short leash.
Seek Shade. Even with balmy breezes, if it's been a long, sunny day, the deck can heat up. Feel the deck floor with your palms to see if it's too hot for your pet's paws. Most dogs like walking the decks and sitting outside and there are shaded areas. But, it's  good to be conscious of different temperatures on different areas of the boat and move your pet accordingly.
Come Inside.  Each vessel is equipped with a dog sitting area.  If it's a particularly hot or cold day, come inside. Just make sure to keep your dog out of any of the food areas, and please stay in the assigned pet area.
Be Kind to Strangers. Not all dogs play well with others. If your dog is not sociable, please don't bring him/her on board as a foot passenger. If you're traveling by car, plan to stay in the car for most of the voyage with your pet and having the windows cracked. Some people run their air conditioning intermittently on neutral power to keep cars cool. Ask the crew before boarding and at the tolls to stage your car to be under the deck where it's shaded.
Bring A Bowl. It can get hot on the decks particularly during the summer months.  There's water on board, but not all dogs drink well out of bottles. If you bring a mobile water bowl, everyone can help to keep the pet well hydrated.
Ask for Help. Dogs are not allowed in or near food areas. If you need to use the rest room, or want to get food for yourself, let someone pet sit for a few minutes. If you're not traveling with a companion, let the crew know your needs, so they help arrange assistance.
Walk Across the Bay. Dogs love walking and the decks are great for walks across the bay. There are two outside decks where you can stroll with your pet while he/she watches sea gulls and sniffs the ways of the winds.  Again, be conscious of the deck temperature as you don't want your Dog to burn its paws. A good rule of thumb for anytime of year - if you would not walk barefoot then your pet should not either. More often than not, it's a great way to enjoy the journey and everyone gets their steps in for the day!