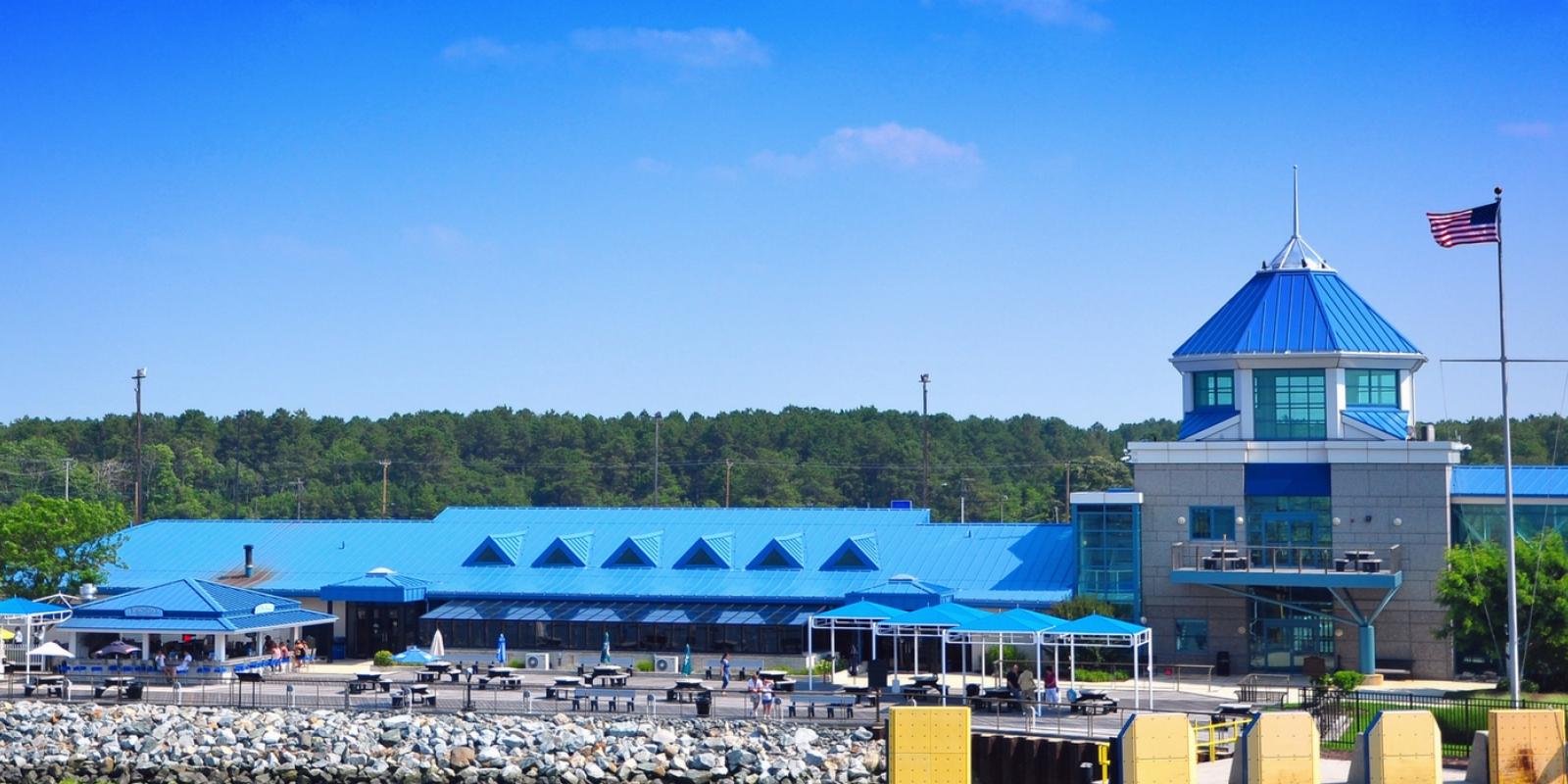 SAILING SCHEDULE
The full schedule and additional information is available further down this page.
NEW: DOWNLOAD AND VIEW a PDF of the CURRENT Schedule
---
Book Cape May - Lewes Ferry Travel:
Reservations are REQUIRED
The Cape May-Lewes Ferry sails every day of the year. Please consult the calendar below for the most up-to-date departure information.
The wearing of masks is optional, but not required, on the vessels or terminals.
After booking travel on the Ferry, please check all email folders (including the spam and junk folders for guests using Verizon, Yahoo, or AOL email addresses) for your confirmation email.
To ensure you receive confirmation emails and updates, including those related to ticketing information and travel, please safe list or add our email to your contact lists. That address is [email protected].
SHUTTLES
Shuttles run on the following schedule during the Summer season and into the early fall.  We have more information available on our shuttles here.
Memorial Day - June 11: Saturdays and Sundays Only from 10 AM - 4:30 PM.
June 17 - Sept. 4 (Labor Day): Daily Service to the Cape May Welcome Center.
Sept. 9 - Oct. 9:  Saturdays and Sundays Only from 10 AM - 4:30 PM. 
 
---
SAILING SCHEDULE
NEW: DOWNLOAD AND VIEW a PDF of the CURRENT Schedule
---
WINTER FARES
(NOV. 1, 2023 - MARCH 31, 2024)
| Passenger and Driver Fares | One-Way | Round-Trip* |   |
| --- | --- | --- | --- |
| Adult (14 - 61 years) | $8 | $14 |   |
| Senior (62+ years) | $6 | $11 |   |
| Child (6 -13 years) | FREE | FREE |   |
| Child (under 6 years) | FREE | FREE |   |
| Military (ID Required) | $6 | $11 |   |
| First Responder (ID Required) | $6 | $11 |   |
| AAA (Adult; membership # required) | $6 | $11 |   |
| Vehicle Fares** (does not include driver) | One-Way | Round-Trip* |   |
| --- | --- | --- | --- |
| Car, SUV, Pick-Up Truck (under 20') | $22 | $39 |   |
| Motorcycle | $18 | $31 |   |
| 3-Wheel Motorcycle or Motorcycle w/trailer | $19 | $32 |   |
| Scooter | $9 | $15 |   |
| Long Vehicle | Vary; click here | Vary; click here |   |
| Bicycle | FREE w/ passenger fare | FREE w/ passenger fare |   |
---
**NEW: For your convenience, we have broken out the vehicle and driver fares. Please make sure to include the driver in your total passenger count. 
Frequent Traveler Books are available! To purchase a Frequent Traveler Book (6- and 12-packs), purchase online or call 800.643.3779.
If you've purchased a Frequent Traveler Book and need assistance booking travel, please view our guide for purchasing with a username and password, or view our guide for purchasing as a guest. 
---
Reminders
Reservations: Reservations are required. All booked vehicles are asked to check in at least 45 minutes - 1 hour prior to boarding. If not checked in 30 minutes prior to scheduled departure, space may be forfeited and allocated upon to stand-by vehicles so the boat may depart on schedule. This is important throughout the year but most critical during the highest traffic days between Memorial and Labor Day, on holiday weekends, and during special events.
Before You Reserve:  If your vehicle is longer than 18' you will need to know the total length and maximum width of your vehicle and whatever it is towing. Failure to accurately represent the length or width of your vehicle may result in denial of boarding at check in. Click here for more information.
To Reserve: Passengers may reserve by two methods - booking online, or by calling the Customer Service Center during normal business hours 7 days a week (8 am - 4 pm). To reserve, you will need to know the  number of passengers including the driver, and your credit card number. You will also be asked for an email and mobile phone number so we can contact you should your booking change before the anticipated departure.
Shuttles: Shuttle service is available seasonally in Cape May. Space is limited, and reservations are required. The shuttle runs a single route to/from the Cape May terminal to the Cape May Welcome Center, located at 609 Lafayette Street. Please note that Ferry-provided shuttle service is not currently available in Lewes, however, the DART Route 204 Bus picks up and drops off every 1/2 hour from 6:30 am - 9:00 pm directly in front of the terminal. For more information, visit our Getting Here & Getting Around page. 
Check-in Times: Check-in begins 1 hour prior to departure. Reservation may be forfeited if check-in is not completed 30 minutes prior to the scheduled departure. This is to secure the space on the boat and to allow time for required security procedures and staging of vehicles on the lot. Please note that all vehicles are subject to inspection, and drivers will likely to be asked to pop trunks before boarding. 
Trip Length: Each one way crossing takes approximately 85 minutes. For easy math, add 1.5 hours on to your departure time to get your anticipated arrival on the other side, e.g., a 10:30 AM departure is anticipated to arrive at noon. A roundtrip voyage is approximately 3 hours.
Charges, Cancellation and No Show Fees: Credit cards are charged at time of booking. Bookings may be rescheduled at no charge prior to currently scheduled departure time, but if canceled, a non-refundable cancellation fee of $6 per one-way and $12 per roundtrip booking will be imposed. No Shows will result in the cancelation of the crossing and a non-refundable No Show fee of $10 will be imposed.
Ticket Expirations: Fares paid on an unused reservation may be applied to a future trip, with some restrictions. Ferry tickets are valid for two years from the date of purchase. Tickets purchased as part of a promotional package may have different expiration dates. 
Group Bookings: All bus tours and group tours (including motorcycle groups and walk-on groups) require reservations and likely qualify for group discounts. For instance, 13 motorcycles carrying 26 people are considered a group. A group is generally defined as any party of people of 25 or more, with some exceptions if prior arrangements are made. Please call 1.800.643.3779 to inquire about special group rates and to make a reservation.
Required Travel Identification: A government-issued photo ID is required for all drivers and foot passengers over age 14. Foreign travelers must present a valid passport or international driver's license.
Age Restrictions:  Children under age 14 must be accompanied by a full-fare adult. Children less than 14 years of age may be accompanied by an older teenager (14 or older) traveling on an adult ticket. However, please note the following:
Travelers 14 and older (when traveling unaccompanied or accompanying children under 14) will need to provide a photo ID. Examples of photo ID can include but are not limited to school ID cards, passports, state ID cards, and driver's licenses.
A maximum of two (2) children between the  ages of 2 and 13 can travel escorted by a customer who is at least 14 years old. 
Alcohol Restrictions: Due to state alcohol restrictions both in Delaware and New Jersey, carry-on, opened alcoholic beverages are prohibited. Alcoholic beverages are sold on each vessel and in each terminal, but beverages purchased in the terminals must be discarded before boarding. Similarly, beverages purchased on board must be discarded before disembarking. Unopened beverages in vehicle trunks or storage areas are allowed but must be kept stored during the voyage.
Tobacco Restrictions: As of January 1st, 2017, the Ferry is a completely tobacco-free campus. No smoking or other forms of tobacco are allowed anywhere on the vessel or in and around the terminals, including in the outside bars or restaurants. This includes vaping as well as cigarettes, cigars, pipes, chewing tobacco or any form of smoke-related product. Please smoke before you arrive or after you leave the DRBA campus. 
Pets: Pets are permitted on the ferry but must stay on outside decks or in vehicles. If accompanying a passenger on deck, pets are not allowed inside the cabin near food area. If a passenger needs to use a restroom or wants to access the food court, please see a crew member for assistance. Pets must be sociable when on passenger decks and remain on a leash, or in an appropriate carrier, or the owner will be asked to return the pet to the vehicle. If pets remain in vehicles on the car deck, the driver must open the windows for air. 
Additional Fees: The DRBA reserves the right to change fares. The prevailing rate applies unless, on rare occasions, upon check-in, circumstances result in an increase over fares published at the time of booking. For instance, if you book one way during off-peak and a return during peak, each fare will be billed at the appropriate published rate. When applicable, a fuel surcharge may be in effect. 
Additional Terms & Conditions
Please review additional terms & conditions here before boarding or purchasing a ticket. 
---