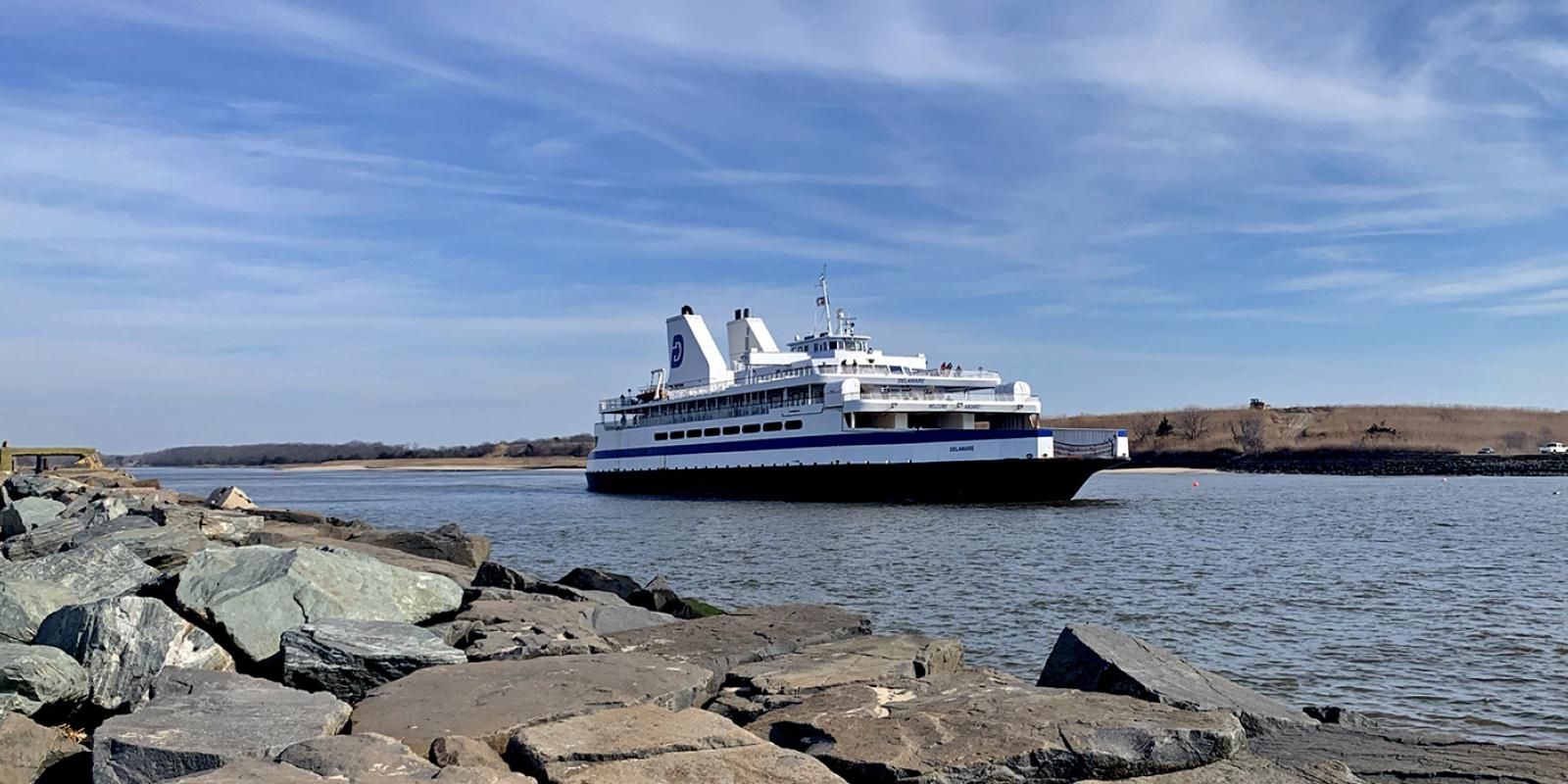 Additional Information & Travel Tips
Other Information
Are pets allowed on the ferry?
Your pets are welcome on all exterior decks aboard all Cape May-Lewes Ferry vessels; however, U.S. Food and Drug Administration regulations prohibit pets in interior spaces where food is prepared, served or consumed.* Pets are not permitted on the shuttles. Pet Owners: Please do not enter the prohibited areas noted above. Keep your pet on a leash and under control at all times. Pets are not allowed on seats and tables. Unruly animals must be escorted away. Owners are to clean up after their pets. If leaving pets in vehicles, allow for temperature and air circulation conditions. If you would like to use the restrooms or purchase food, please contact a crew member, who will be happy to pet sit for a short period of time to allow you freedom to pursue either activity.
*This policy does not apply to service dogs or to police (K-9) dogs. Please contact a crew member if you have any questions.
What should I wear on the vessel?
Seasonal, comfortable clothing and 'boat' shoes with rubber soles is recommended. Please avoid leather soles and backless shoes, including flip-flops and high heels.
Does the Ferry offer gift certificates?
Yes, Ferry Fare Gift Certificates are available for purchase year-round. Gift certificates can be purchased online, by calling 1.800.643.3779, or purchased in person at the terminal from a ticket counter representative. Fare gift certificates do not expire, but once they are used to purchase a ticket, tickets do have 1-2 year expiration dates.
Are children 13 and under permitted to travel on the ferry unescorted?
No. For your child's safety we require children less than 14 years of age be accompanied by an adult or older teenager (14 or older) traveling on an adult ticket. Please note the following:
Travelers 14 and older, when traveling unaccompanied, will need to provide photo ID. Examples of photo ID can include but are not limited to: school ID cards, passports, state ID cards, and drivers licenses.
A maximum of two (2) children between the  ages of 2 and 13 can travel escorted by a customer who is at least 14 years old.   
Does the Ferry have a gift shop?
Yes. We have gift shops on-board the vessels and in both terminals, complete with beautifully embroidered and screen-printed sweatshirts, t-shirts, hats, keepsake gift items, souvenirs, and jewelry. We also carry sunglasses, sunscreen, postcards, newspapers, playing cards, and more. Gift shops are open seasonally, but selected gift shop items are available in the terminal concession area year round.
You can also access our online store 24 hours a day, 365 days a year!
What types of security procedures should a traveler expect?
By entering the Ferry property, people agree to searches of their baggage,vehicle, person or property and to provide a photo ID upon request.The campus is under video surveillance. Before boarding, foot passengers will pass through a metal detector and have their bags checked. All cars will be screened, including inspections by canine-police teams and drivers may be asked to open vehicles or pop open vehicle trunks.
If you are transporting a weapon/firearm into or through the State of New Jersey, please review https://www.nj.gov/njsp/firearms/transport-firearm.shtml for further requirements.
 
What is it like on board the vessels?
Aboard the vessel, please exercise caution. Watch your step as you go in and out of the doors, as each door has a high door sill. Use handrails to help keep your balance while the vessel is in motion. Parents or guardians of children: please keep your children from running on the vessel, and do not allow them to climb up on any railings or furniture.  For additional safety tips, please check our page on Terms and Conditions. 
If you would like a snack while onboard, visit our food court  on the 2nd deck, which offers both hot and cold food and beverages.
Our gift shop, also located on the 2nd deck, will be opened by an attendant about 30 minutes after departure. However, if you need something before that time, please stop up to the food court and let an attendant know; he or she will be happy to assist you.
Approximately one hour and twenty-five minutes after departure, you will walk off the vessel on the foot passenger ramp or go back to your vehicle to disembark. If you have any questions or require any assistance, please stop a crew member, who will be more than happy to assist you. Enjoy your crossing! We look forward to seeing you on the Cape May-Lewes Ferry!