Arriving and Boarding the Ferry
Arriving
Do I need to make a reservation?
Reservations are strongly recommended to guarantee a place on your desired departure. This is especially important during busy times and high traffic periods (summer months, weekends, holidays).
What happens if I just show up?
We'll always do our best to accommodate you; if space is available, we'll get you on the next departure. However, please know that space is not always available, and the larger your vehicle, the harder it is for us to accommodate on the spot. If the immediate departure is sold out, we will book you on the next available crossing and put you on stand-by for any departures prior to that, in the event a reserved guest does not show up and space opens up. 
What if I hit traffic/can't make it/know I'm going to be late?
Give us a call at 800.643.3779. Your tickets are valid for two years from the date of purchase, so if you're going to be late we can move your reservation to the next available departure.  
When should I arrive at the terminal?
We recommend arriving 45 minutes to one hour prior to your scheduled departure time. This allows for plenty of time for vehicles to get checked-in at the toll booth, and for foot passengers to check-in with the ticket counter inside the terminals. 
What is there to do once I get there?
We welcome you to head inside to the terminal, where you'll find a gift shop, restrooms, food court, and bar. Each terminal features a playground area for kids and there is a mini golf area at the Cape May terminal as well. There's plenty of grass to walk pets, and there are great views of the Delaware Bay from either terminal. In addition to that, our outdoor On the Rocks restaurants are open seasonally from May through October. 
Parking
Can I leave my car in the ferry parking lot overnight?
Yes, we just ask that you register your license plate number with the folks at the Ticket Counter in the terminal, or with the police after hours in the police building in either Cape May or Lewes. There is no charge for this service, all parking at the Ferry terminals is free.
Boarding
Can you describe the foot passenger boarding process?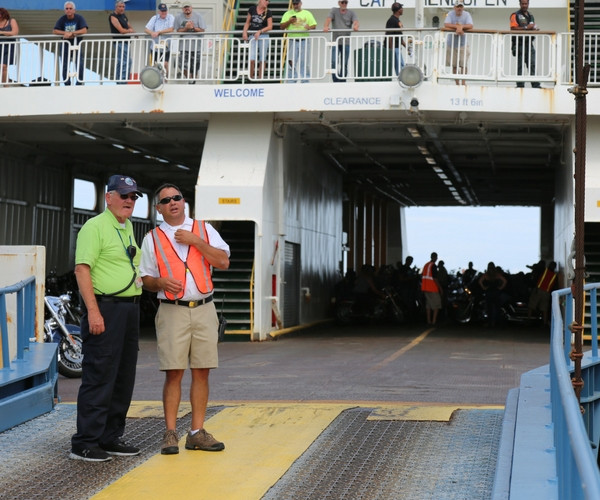 Approximately 20 minutes prior to departure, boarding announcements will be made in each terminal. The announcements will instruct foot passengers to proceed to the 2nd level of the terminal to proced through the security checkpoint to prepare for boarding the vessel. Passengers can either take the stairs or an elevator to get to the Skywalks for boarding. Prior to announcements, take time to visit our restrooms, food court and gift shop. There are also restrooms, gift shop and a food court on each ferry. Upon boarding the vessel you will be required to present your ticket for scanning by our Dock Attendant.  
How far is the walk from the terminal elevator to the vessel gangway?
In Cape May, once you exit the lobby elevator on the second floor, it is approximately 465 feet to the vessel gangway. In Lewes, the distance is slightly less, approximately 325 feet. In both cases, the surfaces are mostly level or with gradual declines/inclines. The vessel gangway has a more distinct pitch, and the vessel crew will be there to assist you.
How about the boarding process for vehicles?
Approximately 20 minutes prior to your departure, boarding announcements both outside and inside will instruct drivers and vehicle passengers to return to vehicles to prepare for boarding the vessel. Once you return to your vehicle, you will be required to present your ticket for scanning by security personnel prior to boarding the vessel. Dock attendants will help direct you to driving on and parking on the ferry. Once parked on the car deck of the vessel, there are 24 stairs to climb to get to the first passenger deck.  If you cannot take the stairs and wish to sit on either passenger deck, please advise either toll booth or security personnel before driving on to the vessel.  You will be issued a separate boarding pass and be directed to board via the terminal and a staff person will assist by driving your vehicle both on and then off the vessel on the other side, where you will be reunited with your vehicle.
What type of seating is available on the ferries?
There are several different types of seats on the ferries.  Indoors, there are both tables with bench seating, and individual reclining seats. Outdoors, you have a choice of individual Adirondack type seating,  Lido Bar seating on the upper desk, metal chair and table seating on the upper deck, and wooden bench seating on the second deck.