Cape May County Trails and Byways
The Cape May area has miles of scenic trails and byways that run through forests, farmland, state and county parks, wildlife management areas, historic towns, and dunes of preserved beaches. Birds and other wildlife abound. In fact, the Cape May peninsula is one of the top birding spots in North America! 
Cape May Point State Park
Speaking of top birding spots, Cape May Point State Park is a major migratory route, especially in the spring, when many sea and shorebirds come through. At the end of the summer, dragonflies and monarch butterflies can be seen as they make their way across the Delaware Bay.
Three blazed trails will lead you through a variety of habitats in the park. On the wheelchair- accessible Red Trail, viewing platforms overlook ponds where wading birds, ducks, swans and sometimes even osprey come to feed and breed. The Yellow Trail is 1.5 miles long with views of wetland marsh and coastal dunes. The Blue Trail is the longest of the three.
In Cape May Point State Park, you'll also find a historic 157-foot lighthouse. Built-in 1859, with 199 steps you can climb to the top to take in a view of the Delaware Bay and surround area. As a reminder of its days as a military base, the park also has a bunker. It now stands as a monument to the strategic defensive role the area played during World War II, and at low tide, you can still see the gun turrets.
Cape May County Park & Zoo
At the more than 200 acre Cape May County Park, you'll discover a zoo that's home to more than 500 animals representing 250 different species, and admission is free! There are miles of walking trails and a park with playgrounds for children. 
Cape May National Wildlife Refuge
At the Cape May National Wildlife Refuge, broken out into three different units throughout Cape May County, a wide variety of habitats and species can be seen. At the Two Mile Beach Unit in Wildwood Crest, free family nature walks are available on Saturdays throughout the summer.
Higbee Beach Wildlife Management Area
Birding is always excellent at Higbee Beach Wildlife Management Area, especially from spring through early fall. In spring, when they are heading north, birds will rest and feed there after crossing the Delaware Bay. In summer, a number of species come to breed.  Because of this, pets are not permitted on the beach from April until September. This is also a great place to see dragonflies and butterflies, including monarchs. Higbee has more than two miles of nature trails with viewing platforms.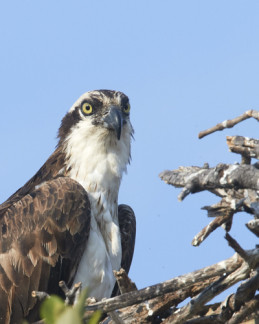 For fishing enthusiasts, Cape May State Park waters are home to weakfish, bluefish, flounder, tautog, and striped bass.
For more information and an interactive map of Cape May County greenways, visit www.gardenstategreenways.org