Marine Master Plan (Archive)

---
The Future of the Ferry Fleet: The DRBA and the Cape May - Lewes Ferry Begin Marine Master Plan Effort 
The DRBA and the Cape May-Lewes Ferry are planning for a Ferry fleet of the future, and a marine master planning effort is currently underway. The plan will be focused on the Cape May - Lewes Ferry fleet and will work alongside the Terminal Master Plans that were finished last year. This effort includes a data gathering phase to determine the existing conditions that may impact the fleet, followed by an analysis of the fleet which will lead to the definition of requirements for future vessels, and finally, a report will be produced detailing analysis findings and recommendations for the future fleet.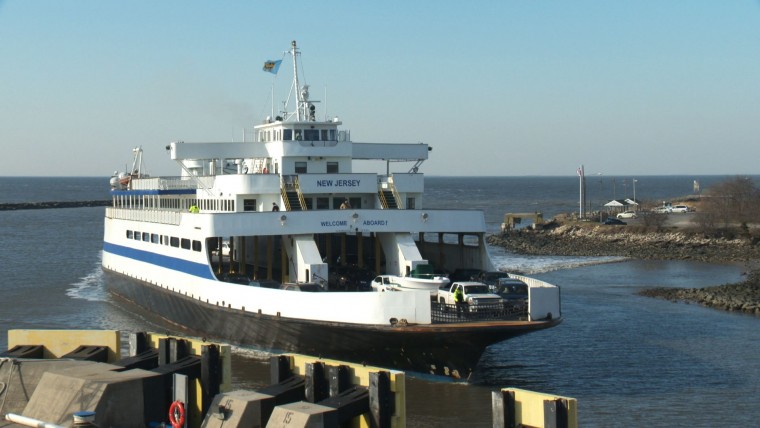 The Marine Master Plan public meeting February 23, 2023 summarized the planning and analysis to date for the future planned ferry fleet of four (4) 75-vehicle ferry vessels. The meeting presented the notional, or preliminary design concept for the new 75-vehicle ferry. Please refer to the meeting slide deck for graphics of conceptual deck arrangements (will be available by end of day February 27, 2023). This preliminary design concept is the first step in the vessel design process. The design will continue to be refined through additional analysis and engagement with stakeholders. 
The second virtual public meeting was held via Zoom on Thursday, October 7, 2021, and focused on sharing the findings of our fleet analysis and how the proposed fleet configuration options compare to one another in terms of cost, vehicle and passenger capacity, schedule flexibility, and many other key metrics. For those unable to attend the meeting, a recording of the presentation is available to view below, and a PDF version of the presentation is available for download. Please continue to visit this website for project progress and feel free to submit comments below. Thank you in advance for your partnership in this effort!
The first public meeting was held virtually on Thursday, June 17, 2021. For those unable to attend the initial meeting on June 17, a recording of the presentation is available to view below, and a PDF version of the presentation is available for download. 
 
Download a PDF of the 6/17 Presentation
Community and stakeholder input are critical to this plan. The DRBA encourages you to provide feedback and input that could aid in shaping the future Ferry fleet. Virtual public meetings will be held throughout phases of the study, with a comment period following the release of the draft report.  To see questions and feedback provided to date, click the button below. 
---
Project Schedule & Goals
Schedule: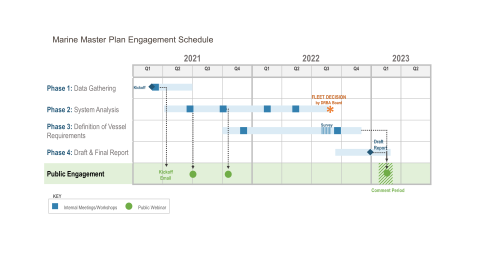 Goals: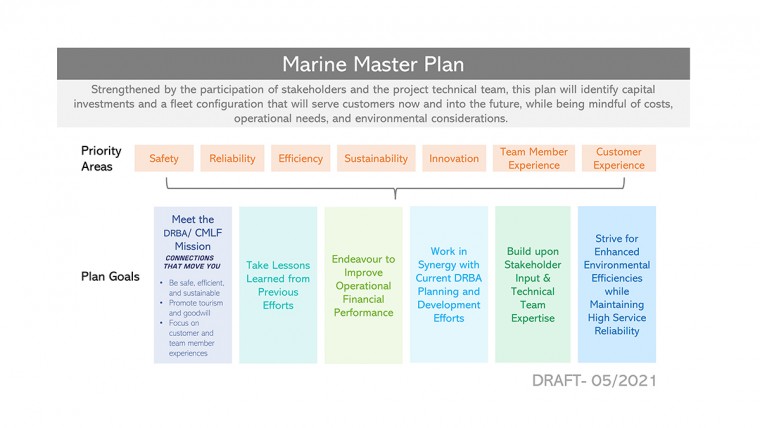 Background 
Since launching service in 1964, the Cape May Lewes Ferry (CMLF) has served more than 17 million vehicles and 46 million passengers. The 17-mile ferry ride connects New Jersey and Delaware, providing an enjoyable 80-minute mini-cruise across the Delaware Bay. A capacity of up to 100 vehicles and 1,000 passengers is provided on each crossing, serving local residents and tourists alike.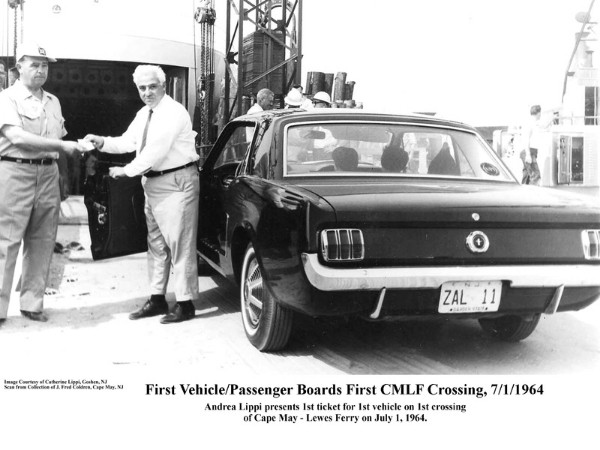 This future fleet planning effort will thoroughly assess the operational needs and requirements to maximize value – economic and otherwise – to our region over CMLF's next 40 years of operation. By opening responsible lines of communication between DRBA executives, CMLF crew members and other employees, consultants, and especially the communities we serve, this endeavor will match up our hard-earned experience with modern technology to create an efficient, environmentally transformational design to accomplish the CMLF mission for the next half-century.  
This plan will help DRBA/CMLF to:
♦ Meet the DRBA/CMLF mission into the future, to include
Safe, efficient, and sustainable transportation  
Promoting tourism and goodwill  
Stay focused on customer and team member experiences  
♦ Build upon the input from stakeholders and be informed by an experienced technical team  
♦ Strive for enhanced environmental efficiencies
  
---
Public Comments
Do you have thoughts, comments, or feedback? We value and welcome your input during this process, and we invite you to leave a comment below.
Please note the following:
All comments are subject to moderation, and it may take up to 24 hours for your comment to post to the site.
The comment section will display a maximum of 10 user comments at any given time; once 10 comments are present, the oldest comment will drop off as new comments are added.  
All comments will be received, reviewed, and recorded, however DRBA/CMLF reserves the right to withhold public display of any comment for any reason. 
You can also email your comments and feedback to

[email protected]

.