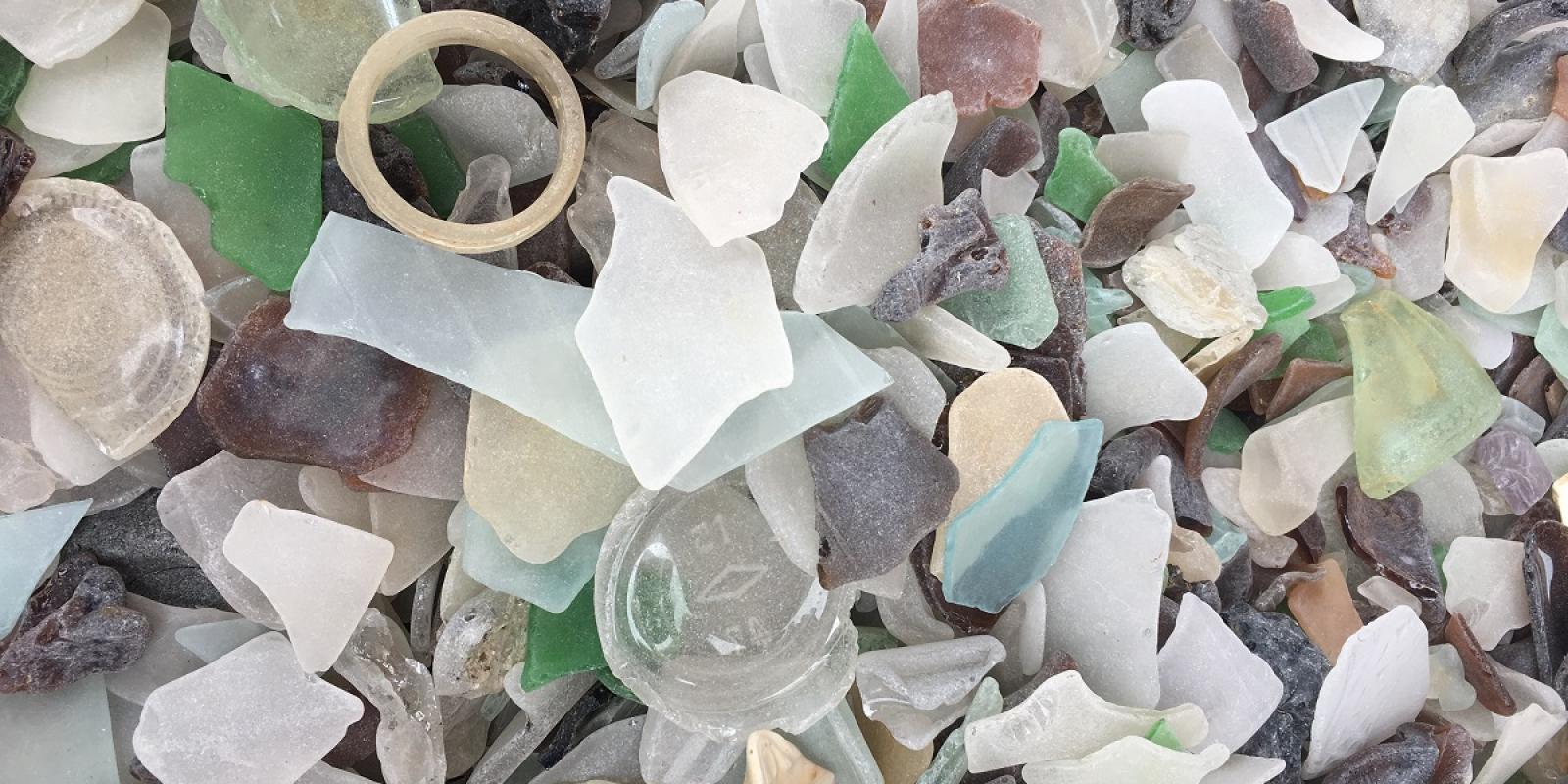 Sea Glass: Nature's Recycled Art
Sea glass is the art of nature crafting something from man. It takes approximately seven years of tumbling and tossing in the ocean for disregarded jars, bottles and other pieces of glass to smooth down and gain a frosty coloration, forming into sea glass.
A certain affinity has formed on the east coast for sea glass, and our Lewes Terminal hosts the Mid-Atlantic Sea Glass and Coastal Arts Festival. This event can have about 70 vendors, ranging from art to lawn pieces and of course, sea glass, each vendor with a story to tell.
Here are two stories of interesting vendors from a recent Sea Glass Festival:
Sam Sea Glass
Image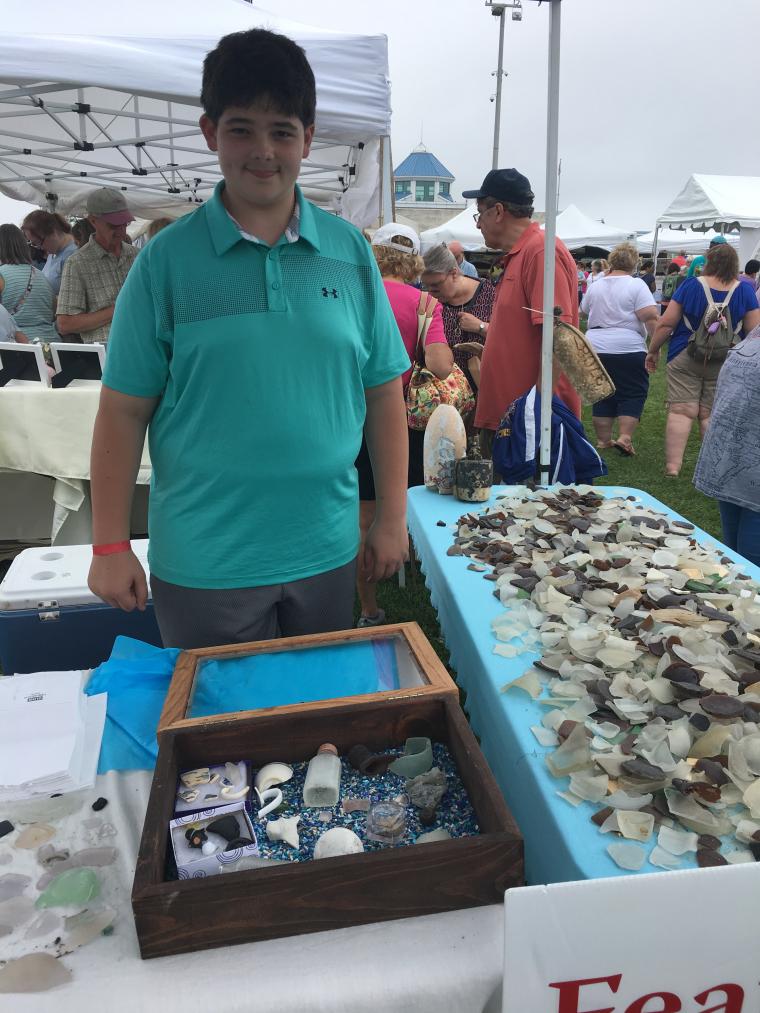 15-year-old Sam Samero is from Pennsylvania, but still has quite an impressive collection of sea glass for someone who doesn't live right along the shore. Sam's neighbors had a summer house in the Chesapeake Beach area in Maryland. Apparently, in this area, only locals know the sweet spots where sea glass is more likely to wash up. Sam's neighbors showed him these spots when he was younger and eventually, he inherited the whole collection.
His mom makes cement stepping stones for gardens, all with bright designs. When they first inherited the sea glass collection, she attempted to utilize the pieces within her stepping stones, but after it wasn't working the way she hoped, she allowed Sam to claim the whole collection as his own. While his mom sold her stones at art shows and festivals, Sam began tagging along and setting up tables of his own right alongside his mom.
From there, Sam began collecting his own sea glass to add to the collection, and his pieces have taken on a life of their own. At 11 years old, Sam had won 1st place in the St. Michaels Sea Glass Show in Maryland with a small, black piece that seems to have once been a small glass dog. Experts at festivals and events have estimated that Sam's collection ranges pieces from the 1600s all the way to the 1980s, washed away from shores as far as China.
Patis-Sea-Rie
Image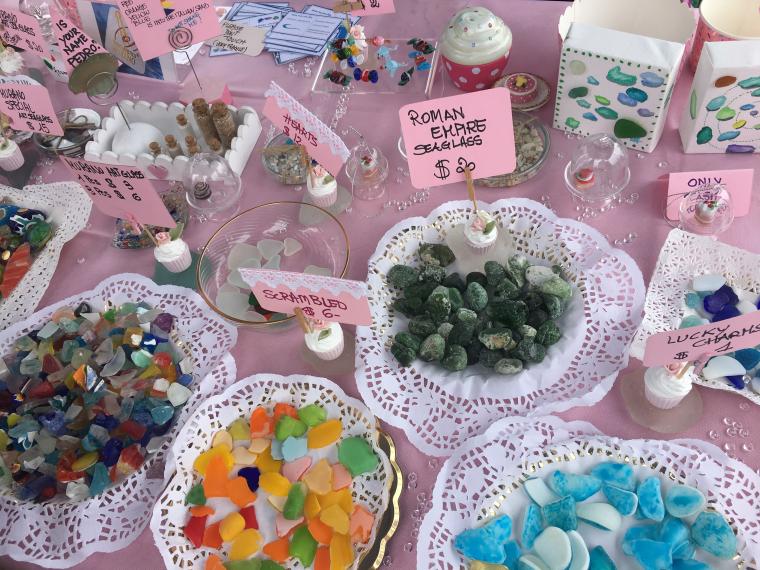 Suzanna and Ava are sisters from Milano, Italy and come over annually for the Mid-Atlantic Sea Glass and Coastal Arts Festival in Lewes. Ava's best friend from grade school, Anita, is also part of this group. Anita is from the U.S. but lived in Milano when she was younger, moving back to the states with her parents during high school, but the two always kept in touch.
The three got into sea glass when they were younger, Suzanna always loving to search for pieces along the shores. While of course it still washes up among Italian shores, they said that sea glass is not as common of a hobby in Italy. As Suzanna got into the hobby, her younger sister, Ava started coming with her, eventually bringing her best friend, Anita.
Most commonly, they would comb the Ligurian Sea, but also enjoy traveling down the coast of Italy to search the coast of the Mediterranean Sea. Anita now lives in Lewes, and a few years ago encouraged the sisters to come and visit her and set up a table of their sea glass for the Mid-Atlantic Festival. Now, every year, they come to the states strictly for our festival here (they have never attended another), theme their colorful table in cupcakes, and then make a vacation out of their stay with Anita. The three pride themselves on being the only European table at the event, having Mediterranean Sea glass, as well as sea glass that dates back to the Roman Empire.
Other exciting vendors included one from Greece, who explained she ships over all of her sea glass so that her luggage doesn't get too heavy, and an antique shop owner from Virginia. We can't wait to experience the Sea Glass Festival again next year, and hope you will be joining us!