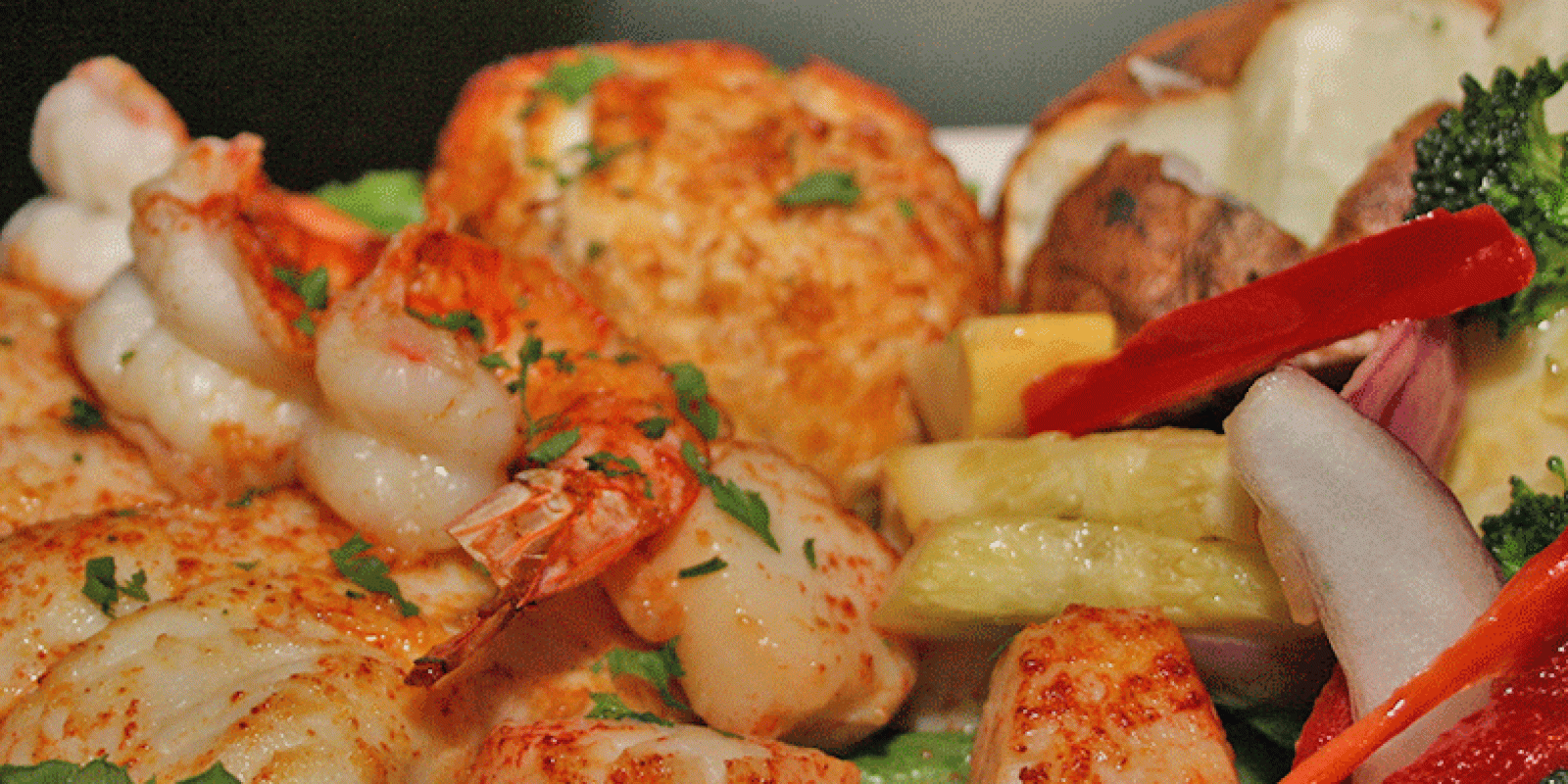 Seafood Fresh off the Boat
A Celebration of Seafood: Where to Find Tasty Eats in Cape May and Sussex Counties
The sights, sounds and smells of the Bay are bound to stir up a craving for seafood. Here's where to find some of the best at the Jersey Shore and Delaware beaches.
---
Cape May County
Louisa's
Image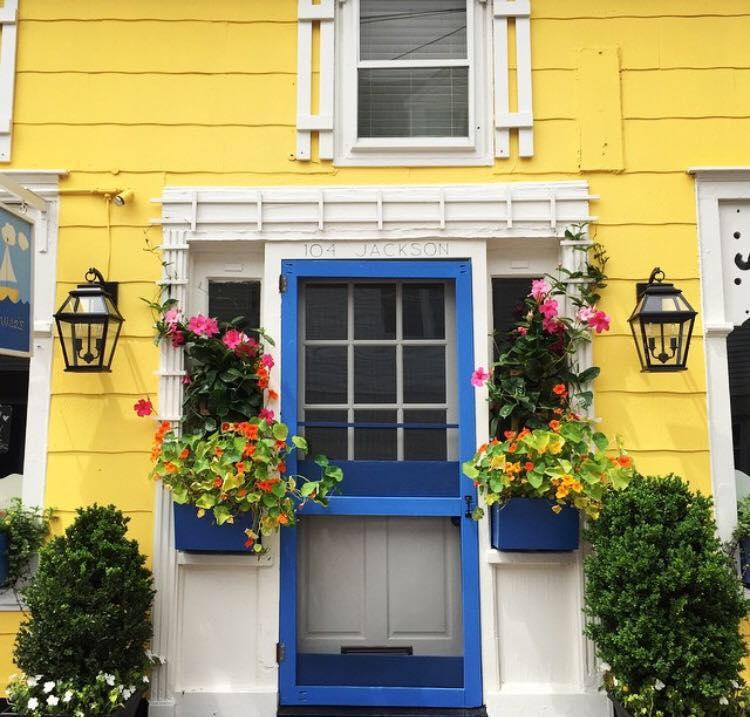 Fish caught from the Delaware Bay and the Atlantic is thoughtfully spiced and sauced at this tiny Cape May gem that's been a dining destination for 37 years.
$24-$28. 104 Jackson St., Cape May, (609) 884-5882, www.louisascapemay.com.
Fins Bar and Grille
Image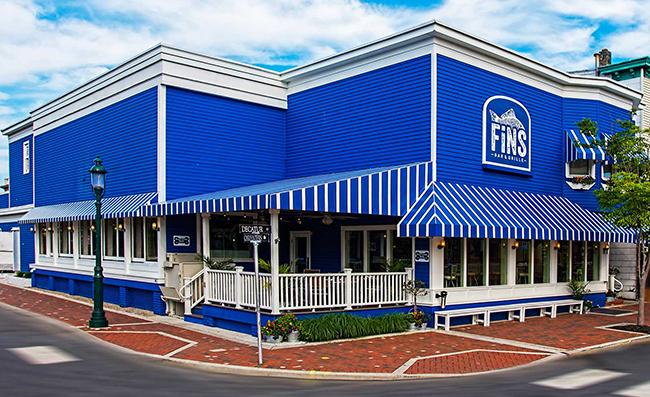 One look at the fish tank and other maritime décor, and you know you're in the right place for fresh seafood. Favorites include the fish tacos, seafood chowder, and lobster cobb salad with avocado, apple smoked bacon, and charred corn. 
$25-$32. 142 Decatur St., Cape May, (609) 884-3449, www.finscapemay.com
The Lobster House
Image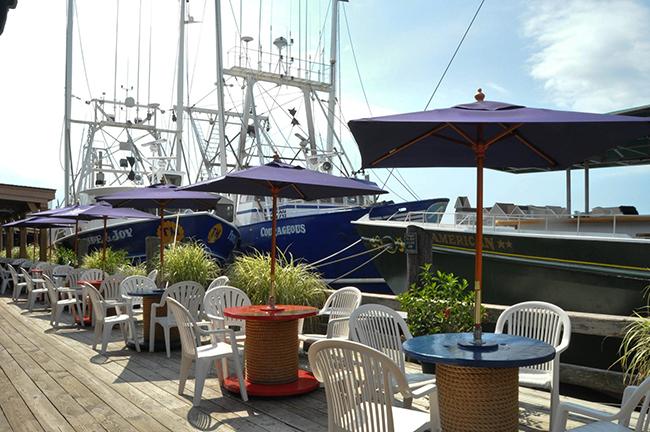 Much of the seafood on the menu is delivered right to the restaurant's dock by a commercial fishing fleet, and you can watch the fishermen work as you dine. If you're a locavore, order the Cape May Salts, the scallops, and the New Jersey clams prepared in a variety of ways. For drinks, apps, and lunch outdoors, ask for a seat on the permanently docked Schooner American.
$19.25-$48.50. 906 Schellengers Landing Road, Fisherman's Wharf, Cape May, (609) 884-8296, www.thelobsterhouse.com
The Merion Inn
Image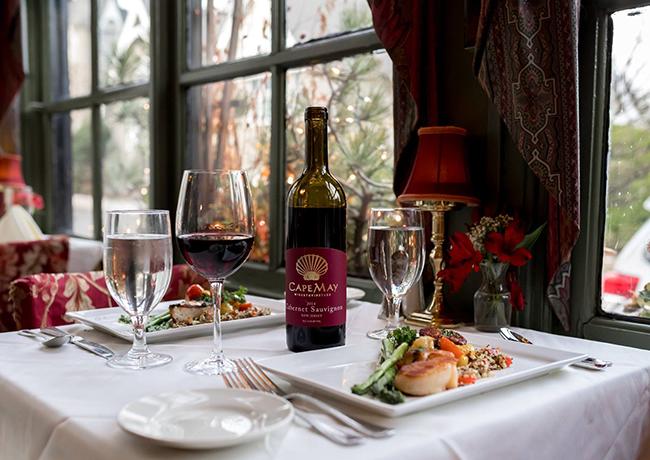 The Merion Inn has been in operation since 1885, and its well-prepared seafood classics never go out of style. Highlights include the Maryland crab cakes, the crab or lobster imperial, and the stuffed flounder.
$36-$49. 106 Decatur St., Cape May, (609) 884-8363, www.merioninn.com
One Fish, Two Fish
Upscale accents define menu standouts like the Atlantic salmon with coriander-citrus-ginger beurre blanc, and local scallops with lemon vinaigrette and sweet-corn risotto.
$25-$36. 5209 Pacific Ave., Wildwood, (609) 522-5223, onefishtwofishrestaurant.net
Oyster Bay Restaurant & Bar
Image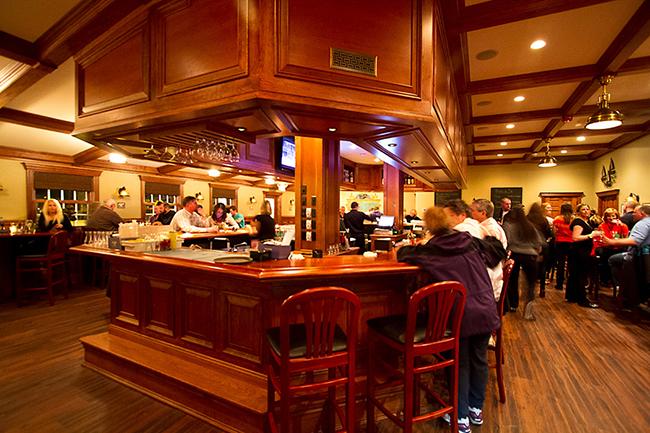 If you like your seafood spicy, don't miss the Bang Bang Shrimp. Other specialties include a well-executed old-school Coquilles St. Jaques and a hearty seafood potpie
$24-$45. 615 Lafayette St., Cape May, (609) 884, 2111, www.oysterbayrestaurant.com
SeaSalt
Image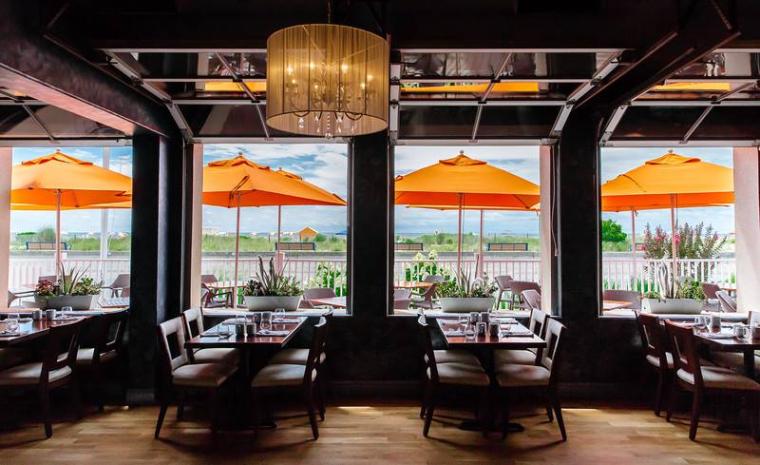 Whether you prefer your seafood raw, prepared simply, or creatively embellished (think ahi tuna steak in spicy Penang curry), this restaurant in the Cape May Ocean Club Hotel has what you're craving. For a true taste of the Shore, try the four-course ($55) or the five-course ($70) chef's tasting menus. Go all out and opt for the wine paring too.
($70/$95). $26-$32. 1035 Beach Ave., Cape May (609) 884-7000, www.capemayoceanclubhotel.com
Tisha's Cape May
Image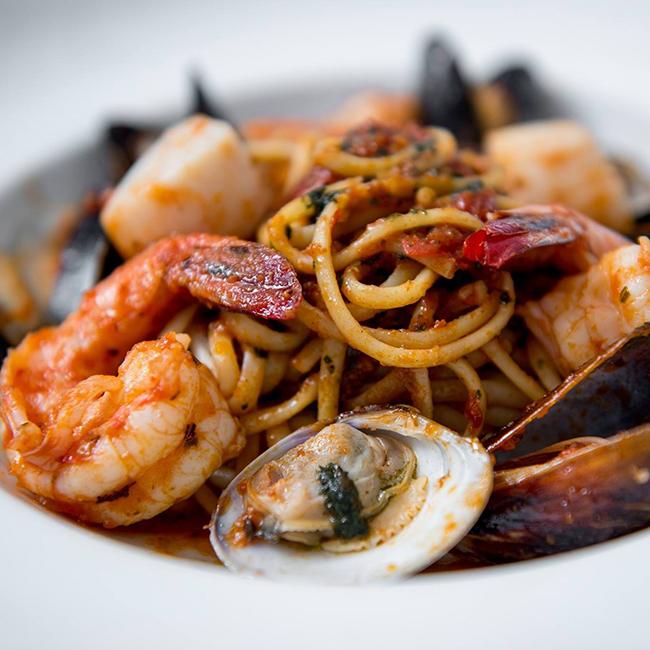 The risottos are creamy and crammed with seafood. And the jambalaya is worthy of the Big Easy.
$26-$36. 322 Washington Street Mall, Cape May, (609) 884-9119, www.tishasfinedining.com
---
Lewes and Rehoboth Beach
Big Fish Grill
Image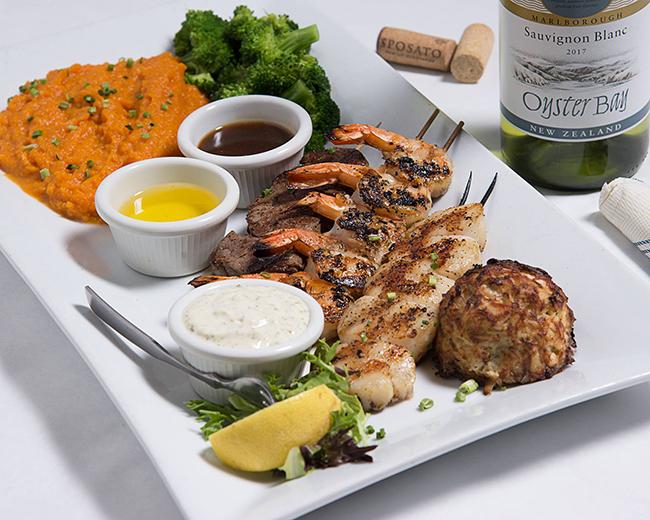 Be sure to order a Pot 'O Mussels in your choice of sauce – spicy diablo, garlic wine, Dijon cream, andouille sausage, and saffron or Thai curry and coconut. The hand-cut fries are well worth the extra two bucks.
$18.95-$38.95. 20298 Coastal Hwy., Rehoboth Beach, (302) 227-FISH, www.bigfishgrill.com
Henlopen City Oyster House
Image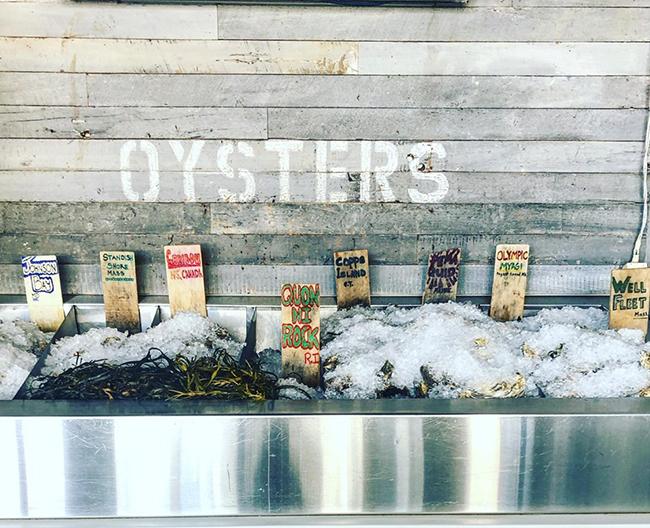 The raw bar here is extensive, with oysters from all over the northeast and Washington State, including a delectable Kumatmotos. Order a sampler, and get one ($18) or two ($36) of each. For a heaping helping of clams, scallops, fish, mussels, and shrimp you can't go wrong with the bouillabaisse. 
$26-$38. 50 Wilmington Ave., Rehoboth Beach, (302) 260-9193, www.hcoysterhouse.com
Matt's Fish Camp
Image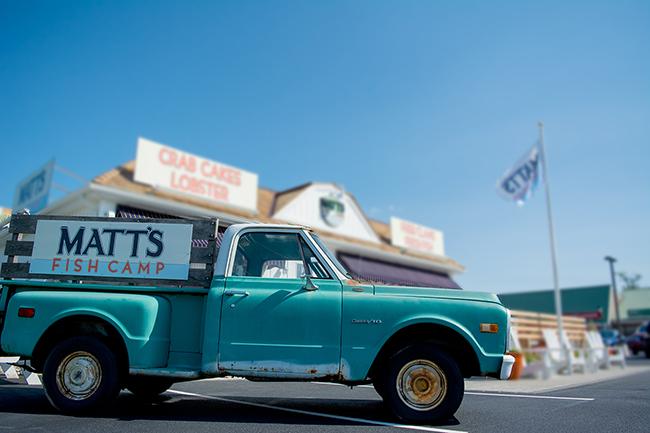 Starters include a killer New England clam chowder with bacon, corn, and sherry cream, and crab dip with pimento and sharp cheddar. Then go for the popcorn scallops (bet you can't eat just one), the lobster roll or the Crab Louie sandwich. 
$18-$28. 34401 Tenley Court, Lewes, (302) 644-2267, www.mattsfishcamplewes.com
Salt Air Restaurant & Bar
The crab-deviled eggs make you feel like you're at a picnic on the beach. And the crunchy, corn-flake-encrusted crustaceans – served with coleslaw, fries, and corn bread – make it easy to figure out why the menu calls its shrimp fry "famous."
$26-$31. 50 Wilmington Ave., Rehoboth Beach, (302) 227-3744, www.saltairrestaurant.com
Striper Bites
Image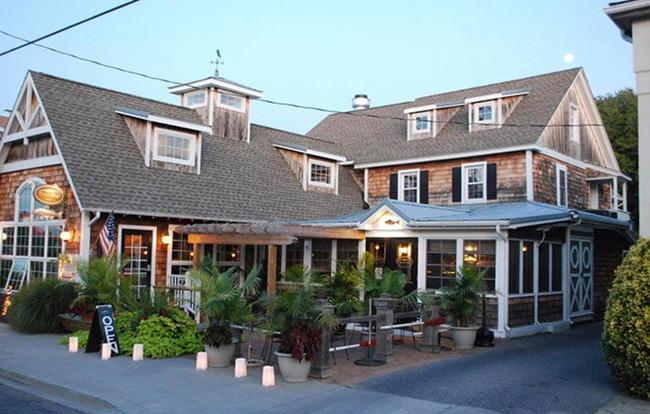 You choose the cooking style and the sauce – from a simple lemon butter beurre blanc to a festive tropical fruit salsa. If you're a sushi fan, try the North & South, made with house-cured pastrami salmon, fried Mahi and avocado. And don't miss the lobster mac with three cheeses, bacon, and tomato jam
$12-$27. 107 Savannah Road, Lewes, (302) 645-4657,
www.striperbites.com
The Surfing Crab
Image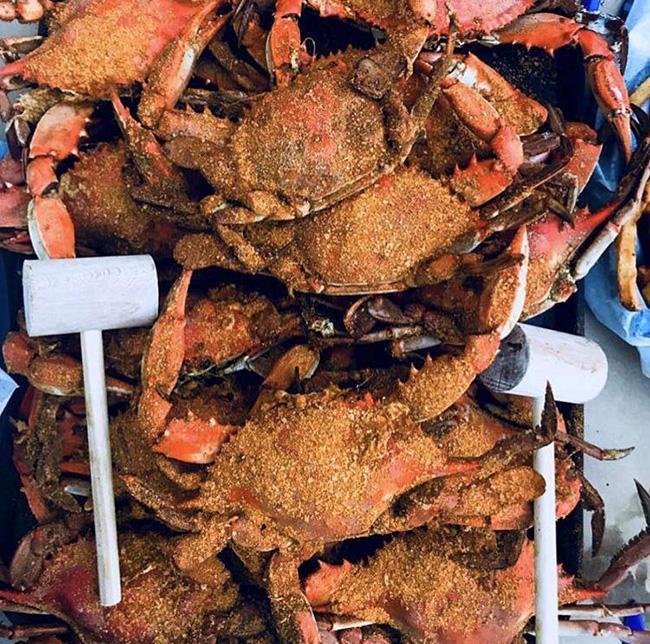 Go with the crabs any which way you like them – just plain steamed by the half or whole dozen, in an imperial dip, or as an Eastern Shore cake. If you can't get enough, take the All You Can Eat option that comes with fries, coleslaw, and hush puppies. Be sure to order a side of puppies with whatever you choose.
$15.95-$38.95, 16723 Coastal Hwy., Lewes, Del., (302) 644-4448, www.thesurfingcrab.com