Oh Those Wildwood Days
Take a trip to Wildwood and visit the Wildwood Boardwalk. Spend some time in the 1950's era with Wildwood's famous Doo Wop atmosphere. The Wildwood Boardwalk has been attracting visitors for over 100 years with its two and a half miles of beachfront shops, restaurants, and loads of other fun activities. You will never forget the sights and smells of the boardwalk with its bright neon lights and freshly made funnel cakes. It will be a vacation you and your family will never forget!
Morey's Piers and Beachfront Water Parks
The Wildwood Boardwalk is also home to Morey's Piers and beachfront Water Parks, which has over 100 rides and attractions! Take your family on all types of amusement attractions located on three different piers on the Wildwood Boardwalk. Make sure to take a ride on Morey's Piers famous, 156ft Ferris wheel, which overlooks the entire city of Wildwood and gives you a perfect view of a sunset over the marshlands. If it's a hot day and you need to cool down, take the family to one of the two water parks owned by Morey's, located at the back of Mariners Pier and Surfside Pier. You and the family will be able to ride water slides and relax on a hot summer day.
Friday night summer fireworks
Be sure to check out Wildwood's summer firework displays, which happen every Friday night at 10 pm at Pine Avenue on the beach. The best view is from the boardwalk between Oak avenue and Magnolia Avenue. It's a great way to end a fun filled day.
"Watch the Tramcar, Please!"
If you decide to make the Wildwood Boardwalk a destination to visit, you have to take a ride on the famous "Sightseer Tramcar"! This famous tramcar has been in operation at the Wildwood Boardwalk for over 70 years! You will be able to ride from one end of the boardwalk to the other, and if you see something of interest along the way, feel free to hop off as soon as the tramcar makes a stop! Just feel like sightseeing? Then enjoy the ride!
Time to "Crush" the Beach
Theres no better place to go off-roading than the beach! The Wildwood Boardwalk is home to the only Monster Truck Beach House on the East Coast! Thats right, Monster Trucks! Prepare to take a ride over sandy dunes of the Wildwood beach in either the "AmeriCrush" or the "ZombieCrusher". Make sure to hold on tight, because it's going to be a "wild" ride. Monster Truck Beach rides are located at Youngs Avenue and the Boardwalk.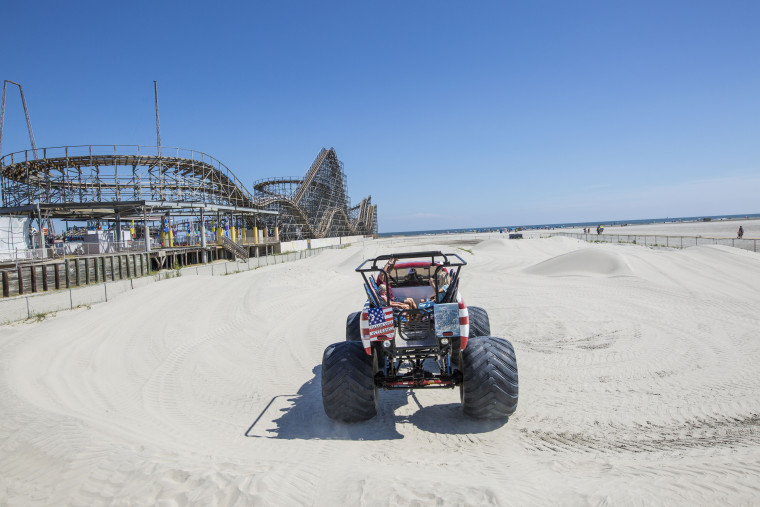 Sam's Pizza Palace
Looking for a bite to eat? Check out Sam's Pizza Palace, located at 26th street and the boardwalk. Sam's Pizza Palace has been on the Wildwood Boardwalk since 1957! It has become a favorite of Wildwood locals and even summertime visitors. If you're looking for some of the best pizza on the Wildwood Boardwalk, Sam's pizza palace is a great place to try!
Make sure to add the Wildwood Boardwalk to your list of fun things to do while visiting Cape May!