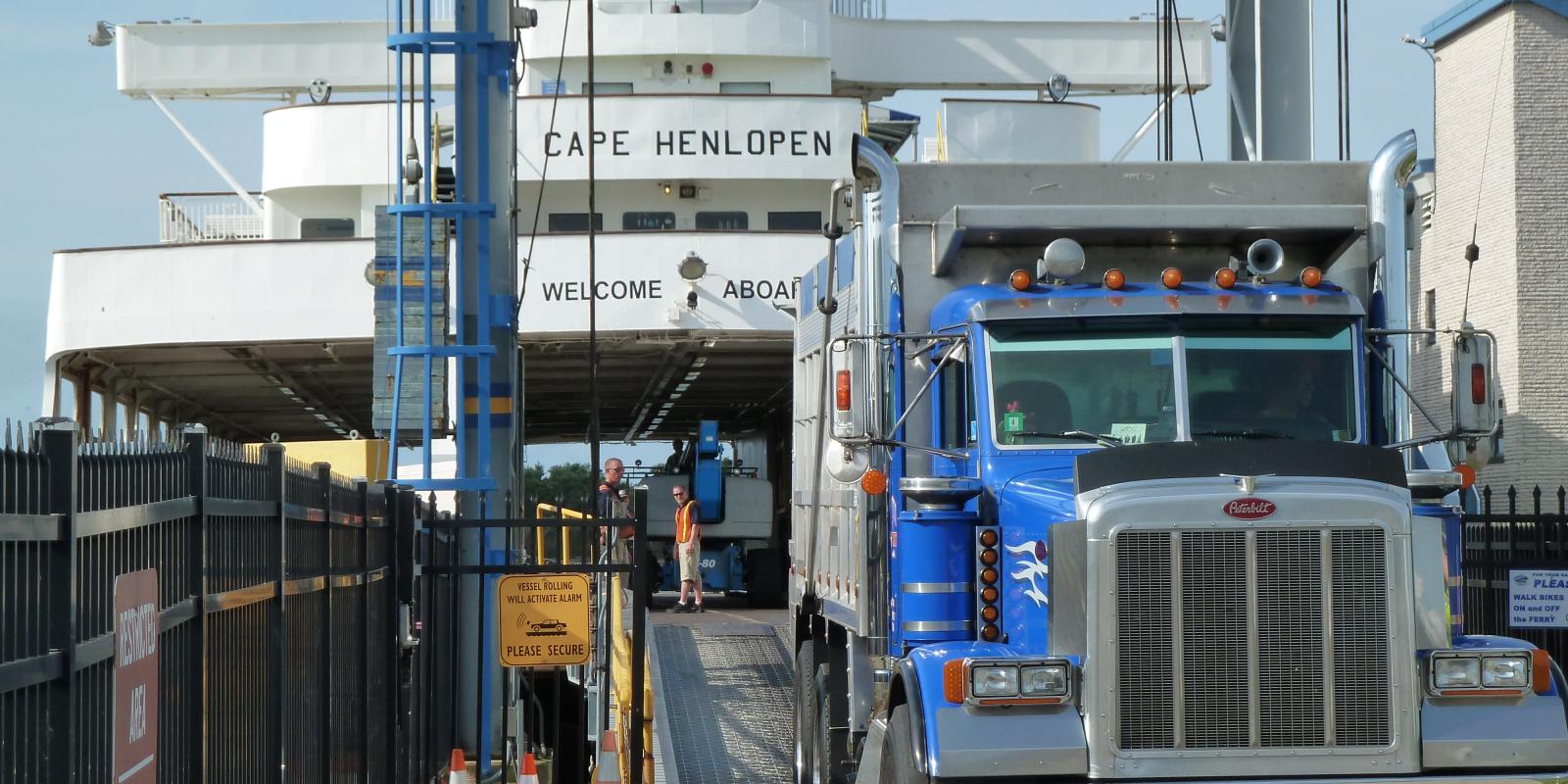 Commercial Truck Information
Trucks & Commercial Vehicles Ride the Ferry
We welcome trucks on board! 
On any given day, but most commonly Mondays-Fridays, you can spot an assortment of trucks getting ready to board the Cape May-Lewes Ferry.  They vary from package trucks, 18-wheeler tractor trailers, flat beds, and wide loads carrying mobile homes to car carriers pulling several vehicles themselves as they embark across the Delaware Bay. We like to say, "If you can carry it, odds are, we can too!"
Image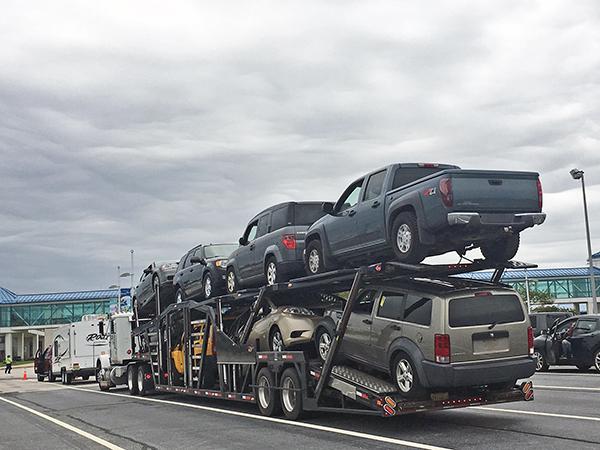 RATES
Rates vary by length of vehicle and season, and trucks must be under 13'6" to clear our car deck overhang, but it's a rare vehicle we can't get on board. Maximum width allowances are 11'3" and vehicles with loads wider than 8'6" at any point on the vehicle, including mirrors, are charged double for two lanes of space on the car deck.
HAZARDOUS MATERIALS
Please note that there are also restrictions on carrying hazardous materials on board including paint and adhesives and all vehicles, including trucks, are subject to inspection by security officers on site. Please call customer service to discuss loads that may require Port Captain approval. The following items are prohibited aboard the Cape May-Lewes Ferry:
Hazardous Materials (Title 49 CFR Parts 170-180)
Explosives or Incendiary Devices (title 33 CFR, part 6)
Chemical, Biological, or Radiological Agents or Devices (Title 33 CFR, Part 6)
Unlawful or Illegally Possessed Firearms (9.41 RCW)
Illegal Fireworks (70.77 RCW)
Acetylene Tanks
CROSSING INFORMATION
Commercial vehicles can travel on any scheduled crossing, as space permits with many preferring our first, early morning crossings from Cape May or Lewes. Reservations are recommended so we can save the exact space you need for your load. Travel in the spring, fall and winter to enjoy discounted rates.
Special Information For Vehicles With Low Clearance
If your vehicle, trailer or anything you may have in-tow has low ground clearance, please give us a call at 800.643.3779, or make sure to consult a tide chart prior to booking. For vehicles/trailers with low clearance, book your crossing two hours before/after the time of high tide, as that should allow sufficient clearance under your chassis to board.
Image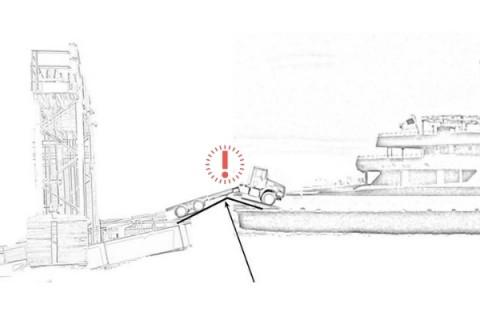 Attempting to board at other times may result in your vehicle "hanging up" on the boarding ramp, as shown above. 
COMMERCIAL ACCOUNTS
Setting up a commercial account provides convenient invoicing to let your home office deal with the paperwork rather than your driver. If you are traveling regularly across the bay, call Customer Service at 800.643.3779 to also discuss multi-trip discount packages especially for package trucks.
Truckers tell us they appreciate the break from the road, the fresh air, getting away from the stress of I95, the ability to take a rest between stops, and the luxury of not being behind the wheel while still moving forward.  Depending on your route, many say it's not only affordable, but saves time and money. 
Call us at 800.643.3779 to discuss your needs and let's see if we can't help do some of the driving for you.